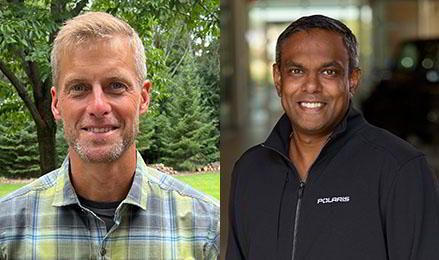 People Behind Polaris – Spotlight on Aravind M. and Mark H.
>
Technology plays a pivotal role in providing an optimal customer and dealer experience. Our Digital & Information Technology (D&IT) team is an essential part of that process. They help navigate the ever-evolving technological landscape and aid in supporting dealers and customers. To learn more about D&IT's innovative work, we sat down with two of the team's principal architects, Aravind M. and Mark H.
Thank you for taking a few minutes to meet with us. Could you share a bit about your career at Polaris? 
Aravind: I have been fortunate enough to spend the last 21 years at Polaris. I was a contractor before becoming a full-time employee.. I have been able to work in a variety of roles and teams over the last two decades, but most recently, I have been working on projects that explore how we can use technology to better support our dealers. During my time here, I have experienced how Polaris provides opportunities to develop and achieve success. Regardless of the role or team, I appreciate Polaris' collaborative environment where all ideas are listened to, potential is unlocked, and the many opportunities to advance, which is why we are the best team in powersports.
Mark: I have been at Polaris for eight years. Like Aravind, I started as a contractor and then had the opportunity to become a full-time employee. Before joining Polaris, I had been working in the data and technology space for over 25 years. Manufacturing has always been an interesting space to me, so when I stumbled on an opportunity at Polaris, it was an easy decision to join the team. I started in software development and quickly grew into an application architect role, which led me to my current role as a solution architect. My daily role consists of defining future-state data and technology platforms, assisting Digital & Information Technology product teams, and aligning technical strategy with company goals.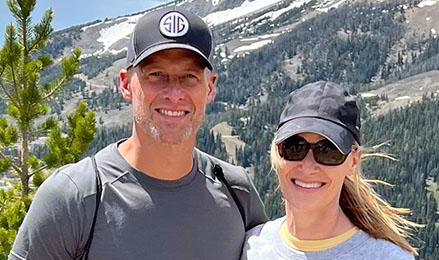 Creating an incredible experience for our customers is the thread that runs through our efforts, including how we think about technology and the systems we use. Mark, in your current role, how does this focus on the customer get brought to life?
Mark: Customers want a consistent and seamless experience, and one of the focuses for our team is to maintain and develop data systems and platforms that deliver on that. It is about using our digital platforms and tools to help make a customer's interaction with Polaris easy and simple. We are continually looking for how we can deliver what they need., For example, in the last several years, we saw orders shift to a greater volume of pre-sold orders at the dealerships. We wanted to make it easier for customers to know the status of their pre-sold order without requiring them to call their dealer every time, so we launched a pre-sold order tracker that fed right to their Polaris account. This gave them the power to have the latest status of their order right at their fingertips.
It's also little things, like when they purchase their new or used vehicle at one of our Polaris dealerships, the vehicle information is automatically fed to their Polaris.com account so they don't have to re-enter all the information – again, our team is constantly asking ourselves how do we make it seamless? Technology is always evolving, so our efforts need to be evolving right alongside it.
Aravind, you have a similar role but focused more on our dealers.  

Aravind: Mark mentioned the pre-sold order status and giving customers greater visibility, that project was also a big one for our dealers. The enhancement also gave dealers better visibility into the status of a customer's presold order. That is also a fitting example of our teams working together on an innovative solution that benefits both our customers and our dealers. The Slingshot Design Center is another example of that collaboration. Polaris launched the online tool that made it even easier for customers to customize and configure their Slingshot. We also had to consider the dealer side of this new digital tool. How do we make it easy for our dealers to easily understand the details and specifications of a customer's design.


The dealer space is an area we have worked hard to improve in the last few years, and we are just getting started. That is what makes my job exciting. We hope to build off the work we've done and continue to upgrade our dealer data capabilities in the future.
We cannot wait to see what is next! Now it is time for the question we always end on: What does THINK OUTSIDE mean to you? 
Aravind: THINK OUTSIDE means being outdoors and riding our vehicles. I'm proud to be a part of a company that enables and brings rich outdoor experiences to reality. Secondly, THINK OUTSIDE means finding creative solutions using technology to identify right tools and technologies to manage our businesses, assist D&IT team's day-to-day operations, and provide customers and dealers with the best experience possible. I can't wait to see how the future of D&IT will continue to help our dealers and customers THINK OUTSIDE. 
Mark: To me, THINK OUTSIDE is about getting outdoors. Being able to connect with nature through things like hiking, exercising, yard work, and riding Polaris products. As a solution architect, I may need to sit in front of the computer to execute the work, but many of my best ideas have been sparked by getting away from the desk and going outdoors, sometimes for even just a few minutes. Being outdoors is a creative environment where I can THINK OUTSIDE more effectively.
Interested in joining Team Polaris? Check out the opportunities:
www.godfreypontoonboats.com/en-us/careers/
www.hurricaneboats.com/en-us/godfrey-marine-careers/
www.benningtonmarine.com/en-us/careers/