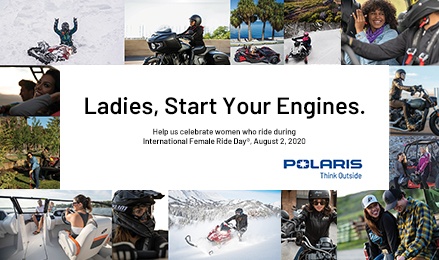 International Female Ride Day
Vicki Gray, Founder
International Female Ride Day® (IFRD), set for Saturday, August 22, is a globally synchronized ride day for women motorcycle riders. Referred to as a "movement" by its participants, using a call-to-action of "Just Ride!" the day sees women in over 120 countries take to their motorcycles, scooters or trikes. This year, Polaris joined the movement to celebrate and empower more women through powersports. In partnering with IFRD and founder Vicki Gray, Polaris offers an expanded means of introducing women to the world of powersports through the various ridership opportunities and engagement.
Through her more than three decades of riding, Gray is a notable advocate for safe, fun motorcycling and participates in all its forms, including as a motorcycle racer, instructor, advocate for safety, enthusiast, and as a champion for female ridership and enjoyment of the sport.
"I started IFRD to advance the awareness of women motorcycle riders and inspire women everywhere. Working with Polaris encourages even more women to join the celebration of riding and become part of the movement," said Gray. "However you prefer to ride, it is truly an experience like no other — exhilarating, liberating, and fulfilling. The female riding community is one of expanding camaraderie on open roads and trails."
International Female Ride Day® was inspired through MOTORESS®, a website Gray created to encompass a broader scope of women's riding disciplines. The website has become a community that works together to make a place for women in motorsports to grow and features online articles highlighting products and new technology, helmets and safety gear, workshops on skills and safe-riding classes, news articles and more. But, at its core, the website is specifically designed to encourage women, enhance skills and works to expand the female motorcycle riding community – at all levels.
As with so many things in 2020, International Female Ride Day® was pushed back from its usual date (the first Saturday in May) but will be celebrated this weekend on six continents in over 120 countries. Of course, participants have been provided with complete coronavirus guidelines that are meant to supplement—not replace—any state, local, territorial, or tribal health and safety laws, rules, and regulations with which gatherings must comply.
"Polaris is thrilled to partner with IFRD this year," says Joey Lindahl, Senior Marketing Manager at Polaris. "The participation and celebration we see from diverse women across the globe is amazing. IFRD provides us the opportunity to come together in celebration of the love of riding and to ensure female riders are well represented across the industry. Whether motorcycling, snowmobiling, off-roading or cruising in a Slingshot, Polaris' portfolio of powersports vehicles empower women to connect with the outdoors and ride on any terrain."
Ahead of International Female Ride Day® , Gray took a few moments to answer some questions:
Q&A
How did you get into motorcycles?
I'd have to say, I've always been a thrill seeker and felt that motorcycling was inevitable for me. But it was amidst my ambitious corporate career that I decided I needed an outlet away from the demands of my business life. The first summer I enrolled in a sailing course and learned to properly sail. That really didn't connect with me – and unless at speed, I suffer from motion sickness! The next summer while managing the Canadian Maritime Provinces, I enrolled in the motorcycle riding program, achieved my license, and bingo! I was hooked. I also found I had a natural ability for riding. From that point forward I could not get enough of the sport and wanted to soak in all aspects of motorcycling. Within two years I became an instructor and now over three decades later, motorcycling in all forms has been and remains the one constant in my life!
With the Polaris partnership, you've expanded IFRD from motorcycles to all powersports. What does it mean to you to see it grow?
This initiative to invite women to join together on one globally synchronized day fully demonstrates this reality. This year Polaris has partnered with us supporting the mission and expanding the message to women who participate in other powersports activities as well. IFRD was born with the purpose of emphasizing the fact that women ride motorcycles, enjoy motorcycling and have since the motorcycle's invention. Women are propelled by IFRD to take it upon themselves to create rides that cater to them instead of being a subset of an all-male ride. This is something that's happening in motorcycling, and in other areas of powersports. And now, women are being taken more seriously in the powersports space, however there's still work to be done. Work that sees women of all races and backgrounds with the power to play a major role in the narrative of powersports.
What do you love most about motorcycling and the motorcycling community?
I love the camaraderie and passion we all share as motorsport enthusiasts. And within the women rider segment of the activity, we share a natural bond, a powerful connectivity with each other which surpasses all cultures and borders! This is truly empowering. The fact that women in all motorsport roles are mothers, wives, sisters, government officials, entrepreneurs, caregivers, and adventure seekers – from recreation to utility.
What would you say to a fellow female who is thinking about learning to ride but is nervous about riding?
People are frequently hesitant to explore motorcycling or other powersports for safety concerns. And for women the perception based on the size and power of the machinery can appear daunting. But with technique and training from a professional, riding becomes a rewarding activity like any sport. And motorcycling in any form - road, dirt or track is a great activity to share with friends and family! No one is an expert at first. Educate yourself and participate at your own pace with people you feel comfortable with! And speaking as an instructor for over 30 years, a proper introduction to any powersport, will unquestionably have you wanting more!
Where and what will you be riding on Saturday, August 22?
With the present restrictions in place, physical distancing and border crossing limitations, I'll be celebrating here in Toronto and around Ontario with namely a solo ride. I plan to ride to sites, monuments and landmarks dedicated to women and women's equality in my province. I may have a few other women rider friends join me. Normally I'd attend women's IFRD events where there can be over 500 riders in attendance. But, most importantly on Saturday 22 August, I will be clocking up the kilometers, all day, doing my part representing women in motorcycling - a woman motorcyclist joining others doing the very same, worldwide. And let's face it, motorcycling and powersports is an excellent way to experience adventure while remaining socially distant! Just ride!