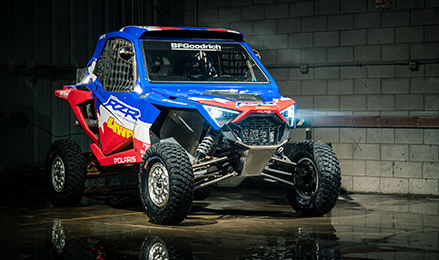 Polaris RZR Factory Racing Unveils RZR Pro XP Race Vehicle For Dakar
RZR Factory Racing takes on Dakar, equipped with a fully loaded RZR Pro XP
MINNEAPOLIS, MN (Nov. 10, 2020) – Polaris RZR, the winningest brand in UTV racing, today debuted the RZR Pro XP that its three factory team drivers will race in their conquest of the SSV class at the 2021 Dakar Rally—one of the world's most grueling and historic desert races. Utilizing the industry-leading RZR Pro XP platform, the proven RZR Factory Racing team is well-armed to battle the unrelenting terrain of Dakar and demonstrate their racing prowess in Polaris' first trip to the Dakar Rally.
"We are committed to pushing our innovation and looking forward to the opportunity to build upon our legendary racing history as a brand. The successes and lessons learned from racing accelerate product innovation, allowing us to continue delivering a category-defining product for our dedicated customers," said Steven Menneto, President of Polaris Off Road.
As the most successful brand in side-by-side racing, Polaris and the RZR Factory Racing team are poised to continue innovating and raising the bar of performance race vehicles. The knowledge acquired from racing is crucial to the future design of production vehicles. Countless hours of research, development and testing on the race course has led to the current RZR Pro XP Platform. The RZR Pro XP is proven, winning the Baja 1000, Baja 500, short course races, WORCS races, East Coast XC races, and the UTV World Championships all in the last year.
"We chose to race the T4 class at Dakar, because we wanted to showcase what the Polaris RZR Pro XP is capable of, what defines its DNA—the pursuit of constant performance. Our vehicle is built from as many stock parts as possible to show their durability and performance capabilities when competing against the toughest competition in the world," explained Robert Wilmot, Polaris RZR Vehicle Architect and Lead Dakar Engineer. Amongst the laundry list of stock Pro XP parts the team will be using, some of the marquee stock components include the Pro Star engine, intercooler, turbo, transmission, hubs, brake calipers and much more. The vehicle also utilizes a stock wheelbase.
The RZR Factory Racing RZR Pro XP is powered by a 4-stroke fuel-injected, DOHC, turbocharged, twin cylinder 925cc engine, fueled by a 130L fuel cell, and capable of a top speed of 130 KPH (80.77 MPH). A Motec® ECU with custom wiring and dash, custom switch pad and onboard diagnostics will ensure optimal performance, and a rear-mounted radiator with a custom roof scoop will provide maximum airflow. A lightweight lithium battery set up by Braille Battery® will power the RZR Pro XP throughout its inaugural Dakar campaign.
The team is also using an FIA homologated chassis, customized by Jimco Racing®, and based off the Polaris RZR Pro XP platform. With a 96" wheelbase, 74" wide stance, and custom suspension with an additional 1.5" of travel compared to stock, the vehicle is built to perform on the harsh Dakar terrain. A custom FOX RACING SHOX® suspension with increased reservoir capacity has been chosen for increased cooling, performance, and greater adjustability. In the cockpit, Sparco® racing seats and safety harnesses ensure comfort and driver safety during the 12-day race. The chassis also has an integrated spare parts and tool storage supply, which will undoubtedly prove imperative since there will be no pit crew, and drivers will need to make their own repairs while on the course.
"As the clear-cut leader in side-by-side racing, there's a lot of expectation and pressure as we make our debut at Dakar, but the RZR Pro XP provides us the ultimate weapon to take on what are arguably the harshest, most-demanding racing conditions in the world," said Steve Kemp Vice President of RZR. "We're excited to take on this incredible challenge, and we believe the combined experience and expertise of Polaris RZR Factory Racing and Jimco Racing will prove to be a formula for success."
For the nearly 5,000-mile-long race, the team has chosen to utilize 30" high-performance BF Goodrich® tires, wrapped around sturdy aluminum 15" Method Race Wheels® with beadlocks. The vehicle is equipped with a full four-corner hydraulic disc brake system, with a dual master cylinder setup and driver-controlled brake bias for maximized braking performance and control to navigate the unknown obstacles that have made Dakar a race all its own.
The Polaris RZR Factory Racing lineup of Wayne Matlock and navigator Sam Hayes, Kristen Matlock and navigator Max Eddy, and Craig Scanlon and navigator Keith Redstrom will be led by Dakar racing legend Darren Skilton.
The team is backed by some of the most respected brands in the off-road industry, including 4 Wheel Parts – the largest off-road accessory retail chain, BF Goodrich Tires – the official tire of the Dakar Rally, Method Race Wheels, and FOX RACING SHOX. Sparco is the official supplier of the team's safety equipment, driving suits and helmets, with equipment and vehicle liveries designed by Troy Lee Designs®. RZR Factory Racing Pro XP vehicles are also powered by Motul, Braille Battery, Motec, and Jimco Racing. Additional supporters include Rigid Industries®, Trayco, Shiftpod®, and Factory Canopies.
The team will tackle the world's toughest race beginning January 3, 2021 through January 15, 2021 in Jeddah, Saudi Arabia.
More information about Polaris Off-Road Vehicles and Polaris Engineered Accessories can be found at RZR Homepage. Also, join the conversation and follow RZR on Facebook, Instagram and Twitter.
About Polaris
As the global leader in powersports, Polaris Inc. (NYSE: PII) pioneers product breakthroughs and enriching experiences and services that have invited people to discover the joy of being outdoors since our founding in 1954. With annual 2019 sales of $6.8 billion, Polaris' high-quality product line-up includes the Polaris RANGER, RZR and GENERAL side-by-side off-road vehicles; Sportsman all-terrain off-road vehicles; Indian Motorcycle mid-size and heavyweight motorcycles; Slingshot moto-roadsters; snowmobiles; and deck, cruiser and pontoon boats, including industry-leading Bennington pontoons. Polaris enhances the riding experience with parts, garments and accessories, along with a growing aftermarket portfolio, including TransAmerica Auto Parts. Polaris' presence in adjacent markets includes military and commercial off-road vehicles, quadricycles, and electric vehicles. Proudly headquartered in Minnesota, Polaris serves more than 100 countries across the globe. www.polaris.com.
Unless noted, trademarks are the property of Polaris Industries Inc. JIMCO RACING® is a registered trademark of Jimco Racing, Inc.®; 4 Wheel Parts® and 4WP® are registered trademarks of TAP Worldwide; BF Goodrich® is a registered trademark of B. F. GOODRICH COMPANY; Method Race Wheels® is a registered trademark of CUSTOM WHEEL HOUSE, LLC ; FOX RACING SHOX® is a registered trademark of Fox Factory Inc.; Sparco® is a registered trademark of Sparco S.p.A.; Troy Lee Designs® is a registered trademark of Troy Lee Designs, LLC; MOTUL® is a registered trademark of MOTUL société anonyme (sa); Motec® is a registered trademark of Motec Holdings Pty Ltd; Rigid® is a trademark of JST Performance, LLC d/b/a Rigid Industries, LLC; TRAYCO® is a registered trademark of Home Depot U.S.A., INC.; Shiftpod® is a registered trademark of Christian W. Weber.