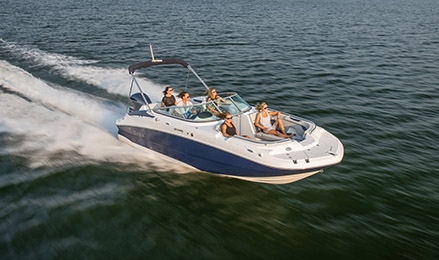 Best Practices for a Safe Ride
Part II: In the Water
Polaris is passionate about helping people experience the outdoors. Whether using a RANGER to complete a task or taking a sunset cruise on a Bennington Pontoon, the highest priority should always be safety. As a part of Motorsports Awareness Month, we want to take the opportunity to review a few of the fundamentals of safe and responsible riding across every terrain.
We are hitting the water this week for Part II of our peek into safer and responsible riding across terrains.


Before the Ride
Learn from the Experts: There are several industry organizations that serve as great resources for information, we encourage all riders – seasoned and new – to seek out such organizations and clubs in their area and leverage their knowledge. A few of note include:


Take a Class: The best boaters are informed boaters. Before being a captain or a passenger, it's important to take a training course to understand your boat and expectations on the water. Visit BoatUS.org for a list of courses offered by state. Many of these classes also provide insights on local laws and regulations and can help you familiarize yourselves with those in advance.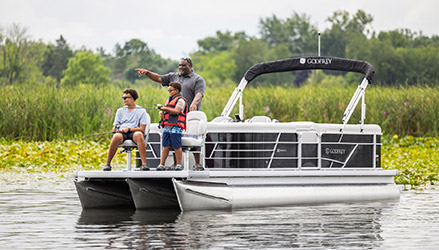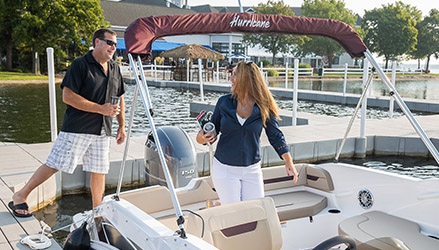 Consult the Boat Owner's Manual: It is best practice to review the owner's manual before you hit the water to help you understand how to safely operate your boat.


Maintain your Boat: Similar to your automobile, it is always good practice to make sure your boat gets the proper maintenance – some owners can perform, and others may require a visit to your local dealer. Check out the basic maintenance checklist at Discover Boating.


Bring a Jacket: Lifejackets are a key part to a safer day on the water. A life jacket should fit snuggly, have all straps and buckles fastened, and be age and weight appropriate to the wearer. The regulations regarding wearing jackets vary by age and location, but at a minimum one must be present for every boater on board. Helpful resources:


Watch the Weather: Weather can make or break a day on the water. Check the forecast and the water conditions before you head out and throughout your day. Remember that conditions on the water, such as wind, can be more impactful than off the water.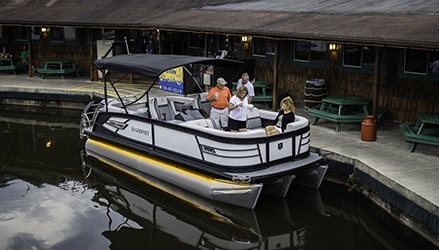 During the Ride
Count your Life Jackets: Just a reminder to always make sure you have the correct number of life jackets on board.


Obey Local Laws & Regulations: Always review and follow the boating rules and regulations for your given location. Visit USCGBoating.org for links to state boating laws.


Share the Water: The water is often enjoyed by more than just boaters. Personal watercrafts, kayaks, and paddle boards are just a few of the other vessels you may see. Make sure to be alert and aware for all to enjoy a day on the water safely. Visit Discover Boating for an overview on boating etiquette.


Be Prepared: Bringing the right items to help when things don't go as planned is key. Be prepared with a fire extinguisher on board, plenty of life jackets and a first aid kit.

Helpful Resources:

Stay Alert & Sober: The number one factor in water accidents is operator inattention. As a captain you must stay alert, watch for markers, avoid excessive speeds, and remain sober. As a passenger, you can help by remaining on the lookout to assist your captain.


According to BoatUS Foundation, almost half of all boating accident involve alcohol – if serving as captain it is best to stay sober and avoid consumption of alcohol or drugs.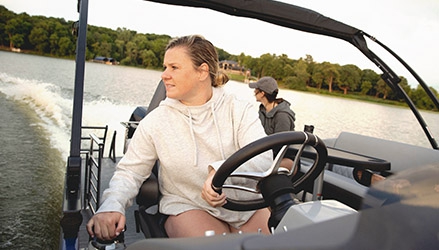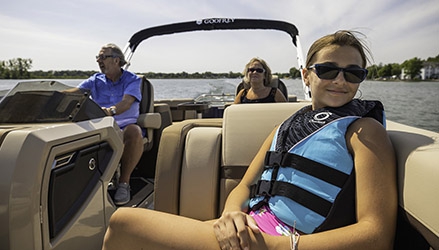 Beyond the Ride
Transporting your Boat: It is recommended to transport your boat using a trailer specifically designed for it. Visit Discover Boating for an overview on how to tow a boat.


Storing your Boat: Properly storing and maintaining your boat both in season and during the cooler months will help keep it in good condition and lead to a more enjoyable, safer riding experience. Helpful Resources: