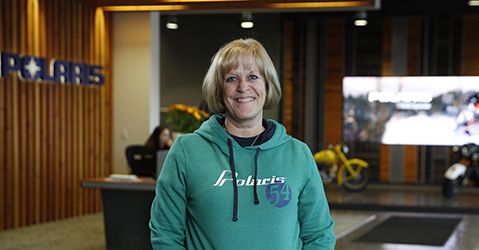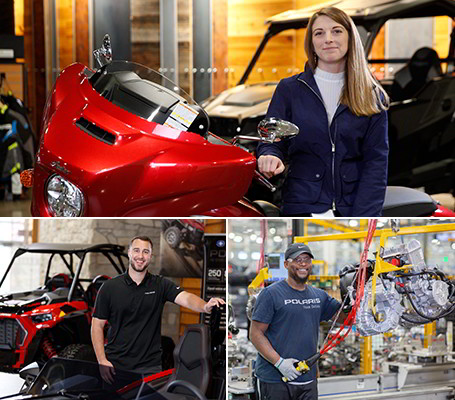 The safety of our entire Polaris family is our top priority. During this time of uncertainty, we remain committed to supporting our customers, employees, dealer partners and the communities where we operate.
We continue to carefully monitor the situation and our teams are meeting regularly to assess, plan and respond to the evolving situation. We are closely following the guidelines of international health and national regulatory agencies such as OSHA (Occupational Safety and Health Administration), WHO (World Health Organization), the CDC (Centers for Disease Control and Prevention), along with state health agencies, as we navigate the evolving Coronavirus situation.
We've taken several prudent measures focused on our employees' health and safety:

Restricted facility access by canceling tours and limiting visitors across our locations.

Suspended travel across our global team to business-critical requirements only.

Added a temporary COVID paid leave policy that provides up to 10 days of pay at 100% pay for quarantine, illness, or a facility shutdown.
Bolstered our cleaning procedures, which includes more frequent cleanings and additional sanitizing stations.

Strongly encouraged work-from-home, where feasible, to lower employee populations at our locations and minimize face-to-face interactions.

Reviewed and modified work areas to support social distancing practices including staggered start times and breaks to minimize number of employees in common areas, break areas, lunch rooms at any given time.
Support for the Community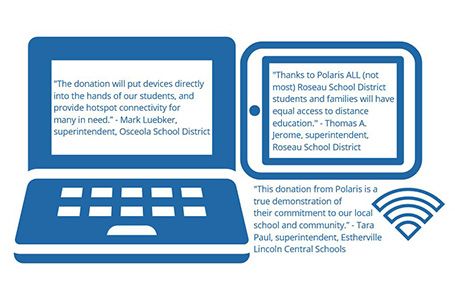 Polaris has a long-standing history of supporting our local communities and we recognize continued efforts – big or small – are of even greater importance during times of need and uncertainly. Through the Polaris Foundation, we recently donated more than $220,000 in technology to meet the needs of local students in Minnesota, Wisconsin and Iowa as they transition to distance learning.


"This will be a game changer for our school and kids. I can't express how grateful our School, kids and parents are for Polaris' kindness," said Larry Guggisberg, Ed. D. superintendent, Greenbush Middle River School District. "With the technology grant from Polaris, ALL students in the Greenbush Middle River School will be able to actively participate in quality distance education programming."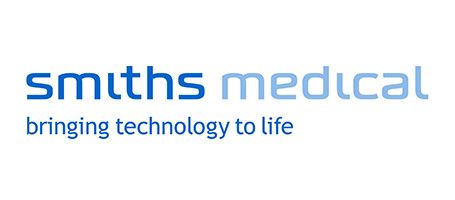 When Polaris learned that Smiths Medical, a leading global manufacturer of specialty medical devices, was looking to ramp up their manufacturing of IV infusion pumps at their Oakdale, Minnesota, facility, Polaris reached out to see how they could help. As a result, several employees from our nearby Osceola, Wisconsin facility signed up to work with Smiths' team in Oakdale to help support production efforts. As Smiths continues to assess its needs, Polaris is ready to increase support as necessary.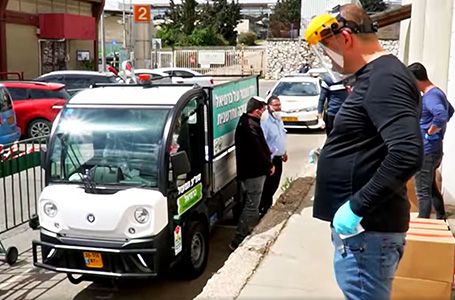 Our vehicles are being used by first responders and volunteer groups to support communities and individuals in need. In Karmiel Municipality in Israel employees and volunteers use Goupil vehicles to distribute food and medicine portions to the elderly daily in alignment with Ministry of Welfare's instructions.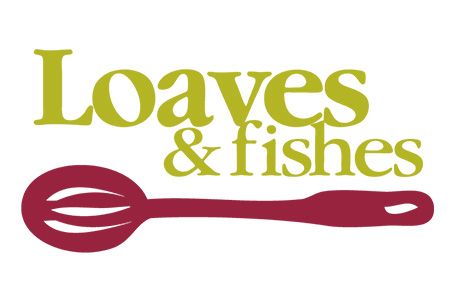 Due to employees working from home, the cafes at Polaris' corporate office locations have been closed. Our Minnesota facilities were able to donate hundreds of pounds of produce to Loaves and Fishes rather than discard the unused food.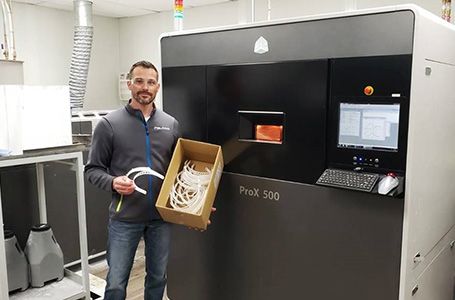 Several of our facilities have put our 3D printers in action printing frames for face shields to help aid local medical communities. A team at our Wyoming, Minnesota facility is working with 3D Systems and St. Thomas Academy to print frames. In Huntsville, Alabama employees have printed 45 frames and counting in support of local aid efforts.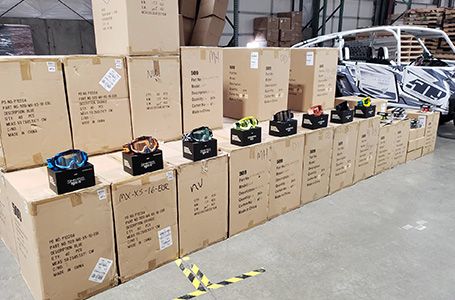 Polaris worked with Goggles For Docs to donate nearly 1,300 pairs of 509 and KLIM goggles to provide eyewear to healthcare workers fighting on the frontlines.
Support for our Dealers & Customers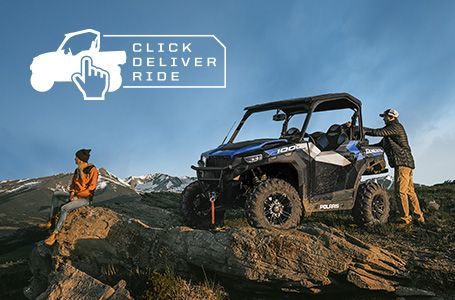 CLICK. DELIVER. RIDE. by Polaris
Certain times require innovation and adaptability – two things Polaris has always delivered. That's why we are introducing a new way for dealers to deliver Polaris vehicles to customers: Introducing CLICK. DELIVER. RIDE. Polaris Off Road, Slingshot and Indian Motorcycle customers may select their ideal vehicle, complete the purchase process from the comfort of home with their local dealer, and have the vehicle delivered. CLICK. DELIVER. RIDE. is a limited time only offer at participating dealers based on state laws and is subject to change.
Committed to maintaining our fundamental service promises, we've evolved our support model to better meet the immediate needs of our customers and impacted dealerships with a more regionalized focus and direct to customer technical support. This includes Owner-Direct AskPolaris Live Video Technical Assistance.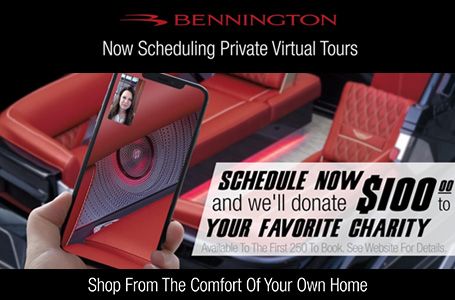 Bennington Pontoons is working with local dealers to offer customers an opportunity to tour their dream boat from home through a private virtual boat tour.