Guías de compra
August 18, 2022
The Complete Guide to Buying an ATV/4 Wheeler
Cuando se trata de comprar un vehículo todoterreno o de cuatro ruedas que se ajuste a sus necesidades, hay varios factores a considerar. Desde precios, opciones de financiamiento, pagos mensuales, marca, modelo y uso: esta guía de compra le brindará las herramientas para tomar una decisión de compra mejor informada. Como líder mundial reconocido en vehículos todoterreno, Polaris está aquí para ayudarlo a buscar el ATV o vehículo de cuatro ruedas adecuado para usted.

Un vehículo de cuatro ruedas puede ofrecer las mismas emociones, aventuras y capacidades en el sendero que un vehículo side-by-side, y para muchos es el vehículo ideal para entrar al mundo de los todoterreno. Esta guía no solo le ayudará a buscar el ATV adecuado, sino que también le ayudará a tomar una decisión mejor informada sobre los accesorios, las ruedas y las llantas del ATV. Por último, hemos descrito las pautas básicas de precios de vehículos ATV y de cuatro ruedas, incluida la ventaja de pagos mensuales asequibles. Ahora, busquemos su próximo vehículo todoterreno.
What is a 4 Wheeler or ATV?
The four wheeler was born not long after the three wheeler or ATC disappeared. Featuring four, low pressure all-terrain tires, high-ground clearance and a robust suspension to tackle rugged terrain, the ATV/4 wheeler has become one of the most popular off-road vehicles in the world. Most tout four-wheel drive capability, which allows an ATV or four wheeler to travel over rough ground, drive through deep mud and water, and climb rocky hillsides with relative ease. They are also very adept at hauling and towing large loads over difficult terrain. In short, the ATV is just that, an all-terrain vehicle that can work hard, play hard and can open up a new world of off-road adventure.

Equally appealing are the varied ways an ATV can be used. They include:


Hunting

and Fishing
Farming and Ranching
Lawn Care and

Landscaping

General Utility Tasks
Recreational Trail Riding

This incredible versatility is what made the ATV one of the most popular off-road vehicles in the world. Yet, it's the recreational side that attracts so many to the four wheeler market. Popular ATV's like the Polaris Sportsman offer a level of performance, utility, versatility and affordability that makes it ideal for hundreds of tasks and trail riding adventures. Throughout North America there are thousands of miles of trails where you can experience the off-road freedom only an ATV can deliver.

When ridden properly and after taking an ATV or 4 wheeler riding course, these vehicles can be enjoyed by riders of varying skill levels. So, which one is right for you?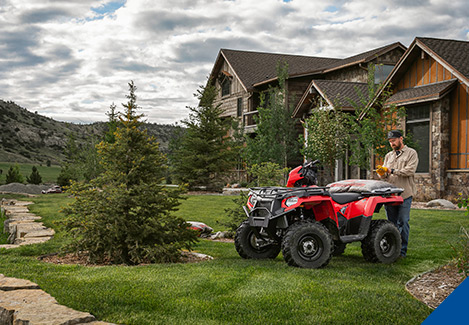 What are the different types of ATVs/4 Wheelers?
It's important to note when it comes to buying an ATV there are many different models to choose from, but most can be divided into a few key categories or types of quads.


Sport ATV – Models like the Polaris Scrambler 850 and Scrambler XP 1000 perfectly represent the sport performance quad with race-proven power, suspension and handling.
Recreation/Utility ATV – From small jobs to big tasks, or any kind of adventurous trail-riding, camping, mudding or hunting, Rec/Utility ATVs offer a wide range of versatility
Youth ATV – Sized right for age and ability, there are several youth model ATVs to choose from, each designed with safety features and to introduce the off-road experience to the next generation.

Along with individual designs and features, most ATVs or four wheelers offer a broad range of power options. How much power you want or need is dependent upon how you want to use the ATV, what kind of rider you are, your experience level and how much you want to spend. While youth 4 wheelers are powered to match the age and skill level of the rider, full-size models are available in a wide range of power offerings. If hauling or towing big loads is on your to do list, or if you're an experienced rider who craves peak performance, a higher displacement and higher horsepower ATV or four wheeler is likely your best option. For other buyers who are more concerned about price or rideability for a wide swath of skill sets, a smaller displacement ATV, like the incredibly popular Polaris Sportsman 570, is probably the right choice.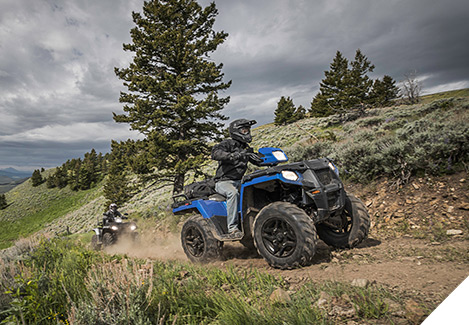 ATV recreativos/utilitarios
Utility or Rec/Utility ATVs are, as the name implies, designed for versatility and are geared towards a work first, play later usage.

Key features include:


Racks and Storage
Integrated Hitches for Towing
Independent Rear Suspension for All-Day Comfort
High Ground Clearance
Electronic Power Steering (Optional)

Utility quads are arguably the most popular ATV in the industry. In some ways, nearly every ATV available in the market today is designed to deliver some degree of utility, yet these four wheelers are engineered to do more work and still deliver a great trail ride when the job is done.

Polaris has all the bases covered in this category starting with the Sportsman 450 HO and Sportsman 570. Both offering incredible value and feature legendary ride and handling, reliable and efficient electronic fuel injection and the industry's quickest-engaging all-wheel drive system. The popularity of Sportsman is especially evident with the Sportsman 570 - the best-selling automatic 4 wheeler of all time.

For those who want more by every measure, nothing compares to the Sportsman 850 and Sportsman XP 1000. Delivering the hardest working, smoothest riding performance with a rider active design, this duo delivers unstoppable power and capability.
These are performance first machines built to deliver key performance attributes:


Speed and Acceleration
Precise Handling
Premium Suspension Performance

Sport quads range from four-wheel drive models designed for trail performance to rear-wheel drive models geared towards racing on motocross tracks or in wide open deserts. This class once only contained pure-race type ATVs with clutches and manual shift transmissions. But as the ATV category grew, so too did the sport quad class to now include four-wheel drive trail models with automatic transmissions.

When it comes to all out performance in a Sport ATV, nothing compares to the Polaris Scrambler XP 1000S. With a wider stance than a "traditional" sport quad with more suspension travel, greater ground clearance and a tough as nails design, it delivers unprecedented stability and performance in the most challenging terrain.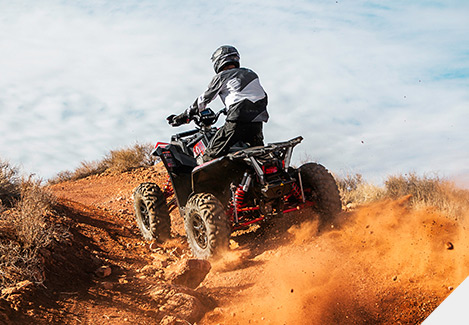 Within the utility category there are several sub categories, but one that often receives special attention is hunting. Hunting quads often start life as a utility ATV and are then specialized with unique accessories, features and colors to deliver improved hunt category performance.

Some key hunting options and accessories include the following:


Premium Camo paint
Gun Scabbard
Hand and Thumb Warmers
Rack Extenders and Bumpers
The final category is youth ATVs. Offered in various sizes and power options for specific age groups, youth quads are a fun way to get children and young riders into the sport with a sized right approach.

A great example of this sized-right and powered-right approach can be found in the Polaris youth ATV line-up. The Outlaw 70 is designed for riders 6 and up and is packed with safety-features. Both the Outlaw 110 and Sportsman 110 are perfectly-suited for riders 10 and older. For more experienced youth riders, the Phoenix 200 and its 196cc engine delivers performance and safety features for riders 14 and older.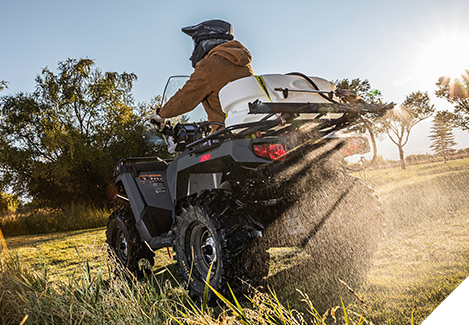 How Much is an ATV/Four Wheeler?
Los precio del mercado de vehículos usados puede ser extremadamente difícil de navegar al comprar un ATV, pero el precio debe reflejar directamente lo siguiente:


Condición del vehículo
Año del modelo y millaje/horas
Características y accesorios
Ubicación

En última instancia, el mercado de vehículos usados depende de lo que el mercado actual soportará. Sin embargo, sabemos con más certeza cuánto costará un ATV o vehículo de cuatro ruedas nuevo al observar el Precio de venta sugerido por el fabricante (MSRP). Cuando echamos un vistazo al panorama general, los ATV de tamaño completo generalmente oscilan entre $6,000 (USD) y $16,000 (USD). Algunos de los ATV utilitarios más populares, más vendidos y aún muy capaces se pueden encontrar por menos de $7,000.

La financiación de un nuevo vehículo de cuatro ruedas es otra opción a considerar. Con fabricantes que ofrecen tasas de interés bajas y otros incentivos, es posible que encuentre que la financiación es una opción más asequible para considerar. La financiación no solo hace que la experiencia de propiedad sea asequible para más personas, sino que también le brinda la oportunidad de disfrutar de un ATV más potente y con muchas características.
Tipos de accesorios para ATV
Just as important as the ATV or 4 wheeler itself are the accessories you attach to truly elevate the capability, performance, convenience and looks of your ATV. The right accessories can help you specialize the capabilities and convenience of your ATV to match how you want to use the vehicle. Popular accessory categories include:


Racks, Extenders and Storage
Wheels and Tires
Winch Kits
Plows
Lighting
Audio Components and Speakers
Windshields and Hand Guards
Track Kits
Hunt Accessories
¿Qué tipo de llantas necesito para un vehículo de cuatro ruedas/ATV?
Since the appearance of the first ATV or 4 wheeler, it was the unique tires which truly defined the vehicle's capabilities. Today, those large, low pressure "balloon tires" of yesteryear have been replaced by more specialized designs. They include:


All-Terrain Performance
Desert and Loose Sand
Mud and Water
Rock Climbing
Snow and Ice
Hard Packed Trails
Soft Loam Trails

Most tires found on ATVs and four wheelers from the factory feature a tread pattern for good all-around performance. However, as indicated by the categories listed above, there are hundreds of specialized tires are available in various tread patterns and sizes to enhance the performance and traction for various types of terrain. Serving as the vital contact patch between the ground and your ATV, having the right tire can truly define your ATV's all-terrain capability.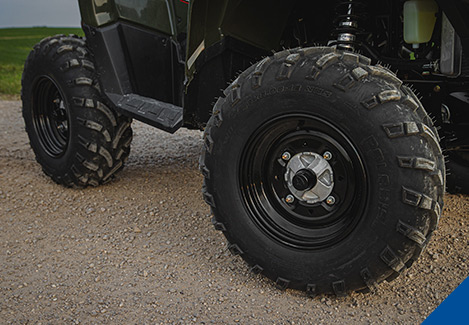 In short, when it comes to buying an ATV, do your homework. Determine what type of ATV model is right for how you plan to ride. From trail riding to general utility to hunting and so much more, the world of quads and four-wheelers is incredibly diverse. Now that this ATV buying guide took you a few steps closer to finding the vehicle right for you, let Polaris help you find the exact ATV vehicle you need for your purposes.
También podría gustarle...