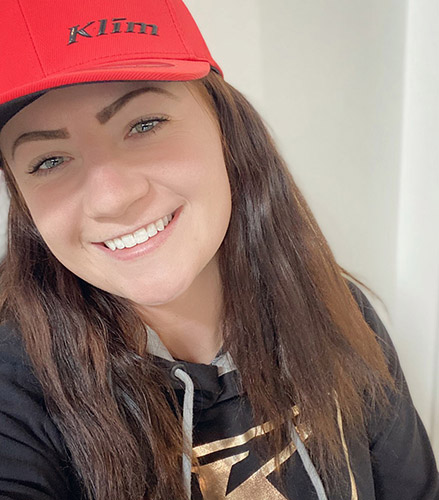 State: Utah

Snowmobile: Patriot Boost RMK Khaos 155

Favorite Place to Ride: Uinta Mountains

It all began in 2012 when Sydnee started going with friends to the mountains and fell in love with it. She has been enjoying winters in my home state of Utah her whole life. Snowmobiles have been a big part of that enjoyment. Her love for sleds began when she was young. Her dad would take her sisters and her on rides out in the fields. 2015 rolled around and she was finally brave enough to have her own sled. She bought a 2010 Polaris Dragon 800 155 and learned how to ride on her own. In 2017 she started working for a Polaris Dealership and fell head over heels for the Axys chassis. In 2018 she bought a 2018 Polaris PRO RMK. Once she rode that sled, she told herself that she was going to learn anything and everything about Polaris Snowmobiles. When the Dealership started their transition to becoming Intermountain West Powersports she decided it was her time to shine, and she committed herself to powersports as a career.

It makes Sydnee so happy that she gets to be on the cutting edge of snowmobile technology. She loves that she is the reason customers walk out the door better informed about Polaris Snowmobiles. She is pleased that she is the reason customers return to our dealership.

Sydnee is a very driven individual and when she wants something, she goes for it 100%. She wants to share her knowledge and show her passion for Polaris Snowmobiles through her sales, social media, riding, local events, and industry events.