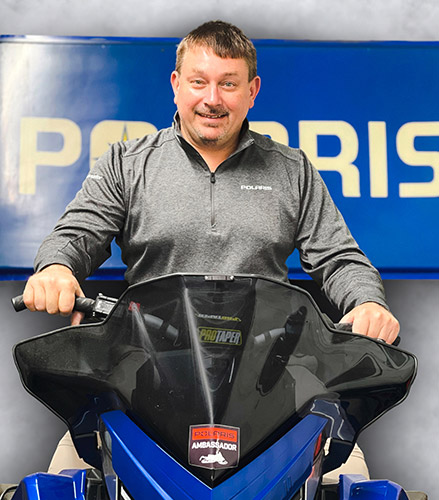 State: New Hampshire

Snowmobile: 850 Switchback Assault

Favorite Place to Ride: Pittsburg, NH, The County in Maine, and the Island Pond/Maidstone Lake trails in Vermont

Lenn began snowmobiling on the back of his father's sled at age 6 in 1969. By the winter of '72- '73, his parents purchased Lenn and his younger brother Doug, a new 1973 Polaris Colt 175. Lenn's parents were very active snowmobilers in the 60's. They eventually opened a year-round sporting camp in Pittsburg, NH in the early 70's. Known as Timberland's, his parent's goal was to create a premiere snowmobile destination resort in the Northern White Mountains of New Hampshire. This is where Lenn's passion for snowmobiling really began. As a kid, he witnessed 1st hand, the growth of the sport of snowmobiling, seeing sleds from all the manufactures during this time period. The oldest of 5 brothers, Lenn and his 4 brothers, continue to ride together as much as possible. Since the early 2000's, Lenn and his brothers Doug and Pete have organized an annual snowmobile trip to Maine. They and their group of friends annually ride 800-1000 miles in 4-5 days in Maine's vast trail systems.
Lenn has been very active on social media, known as Lennstang on several online forums, sharing his mechanical and snowmobiling experience with fellow riders. Lenn regularly helps online readers with understanding and adjusting their suspension settings. "Over the years, the snowmobile suspension has progressed, offering better control and stability, as well as a more comfortable ride. This has led to much more complex shocks which now have multiple knobs for fine tuning. This can be overwhelming to inexperienced riders. I like to help these riders understand how tune their settings for their riding styles". With over 50 years of riding, Lenn enjoys sharing his knowledge.
Lenn's passion of the outdoors is the driving force behind his many years of riding Polaris snowmobiles. Winter is his favorite season. "It's only on a snowmobile, that you can access places that are un-accessible during the summer, while covering 200-300 miles in a single day!" as Lenn explains. "Snowmobiling allows you to view mother nature as no other sport can provide. It's a combination of the beauty of the wilderness combined with the freedom of snowmobiling, that gets my blood flowing.