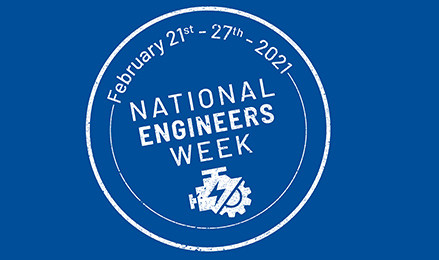 National Engineers Week: Recognizing the Engineering Team at Polaris
>
Engineers are full of ideas. They're inquisitive. Team oriented. Talented problem solvers. And – creative.
More than 1,000 engineers work at Polaris, creating, designing and bringing new ideas to our lineup of products and offerings. Of those, many found their calling to be engineers at a young age, it was their interest in the details – the keen eye for figuring out not only the 'how' but also the 'why' something moved, rolled, turned … and powered up.
Driven by ingenuity and teamwork, Polaris engineers collaborate to develop and create the industry's most impressive vehicles. February 21-27, 2021 is National Engineers Week and, in recognition, we're honored to highlight some of our own. Here are their stories:
For Amber Malone, systems engineering director in Global Electrical, Embedded & Connected Systems (GEECS), a day within Engineers Week stands out: Thursday, Feb. 25 is Introduce a Girl to Engineering Day. As a child, Amber Malone had the opportunity to go to work with her dad as part of Take Your Daughter to Work Day. "He did not talk about his work at home, so this was the first time I learned anything about what he did," she says of her father who was responsible for the calibration lab at one of the Honeywell locations. She says she was impressed as her dad – her dad! – showed her the many contraptions he invented and built. "He found new ways to do things, solve problems and streamline his team's work," she says. "I saw an opportunity to combine my passion for creativity with a career that enabled me to really make a difference in people's lives. Now, I get to work with the best team in powersports to design and develop the vehicles and products that help people all over the world Think Outside."
In Malone's 13 years as a Polaris engineer, she says that each new project becomes her favorite, "I'm always most excited about the projects as we are just about to launch them because it incorporates our latest learnings and our best understanding of the customer needs at the time." Currently, Malone and her team are working to support the recently announced rEV'd Up strategy in electrification. "I'm proud that we're setting the stage for the future."
Jessica Kubalek, senior platform manager, On-Road, also credits her dad with inspiring her to become an engineer. He was a service station owner, and Jessica recalls watching him do oil changes on cars that required him to remove the front wheel and inner fender. "It made me think that there has to be a better way." And with that, the wheels in her engineer's mind began turning. Fast forward to years later and her work at Polaris where she's be involved in the launch of several derivatives, including the Indian Scout Bobber Sixty. She says the nuts and bolts of her job are interesting but credits the people she works with that make her career so enjoyable and fuels her passion for engineering new ways of doing things. "I like to Think Outside in a collaborative environment, working with my teammates to build upon our ideas for what's next for the riders."
Joe Kenney, project engineer with Taylor Dunn, says it's the ability to create new things and come up with new ideas that drives his interest in engineering. "It blends a great balance between creativity and problem solving," he says. "I really enjoy the dynamic work environment and the collaborative culture. The best idea always wins out and it is fun to contribute to our team goals."
Keaton Hilbly, a program leader for Slingshot, remembers being inspired by motor vehicles while growing up. "I enjoyed driving anything I could get my hands on," he says, recalling that it wasn't just about driving for him. "It was about the importance of proper repair and maintenance that was engrained into my mind from my dad at an early age." As he looked ahead to college, both of his parents challenged him to find a career that would allow him to tie in his passion for vehicles and powersports. And mechanical engineering turned out to be a great option because of the wide array of opportunities it created. "As I started school, working for Polaris was a dream, and I'm blessed it became a reality."
For Hilbly, it was his engineering know-how combined with his lifelong love for powersports that brought him to Polaris. "If I could duplicate the powersports experiences I had growing up for someone else, I would do it in a heartbeat," he says. "To do that, I try to think outside of a direct engineering mindset and try to keep the end customer in mind when designing, testing or riding anything Polaris makes. I continue to prioritize riding our products when possible, to ensure I understand the customer experience and so that I can help continue to make it better."
Rachel Kendall, a powertrain design engineer who works on two-stroke snowmobile engines says she always loved to build things and solve problems. "I was inspired to become an engineer at a young age, even before I knew what engineering was," she says, recalling how she would work on several machines at the family hobby farm with her dad – including Polaris sleds. "I really liked machines, and specifically engines." When she was in middle school, a career aptitude test revealed engineering as her top result, cementing her interest in the field.
The project she says she's most proud to have been a part of is the complete redesign of the Polaris Patriot completely redesigned Polaris Patriot snowmobile engine platform. A four-year project to release the 850 Patriot for model year 2019 was then followed up with a 650 Patriot motor for model year 2021. But the best part? "The team I get to work with," she says of the small team based out of the Roseau, MN, facility. "We are a tight-knit group that is very passionate about Polaris products and snowmobiling."
Todd Cole, supervisor in ORV Testing says his inspiration to become an engineer developed through a lifelong interest in fixing, building, and testing various things. "I'm involved with a lot of projects here at Polaris. I enjoy seeing a vehicle evolve through the testing process and being part of the engineering environment here at Polaris." But, he says, his favorite thing is the company culture. "Everyone has the same passion and we love what we do." That's evident in how Cole enjoys his free time, spending most of it riding his RZR and mountain biking in the desert.
Vince Burger, CAE, Sr credits Hot Wheels and the pinewood derby for inspiring his interest in vehicles – and the mechanical systems that run them, but he says it was the first car show he attended at age 10 that put his dream of becoming an engineer into high gear. "I knew from that point on that I wanted to do hands-on engineering to solve problems and be creative."
"Being able to contribute to the design of the vehicles that our customers enjoy is one of my favorite things," he says. "I Think Outside by experiencing our product as much as I can, whether that is on the snow, a paved road or a muddy trail. I reflect on what I enjoy about the outdoors, the impact our products have on that experience and looking to how we can make that experience better."
Amanda Graus, senior product leader in ORV Systems & Design, says that the engineering field intrigued her because of the broad range of opportunities it offered and the fact that engineers not only get to work on many different types of projects and teams, but also in a variety of industries and jobs.
Early in her career, she was part of a snowmobile project and it became not only a passion project but has ultimately turned into a way for her to give back and introduce snowmobiling to new enthusiasts. "I loved the product so much that I ordered one for myself right after the model launched," she says. "Riding the snowmobile that I helped create and seeing others' positive reactions to it is one of the proudest moments of in my career."
Each winter, she leads a snowmobile ride called Sled Betty, a ride geared towards helping new female riders get into snowmobiling by teaching the basics and providing a comfortable atmosphere. It also gives experienced riders an opportunity to share their knowledge with new riders. "I am very proud of the community of riders we are growing."
For her husband, Jonathon Graus, staff systems engineer – electromechanical, Off-Road Vehicles, became an engineer as a result an initial interest sparked by his grandfather, also an engineer. "From a young age I was always interested in how systems worked and what could be done to improve them," he says. "When it came time to make the decision of what to do after high school, going to college to become an engineer was the only option on my mind."
Graus was part of the team that invented the DYNAMIX active suspension system and explains that the successful launch allowed Polaris to be the first to market with a semi-active electronically controlled shock package specifically developed and tuned for the off-road environment. "It has been both challenging and rewarding to lead the group as we continue developing, innovating, and improving this technology."
And, he says, Polaris is full of like-minded individuals, making it a fun place to work and an easy place to make friends. "It has given me the opportunity to come into work daily and innovate on new products and technologies. These two things combined make for workdays that are both challenging and fun."