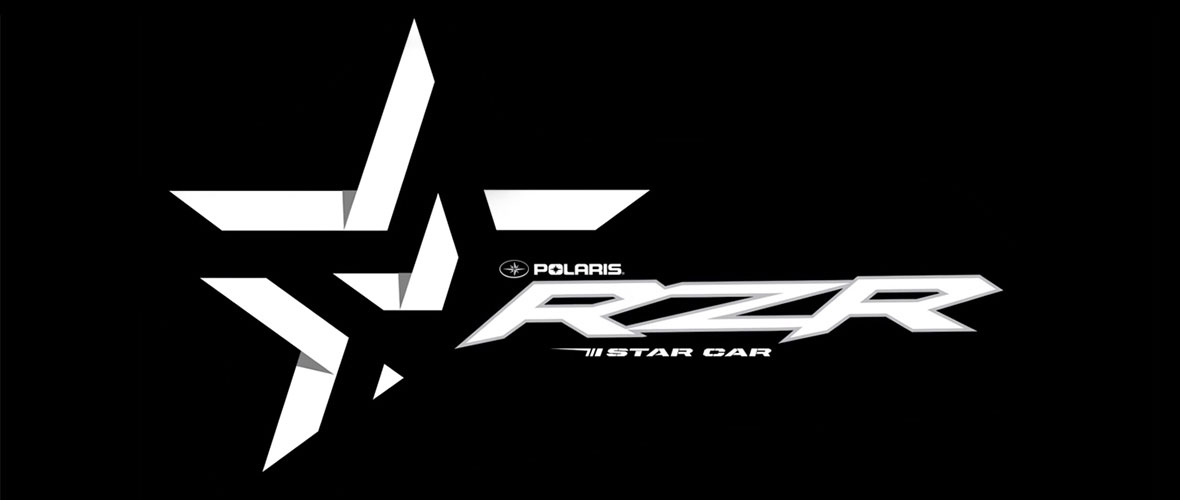 Champion Racer Tanner Foust Guest Driver for Mint 400 in Polaris RZR Star Car
>
Las Vegas, NV (February 28, 2017) – Champion driver and television personality Tanner Foust this week becomes the first celebrity guest driver on the Polaris RZR Star Car team, when he joins Jim Beaver and Jolene Van Vugt to share driving duties in the brand new, race-modified 2017 Polaris RZRXP4 Turbo EPS at the Mint 400 in Las Vegas, March 2-5.
"I have a Polaris RZR at home and some of the most fun weekends I've had with family and friends have been ripping RZRs around," said Foust. "I've wanted to do the Mint 400 for years and the RZR makes legendary races like this so accessible! It's a great opportunity and I'm very thankful to Polaris, Jim and Jolene for inviting me to compete."
Foust is an innovator behind the wheel who often finds himself on the vanguard of emerging motorsport trends. He was the first American ever to seriously race rallycross in Europe, before the format was adopted in the United States. He's also a key figure in the development of the sport of drifting, and a multi-X Games Rally winner. Foust says he's excited to break ground again in the Polaris RZR Star Car.
"I've been fortunate enough to drive the Baja 1,000 and sample short course truck racing in various vehicles over the years," said Foust. "I can't wait to tackle a race as epic as the Mint 400 in the Polaris RZR Star Car."
In addition to his racing successes, Foust has held multiple world records, including for the astonishing Hot Wheels Double Loop Dare, which saw Foust drive a car through a 66-foot loop-the-loop. He scored the indoor speed record for TV's Top Gear USA, and set a distance jump record with Hot Wheels when he made a 332' ramp-to-ramp leap in a truck at the Indy 500.
"We're thrilled to have a driver as accomplished as Foust joining us for the first race of the Polaris RZR Star Car this season," said Matt Boone, Polaris RZR Marketing Manager. "This is a driver who excels at everything he does, and we're proud to have him on our team for the Mint 400."
Foust joins racing radio host Beaver and action sport star Van Vugt to make a stacked three-driver roster for the Las Vegas Race. The blue and white vehicle is being unveiled for the first time this week.
In addition to the Mint 400, the Polaris RZR Star Car will appear with celebrity guest drivers at three additional racing events this year:
Polaris RZR UTV World Championship, April 13-15, in Laughlin, Nev.
General Tire Vegas to Reno, presented by FOX, Aug., 18-19, in Las Vegas
Pahrump Nugget 250, presented by Supercross.com, Nov. 30 – Dec. 3, in Pahrump, Nev.
Guest star drivers for these races will be announced leading up to the events.
The team's participation in the four select Best in the Desert races will be documented in a series of online videos released throughout the season. Follow the Polaris RZR Star Car this season on Facebook, Instagram and Twitter at @PolarisRZR, and by using the hashtag #RZRStarCar and #RZRLife. Find Jim Beaver's Down & Dirty Radio Show online at www.downanddirtyshow.com and through all podcasting channels.
ABOUT THE DRIVERS:
Tanner Foust is a versatile and multi-talented driver known for his supreme car control and a proven track record of podium placements, national championships and world records. He is a three-time U.S. rallycross champion (2012, 2011, 2010) who has also won four X Games gold medals (2013, 2010, 2007), and two Formula Drift championships (2008, 2007). He has held multiple world records, while his varied race experience also includes multiple years of open wheel competition, the Pikes Peak Hill Climb, rally racing, various types of sports car racing and the SCORE Baja. When he isn't racing, the professional driver also performs in films and on television as a stunt driver and host.
Jim Beaver is an accomplished off-road racer and the host of the No. 1 action motorsport radio show in the world, the Down & Dirty Radio Show Powered by Polaris RZR, as well as its action sports spin-off, Project Action. Both popular programs are available as podcasts and via online streaming. The Down & Dirty Radio Show Powered by Polaris RZR also is in national syndication on radio networks across the United States as well as 500 networks in 177 countries on the American Forces Network. The Down & Dirty Radio Show Powered by Polaris RZR is available each Tuesday morning, while Project Action releases on Thursdays.
Jolene Van Vugt is one of the most accomplished female athletes in action sports today. The first female to backflip a full-sized dirt bike, she holds multiple Guinness World Records. A Canadian originally from London, Ont., Canada, Van Vugt has earned multiple championship titles, including becoming the first-ever Women's Canadian Motocross National Champion. She also has a starring role in many motocross and stunt videos, including the Nitro Circus series of videos and shows. Recently, she has shifted focus to racing side-by-sides in the Terracross Championship, and working in the television and film industry as a stunt performer.
About Polaris
Polaris Industries Inc. (NYSE: PII) is a global powersports leader that has been fueling the passion of riders, workers and outdoor enthusiasts for more than 60 years. With annual 2016 sales of $4.5 billion, Polaris' innovative, high-quality product line-up includes the RANGER®, RZR® and Polaris GENERAL™ side-by-side off-road vehicles; the Sportsman® and Polaris ACE® all-terrain off-road vehicles; Indian Motorcycle® midsize and heavyweight motorcycles; Slingshot® moto-roadsters; and Polaris RMK®, INDY®, Switchback® and RUSH® snowmobiles. Polaris enhances the riding experience with parts, garments and accessories, along with a growing aftermarket portfolio, including Transamerican Auto Parts. Polaris' presence in adjacent markets globally include military and commercial off-road vehicles, quadricycles, and electric vehicles. Proudly headquartered in Minnesota, Polaris serves more than 100 countries across the globe. Visit www.polaris.com for more information.