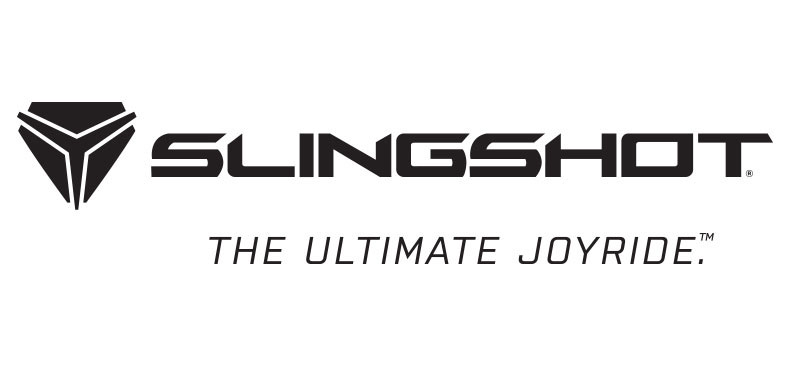 Slingshot® Rolls Into Daytona For The 77th Annual Bike Week
>
Minneapolis, MN (March 1, 2018) – Slingshot®, the bold three-wheeled roadster with an open-air cockpit will take to the streets of Daytona at the 77th Annual Bike Week in Daytona Beach, March 10-17. Following a successful first run of demo rides in 2017, Slingshot will offer Bike Week attendees the opportunity to test ride the full 2018 lineup at Daytona International Speedway. In addition, Slingshot will hold premium owner's events and other exciting opportunities for fans to interact with the exotic looks, raw performance and pure adrenaline rush that this lightweight three-wheeled vehicle offers.
"We are thrilled to be back at Daytona Bike Week to engage with attendees and spend time with owners," said Rachael Elia, Slingshot Marketing Manager. "Our 2018 lineup takes the Slingshot to the next level, and our presence and activations reflect the thrilling experience you achieve when driving the Slingshot for motorcycle and car enthusiasts alike."
Demo rides and individual drive experiences are offered daily to engage visitors with the 5-speed manual transmission, three-wheeled roadster. Below is the full schedule of Slingshot events at Bike week, including speedway display locations, consumer thrill ride opportunities, and Slingshot owner activities.
Demo Rides at Daytona International Speedway
March 10-17 from 9AM – 5PM
Slingshot will offer consumers two unique demo opportunities at the Daytona International Speedway during Bike Week. Drivers interested in getting behind the wheel can sign up and take a Slingshot out on the open road. New for 2018 is the opportunity to ride passenger on a Slingshot road course. Riding with a professional drift course driver on a closed course, passenger riders will enjoy a side-by-side experience, exploring the twists and turns of the ride space. Joy rides are free and available to those who are interested. Attendees interested are encouraged to come out and sign up early for both demo experiences.
2018 Slingshot Demo Rides
March 10-17 from 9AM – 5PM
Indian Motorcycle of Daytona Beach (290 North Beach Street)
Open daily, visit the dealership in the heart of Daytona Beach to check out Slingshot's full 2018 lineup and take individual demo rides of your favorite models.


Volusia Motorsports (1701 State Rd 44 in New Smyrna Beach)
Open daily, visit Slingshot's dealership in New Smyrna Beach to check out Slingshot's full 2018 lineup and take individual demo rides of your favorite models.
Slingshot Owner Events
Sunday, March 11 at 10:30 a.m. (Racing North Turn 4511 S Atlantic Ave Ponce Inlet, FL.)

On Sunday, March 11 Slingshot owners are invited to Racing's North Turn to showcase their three-wheeled roadster. Owners in attendance will be provided lunch, entertained with live music, and be entered for the chance to win raffle prizes and awards. For more information or to register, visit: Slingshot Owners Event.
Wednesday, March 14 at 6PM – 8PM - Volusia Motorsports Slingshot Owners Party – Half Wall restaurant in Port Orange
Saturday, March 17 at 9:30AM – 11AM - Volusia Motorsports Slingshot Owners Ride
Slingshot owners are invited to take part in two experiences with Volusia Motorsports. For more information, visit: http://www.volusia-motorsports.com/events-calendar-powersports-vehicles-dealership--xcalendar
For more information about Slingshot, or to find a dealer, visit PolarisSlingshot.com. Follow Slingshot on social media: Facebook.com/PolarisSlingshot, @Slingshot on Twitter and @PolarisSlingshot on Instagram.
About Polaris Slingshot
Polaris Slingshot®, a product of Polaris Industries Inc. (NYSE: PII), is a three-wheeled motorcycle that delivers a ride like nothing else you've ever experienced. It is "The Ultimate Joyride™." The Slingshot is powered by a 2.4-liter engine with a five-speed manual transmission and comes in a variety of models that will leave you grinning from ear-to-ear. To learn more, visit slingshot.polaris.com.