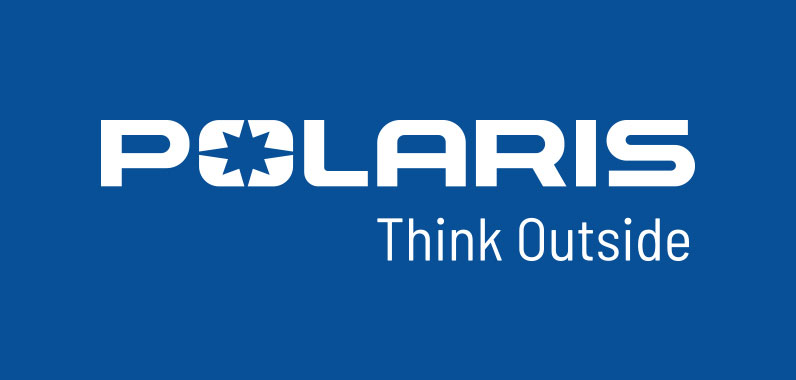 Polaris Teams Set the Pace Through First Half of Grueling Iron Dog Cross-Country Race Across Alaska
Polaris Team Leads at Halfway Point and Nine of Top 20 Teams Are on Polaris Sleds
Medina, MN (February 20, 2014) – Polaris cross-country snowmobile racers Mike Morgan and Chris Olds were the leaders at the midway point of the grueling 2014 Iron Dog cross-country snowmobile race across Alaska. Competing in the Pro class, Morgan and Olds led the field into Nome, Alaska, where the drivers enjoyed a midway banquet on Wednesday night before racing resumed Thursday, Feb. 20.
The Pros are expected to cross the finish line in Fairbanks on Saturday, Feb. 22.
Racers on Polaris snowmobiles dominated the Pro-class field at the midway point. Of the two-man Pro teams that reached Nome:
Polaris teams were in first and third places.
Five of the top 10 teams were on Polaris.
Nine of the top 20 Pro teams were on Polaris sleds, more than any other brand.
Morgan and Olds arrived at the midway point in Nome 25 minutes ahead of the second-place team, meaning they would start the second half of the race with that advantage. Both were competing on Polaris 600 Switchback PRO-R sleds. Morgan, 28, is from Nome and is in his fifth Iron Dog. Olds, 42, who is from Eagle River, Alaska, has run the race 12 times before this year and was on back-to-back winning teams in 2010 and 2011.
In third place at Nome was the Polaris team of Todd Minnick and Nick Olstad, a pair of Wasilla, Alaska, racers who teamed up to win the 2009 race. Minnick, 34, is on a 600 Switchback PRO-R in his 12th Iron Dog race. Olstad, 31, who is on a 600 RUSH in his 10th Iron Dog, won in 2005, his first year as a Pro, as well as in 2009.
Experienced racers said conditions for this year's 2,013-mile race were as rough as they could recall. The final leg of the first half, from Unalakleet to Nome, was reportedly as challenging as the veterans had ever seen it, with a severe lack of snow, frozen tundra tussocks, exposed rock, and broken ice slowing teams and causing significant sled damage.
Polaris racer Scott Faeo rode the final 40 miles to Nome on one ski after an aftermarket ski on his sled broke. He and all the other racers took advantage of the layover in Nome to work on their sleds.
Other Polaris race teams in the top 10 at the halfway point were:
7. Archie Agnes and Arnold Marks, both from Tanana, Alaska, and both on 600 Switchback PRO-R sleds.
8. Shane Barber of Willow, Alaska, and Ryan Sottosanti of Wasilla. They reached Nome just 39 seconds behind the team ahead of them, and are racing on 600 Switchback PRO-R sleds.
10. Gabe Bunke of Moorhead, Minnesota, and Scott Faeo of Wasilla. They were racing on 600 INDY sleds and arrived in Nome just 8 seconds behind the ninth-place team. Faeo is in his second Iron Dog as a Pro, and Bunke, a Midwest cross-country and enduro racing star, is competing in the Iron Dog for the first time in his career.
Polaris Pro-class racers in the second 10 spots at Nome included:
13. Archie Beetus and Ryan Folsom, both on 600 INDY models.
16. Kyle Conner on a 600 Switchback and Jerrod Vaughn on a 600 Switchback PRO-R.
18. Chris Carroll and Ray Chvastasz, both on 600 RUSH PRO-R models.
20. Tyler Delimont and Larry Jones, both on 600 INDY sleds. Of the Trail-class teams that had reached Nome, the third-place team includes Rachel Kidwell, a rookie who was racing on a 600 Switchback PRO-R.
About Polaris
Polaris is a recognized leader in the powersports industry with annual 2013 sales of $3.8 billion. Polaris designs, engineers, manufactures and markets innovative, high-quality off-road vehicles, including all-terrain vehicles (ATVs) and the Polaris RANGER® and RZR® side-by-side vehicles, snowmobiles, motorcycles and on-road electric/hybrid powered vehicles.
Polaris is among the global sales leaders for both snowmobiles and off-road vehicles and has established a presence in the heavyweight cruiser and touring motorcycle market with the Victory and Indian Motorcycle brands. Additionally, Polaris continues to invest in the global on-road small electric/hybrid powered vehicle industry with Global Electric Motorcars (GEM), Goupil Industrie SA, Aixam Mega S.A.S., and internally developed vehicles. Polaris enhances the riding experience with a complete line of Polaris Engineered parts, accessories, and apparel, Klim branded apparel and ORV accessories under the Kolpin and Cycle Country brands.
Polaris Industries Inc. trades on the New York Stock Exchange under the symbol "PII", and the Company is included in the S&P Mid-Cap 400 stock price index.
Information about the complete line of Polaris products, apparel and vehicle accessories are available from authorized Polaris dealers or anytime at www.polaris.com.