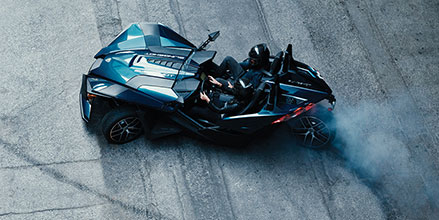 Polaris® Slingshot Celebrates "National Stick Shift Day" with Nationwide Stick Shift Lessons
Slingshot's "Summer of Fun" Continues with Manual Transmission Driving Lessons During Month of July
MINNEAPOLIS, MN (July 10, 2019) – Polaris Slingshot, the three-wheeled, open-air roadster which promises to deliver the most fun you can have behind a steering wheel, is reintroducing the lost art and pure fun of driving a manual transmission. In celebration of National Stick Shift Day on July 16, consumers can visit their local Slingshot dealership throughout the month of July for a free stick shift driving lesson. Each lesson will enter the participant in the Summer of Fun Sweepstakes for a chance to win a trip to Maui, Hawaii and an opportunity to flex their newly-acquired skills in the ultimate driving experience on the Road to Hana.
For the 18% of Americans that know how to drive a manual, many will recall the painstaking learning experience in an old, mundane vehicle. Slingshot wants to provide a new perspective on how much fun mastering the art of slipping gear to gear can be, in full control of the vehicle, by offering lessons in a Slingshot.
"Driving a manual transmission and feeling the gears shift is simply the most fun way to drive," said Chris Sergeant, Vice President of Slingshot. "However, the population of proficient stick shift drivers is dwindling, and we want to provide the exhilaration of the gear shift to a whole new group of drivers. We want to reintroduce the lost art of driving a stick in the most fun environment possible, in the most fun vehicle on the road."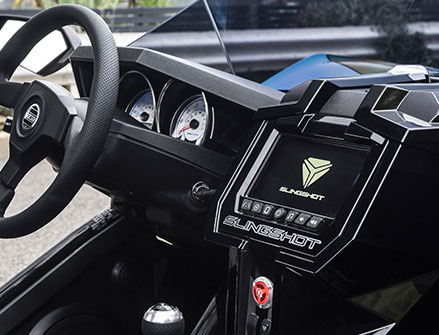 Consumers can go online at www.slingshot.polaris.com/en-us/dealer-locator/ to find their local participating Slingshot dealer and begin the journey to learning the most fun way to drive a vehicle.
The Summer of Fun sweepstakes, running throughout summer and until September 22, gives consumers unique and fun ways to enter. Entrants can enter by swinging by their local dealer and taking a Slingshot test drive, by renting a Slingshot, or by sharing their experience in a Slingshot on social media. All stick shift lessons are considered a "test drive," so all consumers who learn to drive a manual will be entered for the chance to win.
Entrants can also experience all the fun Slingshot has to offer by renting one through a Polaris Adventures Outfitter, which are located around the country. As an added bonus, Slingshot owners who showcase their Summer of Fun by posting videos and photos to Instagram, Facebook or Twitter and include the hashtag #SlingshotSummerFun will be entered for a chance to win.
With four distinct models, ranging from $20,999 to $30,999, the 2019 Slingshot lineup takes style, technology, and comfort to a whole new level. Each Slingshot packs a GM Ecotec 2.4L DOHC four-cylinder engine and delivers 173 horsepower by way of a five-speed manual transmission.
For more information about Slingshot, the Summer of Fun program, or to find a dealer, visit PolarisSlingshot.com.
Follow Slingshot on social media: Facebook.com/PolarisSlingshot, @Slingshot on Twitter and @PolarisSlingshot on Instagram. For information on Polaris Adventures and Slingshot rental locations, visit Adventures.Polaris.com.
About Polaris Slingshot
Polaris Slingshot®, a product of Polaris Industries Inc. (NYSE: PII), is a three-wheeled motorcycle that delivers a ride like nothing else you've ever experienced. It is "The Ultimate Joyride™." The Slingshot is powered by a 2.4-liter engine with a five-speed manual transmission and comes in a variety of models that will leave you grinning from ear-to-ear. To learn more, visit slingshot.polaris.com.
Slingshot® is a three-wheeled motorcycle. It is not an automobile and does not meet automotive safety standards. Drivers should always wear helmets and seat belts. Three-wheeled vehicles may handle differently than other vehicles, especially in wet conditions. Always wear a DOT approved full-face helmet and fasten seat belts. Driver may need a valid motorcycle endorsement. Rider licensing requirements vary by state. Check your state's requirements before driving. Don't drink and drive. Unless noted, trademarks are the property of Polaris Industries Inc. © Polaris Industries Inc.