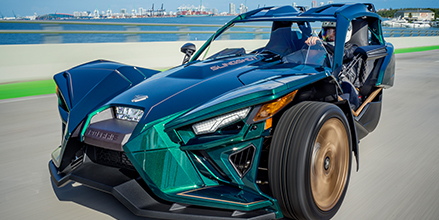 Polaris Slingshot Announces New Grand Touring LE With Autodrive Transmission
All-New Limited-Edition Model Delivers Luxurious Comfort for Any Driving Adventure; AutoDrive Transmission Allows Anyone to Get in, Stand Out & Turn the Ordinary into Extraordinary
MINNEAPOLIS, MN (July 14, 2020) – Take the road in comfort. Polaris Slingshot today announced its newest model to the 2020 lineup, the Grand Touring LE. As a limited-edition model, the Grand Touring LE delivers next-level comfort, style and design. Along with a host of amenities, the Grand Touring LE is highlighted by Slingshot's new 2020 AutoDrive transmission, an automatic-like driving experience without the need for clutching or shifting that allows anyone to get in, stand out and enjoy the adventure only a Slingshot can deliver.
Featuring exclusive Fairway Green paint with bronze accents and special-edition bronze wheels, the 2020 Grand Touring LE stands out from the crowd like nothing else. Slingshot's Quilted Comfort Seats provide all-day comfort for drivers and passengers, while a tall Ripper Series Wind Deflector adds protection from the elements. Slingshot's seven-inch Ride Command infotainment system with built-in GPS navigation and turn-by-turn directions is perfect for any adventure. Finishing off the limited-edition, custom-inspired design is a color-matched Slingshade top, color-matched Rear Fender and interior accent lighting.
"With superior comfort, convenient technology, and head-turning styling, the Grand Touring LE transforms daily driving into unforgettable adventures," said Chris Sergeant, Vice President of Polaris Slingshot. "Premium amenities set the Grand Touring LE apart from the rest of the Slingshot lineup, while Slingshot's new ProStar 2.0L powertrain, AutoDrive transmission, and redesigned interior ensures that driving a Slingshot elevates an ordinary commute into an extraordinary driving experience."
Similar to the 2020 SL and R, the Grand Touring LE features 70% all-new vehicle content. Taking center stage is Slingshot's AutoDrive transmission. With no clutch pedal or manual shifting necessary, drivers can operate a 2020 Slingshot with AutoDrive in much the same way they drive a standard automatic. With the majority of people unable to operate a stick shift, the implementation of the AutoDrive transmission takes the next step to further expand accessibility.
Furthermore, 2020 Slingshot models pack Polaris Industries' first four-cylinder engine, the ProStar 2.0L, and a completely redesigned interior – providing more comfort and convenience with a new steering wheel, gauges, and added storage compartments.
Drivers looking to personalize their Grand Touring LE can do so with Slingshot Engineered Accessories, including Slingshot's new Heated and Cooled Seats and Stage 1 Tune upgrade to deliver up to 203 horsepower. Slingshot's Heated and Cooled Seats features a proprietary thermoelectric technology that cools and heats the seat on three varying settings (low, medium and high), while a flexible graphene material disperses the heating or cooling throughout the bottom and backrest of the seat for full coverage. Each seat is plush, cushioned with accent stitching and an embroidered Slingshot logo in the headrest. A non-perforated design means each seat is water-resistant and highly durable. With no HVAC system, the Slingshot Heated and Cooled Seat is easily installed in replace of the standard driver or passenger seat. Drivers can further personalize their Grand Touring LE with a wide array of Slingshot Engineered Accessories, included additional storage and lighting options. For more information, visit PolarisSlingshot.com.
Starting at $33,999, the 2020 Grand Touring LE is shipping to Polaris Slingshot dealers now. Consumers can learn more and find their nearest dealers at PolarisSlingshot.com.
Follow Slingshot on social media: Facebook.com/PolarisSlingshot, @Slingshot on Twitter and @PolarisSlingshot on Instagram. For information on Slingshot rental locations, visit Adventures.Polaris.com.
About Polaris Slingshot
Polaris Slingshot, a wholly-owned brand of Polaris Inc. (NYSE: PII), continues to define the category through style, ride experience and community with our three-wheeled autocycle. With AutoDrive and manual transmission options, an open cockpit, side-by-side seating, 5" ride height and a 2.0-liter 4 cylinder engine, Slingshot comes in a variety of models that are sure to make a statement. Step into a Slingshot for an adventurous and unrivaled ride experience.
Slingshot is a three-wheeled motorcycle. It is not an automobile. It does not have airbags and it does not meet automotive safety standards. Three wheel vehicles may handle differently than other vehicles, especially in wet conditions. Always wear a DOT-approved full-face helmet and fasten seatbelts. The Driver may need a valid motorcycle endorsement. Drive within the limits of the law and your own abilities. Read, understand, and follow your owner's manual. Never drive under the influence of drugs or alcohol. Unless noted, trademarks are the property of Polaris Industries Inc. © 2020 Polaris Industries Inc.