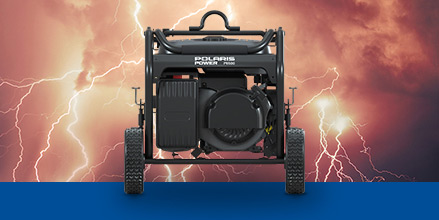 Polaris Power Provides. Protects. Performs.
The Importance of Portable Power is Highlighted During National Preparedness Month
September is National Preparedness Month. Recognized through FEMA and the Department of Homeland Security, the month serves as a timely reminder that now is the time to go ahead and make a preparedness plan today.
Having a reliable, portable power generator that is a key component when preparing for the worst. Each year, millions lose power and need to rely on portable power generators to provide electricity for countless reasons: to keep warm, to keep food and medicine at the right temperature, and most of all – to keep their families safe.
Polaris' portable backup generators are designed quiet, efficient, clean power sources with an electric start and have an extended run time for a variety of uses and provide continuous flow of power.
In developing each of the four models that comprise its full line-up of generators, Polaris focused on details that support safety, ease of use, and reliability. No detail was too small, no spec overlooked. Detailed design work, combined with the latest technologies, each generator went through extensive testing in order to be the most versatile and reliable units in the market – built strong in order to power the most unexpected disasters.
"The idea behind Polaris Power is that power solutions should be accessible anywhere and designed for anyone, on an off-grid adventure, working on a job site, or providing emergency power during a power outage," says Steve Eastman, president, Aftermarket and PG&A. "Owning a Polaris Power generator helps to ensure preparedness and peace of mind during unexpected events such as natural disasters."
Polaris Power is committed to providing people with reliable portable generators. With a line of generators built for all needs, from powering important household appliances in the aftermath of a disaster to simply standing at the ready in times of unexpected power outages. Backup generators offer homeowners peace of mind during unexpected power blackouts. Energy.gov reports that with the use of an emergency generator, there's a reduction of loss and increased speed of recovery.
Choosing the right generator for your preparedness plan
Polaris Power includes a portable inverter and open frame generators with features that range in watts, weight, run time, and others. Selecting a generator for your specific needs is key, and the items you'll need to power play into the generator you'll need. Some additional features on Polaris Power generators include factory-installed cold weather kits, electric start, illuminated control panels, and even remote start capabilities. To help consumers select the best generator option for their needs, Polaris Power offers a Help Me Choose section on their website.
Polaris Power donates three percent of its profit through providing portable generators to areas hit by natural disasters and other nonprofit organizations in North America. Most recently, donations were made to communities in the Southeast. In the span of mere weeks, coastal communities along Texas and Louisiana found themselves in the path of multiple named hurricanes – their early arrivals announcing a foreboding start to one of the most active seasons on record. Left in the wake of those hurricanes: downed power lines, stores without power, households with intermittent electricity, and countless residents seeking a semblance of shelter in damaged homes.
Polaris and our dealers in those affected states stepped in to help. Within days, Polaris had shipped Polaris Power 6500-watt generators and local Polaris dealers began to distribute them to their communities, donating the much-needed portable power units to families without power due to the storms. Among those in need of generators were dealership employees who'd lost their entire homes.