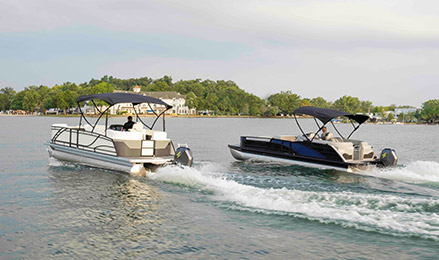 POLARIS MARINE UNVEILS TWO CONCEPT DEMONSTRATOR PONTOONS FEATURING HIGH-HORSEPOWER ELECTRIC PROPULSION
Elkhart, Ind. – Polaris Marine today unveiled two new concept electric pontoons under its Bennington and Godfrey Pontoons brands. North America's leading manufacturer of pontoon boats previewed these high-horsepower electric propulsion demonstrators at its annual dealer meetings in Syracuse, Ind., this month. Acting as the testbed capability demonstrations for future development of watercraft optimized for electric propulsion, the concept vessels were built on the 26-foot, 6-inch 2024 Bennington L-Series Bowrider and the 23-foot, 11-inch 2023 Godfrey Monaco 235 platforms.
"As a leader in the pontoon market, Polaris Marine is staying at the forefront of new and emerging technologies, like electrification," said Ben Duke, president of Polaris Marine. "Working closely with high-horsepower electric propulsion OEMs, Bennington and Godfrey are using concept vessels, such as the ones we shared with dealers, as testbeds for future development. As electrification technology rapidly advances, we will continue to test, learn and best understand how we use it to deliver incredible performance and create the best experiences for our customers."
The benefits of electric propulsion are well established on smaller applications, such as dinghies and tenders. Last year, Godfrey introduced the Mighty G, a 15-foot lower horsepower pontoon designed for the optimal use of a gas-or electric-powered engine. Electric motors are easier to maintain as there are fewer moving parts and they require no oil changes or scheduled engine maintenance. Electric propulsion also adds the benefits of instantaneous torque and the ability to travel in sometimes restricted waterways, making the adoption of effective, high-power, high-performance and long-range electric propulsion the next evolution in luxury pontoons.
The concept vessels were selected for demonstration due to the ability to place the batteries in a central location. The models are both popular platforms for their respective brands, giving the engineering teams opportunity to explore and validate the capability of electric propulsion, while allowing dealers a behind-the-scenes look at some of the testing and learning that is taking place within Polaris Marine. With a 150-hp outboard electric motor from Forza X1, the Bennington and Godfrey demonstrators reached a top speed of 25 mph and 28 mph, respectively. With this power, the cruising range of the Bennington was gauged comfortably to be 25 miles at 15 mph or 15 miles at 20 mph, while the Godfrey clocked in at 15 mph for an estimated range of 29 miles or 20 mph for 17 miles. The systems were controlled by a custom interface, Garmin touch screen display, and equipped with 4G connectivity for monitoring the system remotely via an app.
"Building off the introduction of last year's Mighty G, where customers who ended up selecting an electric vs. gas-powered motor option were more than double our expectations, we recognize the future potential of this technology and pontoons offerings that have been optimized for electric propulsion," continued Duke. "Our dealer network will be a critical partner in defining this future and we're pleased that they have been so receptive to these higher horse-powered demonstrators."
To learn more about Bennington, please visit benningtonmarine.com. To learn more about Godfrey, please visit www.godfreypontoonboats.com.
About Polaris
As the global leader in powersports, Polaris Inc. (NYSE: PII) pioneers product breakthroughs and enriching experiences and services that have invited people to discover the joy of being outdoors since our founding in 1954. Polaris' high-quality product line-up includes the Polaris RANGER®, RZR® and Polaris GENERAL™ side-by-side off-road vehicles; Sportsman® all-terrain off-road vehicles; military and commercial off-road vehicles; snowmobiles; Indian Motorcycle® mid-size and heavyweight motorcycles; Slingshot® moto-roadsters; Aixam quadricycles; Goupil electric vehicles; and pontoon and deck boats, including industry-leading Bennington pontoons. Polaris enhances the riding experience with a robust portfolio of parts, garments, and accessories. Proudly headquartered in Minnesota, Polaris serves more than 100 countries across the globe. www.polaris.com
Bennington® is a registered trademark of Pontoon Boat, LLC a wholly-owned subsidiary of Polaris Industries Inc.
Godfrey® is a registered trademark of Highwater Marine, LLC, a wholly-owned subsidiary of Polaris Industries Inc.