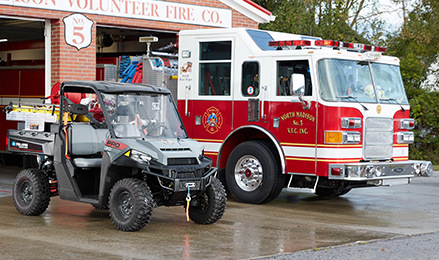 New Diesel Fire-Fighting and Rescue UTVs From Polaris
The Pro XD firefighting and rescue units provide a diesel engine and enhanced payload
Minneapolis – October 8, 2020 – Utility task vehicles (UTV) are a critical component to any department's fleet, improving response time, reach and reducing the personnel requirements, without compromising mobility, budget or effectiveness. The new Pro XD firefighting and rescue units are turn-key vehicles from Polaris Government and Defense, a division of global powersports leader Polaris Inc. (NYSE: PII), and the only utility vehicle manufacturer to directly offer complete and turn-key fire and rescue vehicle packages covered under manufacturer's limited warranty.
The Polaris Pro XD is designed for the sole purpose of work, with an increased payload in the pallet-sized cargo box, greater durability and better serviceability. Pro XD has two and four-seat, gas and diesel models offering up to 2,075 pounds payload and 2,500 pounds towing capacities, heavy-duty driveline components and up to 200-hour maintenance intervals. The vehicles also feature puncture-resistant Kevlar®-backed vinyl seats, all-new tires for longer life on hard-packed surfaces, as well as multiple standard safety features like horn, reverse beeper and vehicle fault alarms which notify users of potential issues that could cause serious damage to the vehicle.
The Polaris Pro XD is a heavy-duty UTV-based apparatus designed to expand the reach of fire and rescue personnel and help improve response time in environments and conditions that traditional vehicles can't access. The Pro XD's larger cargo box and expanded payload allows for bigger skids, incorporating professional systems that are familiar, having been developed with years of firefighter input by industry expert RKO Enterprises®. The diesel model also benefits departments and organizations that have otherwise standardized on heavy-fuels. Three models include the firefighting UTV-based apparatus, rescue only, and a combination fire and rescue vehicle.
The Pro XD firefighting UTV has a 95-gallon water with 5-gallon integral foam copoly tank, foam fire suppression system, professional fire pump, hose and reel, and the ability to draft from an external water source. The Pro XD rescue skid incorporates a rear attendant seat and a stokes rescue basket. And a combination fire and rescue skid incorporates the fire tank and equipment as well as the stokes rescue basket. Any of the vehicles can also include professional emergency lighting, public address system and custom graphics to match the rest of a department's fleet.
RKO Enterprises® develops the fire and rescue skids and integrates the equipment to provide the best, finished vehicle solutions for our customers. The fire and rescue equipment skids are also removable, retaining the vehicle's modularity and allowing the Pro XD to be used for a variety of jobs, including fire prevention, search and rescue, public works applications, disaster relief and community events.
Polaris fire and rescue vehicles are also available for government discount pricing through GSA, Sourcewell® (formerly NJPA) or state or local contracts. Once purchased, the vehicles are professionally upfit and delivered directly to the customer's location. The entire system comes fully set up for immediate use and is under full warranty from Polaris. Polaris also offers customers the capability to support and maintain their own fleet of vehicles through maintenance and operator training courses, authorized Pro XD dealers or Polaris can be contracted directly to provide the on-site service for the vehicles. Pro XD accessories also include an all-weather cab, heater and defrost, winch, and electric cargo box lift kit with in-dash switch.
Polaris has a history of helping organizations that serve our community and recognizes the important role grants play in funding. This commitment is strengthened through a grant assistant program geared toward state and local government, and educational customers. https://bit.ly/PolarisGrants.
Electronic forms of shopping, service and support have always been available, but even more so now with an increased emphasis toward expanding alternatives to in-person options. The Polaris.com/Gov website continues to be a resource for customers with online shopping tools and product specs for Pro XD. Customers can contact the Polaris Government and Defense team via phone at (866) 468-7783 or visit the online quote form for more information or to request a quote.
Polaris is a unique vehicle supplier that harnesses its more than 65-year legacy of mobility leadership, rich heritage of innovation, and vast commercial enterprise resources, along with a team of dedicated government, defense, and technology experts and operators to deliver the products that customers need to get their missions done. This winning combination of Polaris performance, procurement simplicity, premium service, training, support, and sustainment results in a best-value for government and defense customers.
Editor Note: For high-resolution images, video and data sheets, please visit our online media kit at http://bit.ly/PolarisPublicSafety or contact Katie Paulson, katie@kp-publicrelations.com.
About Polaris Government and Defense
Polaris Government and Defense vehicles are forged from more than 65 years of off-road innovation and leadership. The commercial prowess and innovative culture of Polaris are leveraged to deliver unique value to government entities and military forces worldwide. This dedicated division provides highly capable, simple to use, and affordable mobility platforms and vehicles that are readily available through easy procurement channels and supported through lifecycle training, service and maintenance from Polaris – the original equipment manufacturer.
Polaris Government and Defense | Mobility Made Easy
About Polaris
As the global leader in powersports, Polaris Inc. (NYSE: PII) pioneers product breakthroughs and enriching experiences and services that have invited people to discover the joy of being outdoors since our founding in 1954. With annual 2019 sales of $6.8 billion, Polaris' high-quality product line-up includes the Polaris RANGER, RZR and GENERAL side-by-side off-road vehicles; Sportsman all-terrain off-road vehicles; Indian Motorcycle mid-size and heavyweight motorcycles; Slingshot moto-roadsters; snowmobiles; and deck, cruiser and pontoon boats, including industry-leading Bennington pontoons. Polaris enhances the riding experience with parts, garments and accessories, along with a growing aftermarket portfolio, including Transamerican Auto Parts. Polaris' presence in adjacent markets includes military and commercial off-road vehicles, quadricycles, and electric vehicles. Proudly headquartered in Minnesota, Polaris serves more than 100 countries across the globe. www.polaris.com.
RKO Enterprises® is a registered trademark of RICHARD KEITH OLSON ENTERPRISES, LLC Kevlar® is a registered trademark of DUPONT SAFETY & CONSTRUCTION, INC.
Sourcewell® is a registered trademark of Sourcewell a public agency of the state of Minnesota
Unless noted, all other trademarks are the property of Polaris Industries Inc.