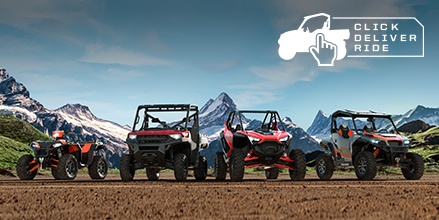 Your Next Adventure. Delivered: Introducing New Programs & Offerings For Polaris Customers And Dealers
>
Times of challenge require innovation and adaptability – two items Polaris always delivers. Polaris is taking steps and implementing new programs to meet the needs of our customers and support our dealers during these unprecedented times.
Click. Deliver Ride. by Polaris
This week, we launched a new way for dealers to serve customers – home delivery. Through the Click.Deliver.Ride. Polaris Off Road, Slingshot and Indian Motorcycle customers may now purchase a vehicle from the comfort of home, and have it delivered by their local dealer.
"At Polaris we've always been grounded in our mission to deliver the industry-leading vehicles to customers while supporting our valued dealers," said Pam Kermisch, Vice President of Marketing for Polaris Off Road. "Over the past few weeks we've continued to see strong traffic to our website. The Click.Deliver.Ride. program was developed to provide a comprehensive option for customers interested in making purchases from home."
"Over the last month, we've all had to adjust to a new way of life and have had to alter the ways in which we conduct our business," said Mike Dougherty, Indian Motorcycle President. "Our hope is that Click.Deliver.Ride. will help bring peace of mind to both our loyal customers and our network of dealers."
Click. Deliver. Ride. is available for a limited time only at participating dealers based on applicable laws and subject to change.
Increased Service Offerings for Customers
The Polaris team is focused on supporting our customers and our team of experts is available to help answer questions and provide resources. Our industry-leading Help Center is available 24 hours a day and filled with rich resources including video tutorials, articles, and podcasts for customers in need of assistance. In March alone our videos received a nearly 50% increase in views.
We have also rolled out Customer-Direct AskPolaris Live Video Technical Assistance. Our Owner Connection Team (1-800-Polaris) has partnered with the Technical Support teams to answer technical questions for riders that encounter limited dealer availability due to closures or reduced hours. The teams are prepared to utilize phone consultation and AskPolaris Live video sessions to guide riders with technical concerns. This is an interim effort to keep customers riding until dealer teams can resume normal operations, and full support of our customer's service requirements.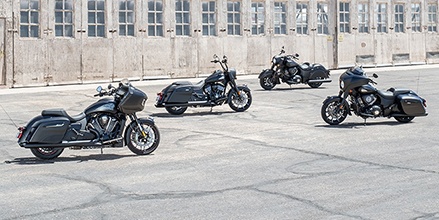 Supporting our Dealers
Many of our dealers are small business owners and we recognize that they are facing considerable pressure during this uncertain time. Polaris has launched numerous new programs to help support its dealers during this challenging time, on top of the robust programs in place.
Interest-Free Flooring and Interest Payment Coverage
To help support our dealers, our Off-Road Vehicles, Snowmobile and Motorcycle teams are offering additional flooring coverage for dealers in the coming months. Additionally, our Off-Road Vehicles and Motorcycle teams announced they will cover dealers' interest payments from March 20 – May 31 for any new Off-Road Vehicle, Indian Motorcycle or Slingshot not retailed during the interest-free flooring period.
Tips & Tools Playbooks
Given the ever-changing guidelines and updates, we developed playbooks outlining suggestions, and ideas dealers may implement to assist with engaging customers during this time.
Additionally, we complied guidelines and resources from the World Health Organization and the Centers for Disease Control and Prevention on preventative measures to avoid the spread of COVID-19, as well as the latest information on relief efforts for small businesses through the CARES Act.
Deferment Program and Managing Cash Flow
Polaris Acceptance is our joint-venture with Wells Fargo in the United States that provides U.S. dealers with necessary financial support for their business. To assist dealers, Polaris Acceptance is deferring remaining interest payments for items like PG&A and used inventory, curtailment, due-in-full and scheduled payments due in April and May for 60 days.
Our Boats team is also working with their financial partner, TCF Bank, on a cash flow relief program for all boat dealers, including 90 days deferred interest and curtailment plans.
At Polaris our dealers and customers are a part of our family and we are working diligently to support and serve our family.