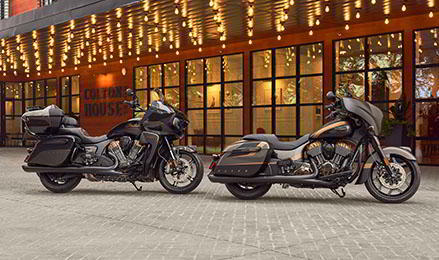 Indian Motorcycle Delivers Sophisticated Style & Best-in-class V-twin Touring Performance With New Indian Pursuit Elite, Announces Return Of Highly Exclusive Chieftain Elite
Crafted as the Ultimate in American V-Twin Style & Exclusivity, Indian Pursuit Elite & Chieftain Elite Combine Eye-Catching Style with Premium Componentry
MINNEAPOLIS, MN (April 11, 2023) – Indian Motorcycle, America's First Motorcycle Company, today introduced the Indian Pursuit to its limited-edition Elite class of motorcycles and announced the return of its ultra-premium Chieftain Elite. Featuring premium componentry, each Elite model is crafted as the ultimate in American V-Twin style and exclusivity.
"When we first introduced the 2018 Chieftain Elite, we wanted to create an offering that was not just limited in quantity, but exclusive in nature with custom details straight from the factory," said Aaron Jax, Vice President of Indian Motorcycle. "Today, with jewel-like finishes, our Elite line of baggers and touring models truly represent the best-of-the-best and deliver a statement like nothing else on the road."
Indian Pursuit Elite
With only 150 units available worldwide, 2023 marks the debut for the Indian Pursuit Elite. Known as the most capable and refined American touring machine on the road, the Indian Pursuit Elite offers sophisticated style and unparalleled comfort and performance. Designed for riders who value the journey as much as the destination, the Indian Pursuit Elite is packed with premium amenities and advanced ride-enhancing technology to achieve a more comfortable ride.
Sophisticated Style
The Pursuit Elite's premium Super Graphite Metallic and Black Metallic paint with Shadow Bronze Chrome accents exude sophistication. Color-matched Elite badging and premium components complete the bike's beautiful design.
Best-In-Class Performance
Taking center stage of the Indian Pursuit Elite is the 108 cubic-inch, liquid cooled PowerPlus engine. With best-in-class 122 horsepower and 128 ft-lbs. of torque, the Indian Pursuit Elite delivers incredible V-twin touring performance with unmatched passing power.
Premium Amenities & Ride Enhancing Technology
The Indian Pursuit Elite allows riders to enjoy long, epic rides in comfort and style. Electronically adjustable rear suspension preload from Fox® allows riders to adjust their preload for optimal comfort and handling under varying conditions. Whether riding solo, two-up or carrying more cargo – the electronically adjustable rear suspension preload is managed from the convenience of the bike's infotainment system. Plus, the Indian Pursuit Elite offers Smart Lean Technology using a Bosch® Inertial Measurement Unit to tune traction control, ABS, and torque for even more control and unsurpassed handling. Backlit switch cubes improve the rider's ability to see the bike's controls at night, while the Pathfinder Adaptive LED Headlight combined with Pathfinder S LED driving lights and saddlebag lights deliver improved visibility and more eye-catching style in dark conditions. Providing a luxurious ride experience, both rider and passenger get a heated seat with adjustable controls on the seat and infotainment system, and premium styling.
In addition, each Indian Pursuit Elite is equipped with an industry-leading seven-inch touchscreen powered by RIDE COMMAND and offers Apple CarPlay® integration, turn-by-turn navigation, Bluetooth® connectivity, one year of RIDE COMMAND+ connected features and more. Riders can cut through road and engine noise with Powerband Audio which works seamlessly with the RIDE COMMAND system to set the mood for the trip. Built-in amplifiers, a 9-band equalizer, and 16 speakers provide crystal clear sound at any speed. Equipped with remote-locking storage, riders can keep all cargo protected inside the spacious, weatherproof saddlebags and trunk. For riders looking to achieve further customization, a quick release low profile trunk is available as a color-matched accessory.
Chieftain Elite
Designed for riders who demand the best of the best and want to stand out from the crowd, the 2023 Chieftain Elite features meaner and more aggressive styling with custom-inspired details straight from the factory. With only 175 units available globally the Chieftain Elite is a limited build and highly exclusive.
Custom-Inspired Style
The new Chieftain Elite's eye-catching paint scheme featuring Super Graphite Smoke is complemented by premium Shadow Bronze chrome finishes and Indian Motorcycle headdress floorboards.
Offering an even more custom look, the Chieftain Elite's open fender showcases a new 10-spoke precision machined front wheel. Standard to the Chieftain Elite is fender-to-fender, as the Adaptive Pathfinder LED headlight and rear saddlebag LED lights provide head-turning style at night. An adjustable tinted flare windshield raises or lowers to the rider's preferred position with the push of a handlebar-mounted button for ultimate comfort.
Unmatched, Air-Cooled Performance
Packing the most powerful Indian Motorcycle air-cooled engine, the Thunderstroke 116, the Chieftain Elite delivers 126 ft-lbs of torque. Rear cylinder deactivation improves rider comfort when riding through slower traffic, while three selectable ride modes, including Tour, Standard and Sport, allow riders to adjust the bike's throttle response to match their riding style.
Premium Amenities & Ride-Enhancing Technology
Like the Indian Pursuit Elite, the Chieftain Elite features the seven-inch touchscreen display powered by RIDE COMMAND with Apple CarPlay®, GPS with navigation, and RIDE COMMAND+ features, like live traffic and weather overlays, and a vehicle locator feature. As standard equipment, the 2023 Chieftain Elite features backlit switch cubes, an integrated PowerBand audio system, and includes ABS, keyless ignition, tire pressure monitoring, as well as weatherproof and remote-locking saddlebags with more than 18 gallons of storage. For riders looking to personalize their ride, color matched accessories are available including a quick release touring and low-profile trunk, as well as hard lower fairings.
Pricing for Indian Pursuit Elite and Chieftain Elite begin at $39,999 and $35,499, respectively, and will begin shipping to dealers around the world in spring 2023.
Riders can learn more at their local Indian Motorcycle dealership, by visiting IndianMotorcycle.com, or by following along on Facebook, Twitter and Instagram.
Bluetooth® is a registered trademark of Bluetooth Sig, Inc.
Apple CARPLAY® is a registered trademark of Apple Inc.
BOSCH® is registered to Robert Bosch GmbH
FOX® is a registered trademark of Fox Factory Inc.
Unless noted, trademarks are the property of Indian Motorcycle International, LLC
ABOUT INDIAN MOTORCYCLE
Indian Motorcycle is America's First Motorcycle Company. Founded in 1901, Indian Motorcycle has won the hearts of motorcyclists around the world and earned distinction as one of America's most legendary and iconic brands through unrivaled racing dominance, engineering prowess and countless innovations and industry firsts. Today that heritage and passion is reignited under new brand stewardship. To learn more, please visit www.indianmotorcycle.com.
Media Contact
Alex Caswell
The Brand Amp
714-401-4079