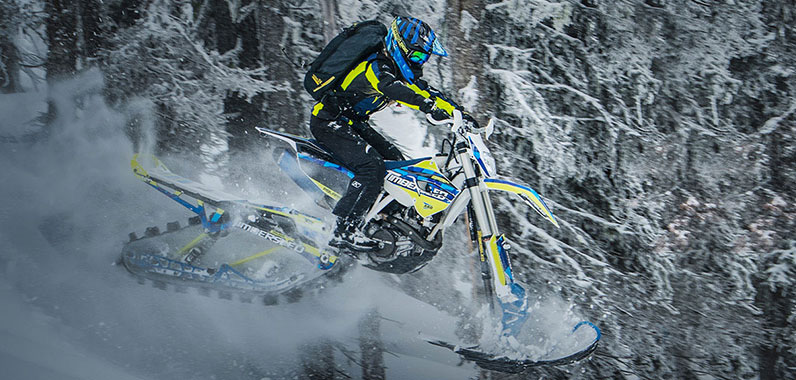 2019 Timbersled Lineup Features Race-Proven SX and Premium, Limited-Edition Models
>
Minneapolis, MN (March 6, 2018) – The 2019 Timbersled® lineup includes models to meet the performance needs of every snow biker. Available are an all-new race-ready model, a new Timbersled system for use with 110cc bikes, and several models that feature the high-performance ARO™ Chassis.
The Timbersled ARO 120, Timbersled ARO 137, and SnowCheck-exclusive LE versions of these two models utilize the ARO Chassis, which is narrow, lightweight, and agile. They feature true bolt-on design for easy installation and conversion between dirt and snow. The ARO platform was introduced in 2018 and proven to be a game-changing innovation for the snow bike industry for ultimate performance and handling as well as ease of installation.
The ARO Chassis is a game changer and the single most significant innovation in the snow bike industry. And after a year on the snow and on the racetrack, the ARO has delivered on its promise of best handling, easy converting, Timbersled toughness.
The ARO Rear Suspension has an advanced long-travel design to mimic the feel of a dirt bike, and the track approach angle is optimized to improve lift in deep snow. The ARO 120 and 137 models feature premium FOX® shocks that provide a confident, controlled ride. They also feature an exclusive 1:1 Ski-to-Track ratio for consistent handling and tracking, along with more precise sidehilling and carving. The ARO Rear Suspension can also be equipped with the optional, industry-exclusive Timbersled Suspension Strut™, which provides the snow bike with up to 20-inch of rear suspension travel.
The Timbersled ARO 120 LE and Timbersled ARO 137 LE deliver SnowCheck-exclusive performance and style. You get all the great benefits of the ARO Chassis, upgraded with custom-valved FOX ZERO QS3® coil-over front and rear track shocks, along with SnowCheck-exclusive custom colors and graphics, and exclusive wrap options.
All-new for 2019 is the SnowCheck-exclusive Timbersled ARO 120 SX which features race-proven technology engineered for optimal performance and built to withstand the most aggressive and abusive racing and riding conditions, whether that is dropping cliffs in the back country or clearing doubles on the backstretch.
The Timbersled ARO 120 SX is nearly identical to the kit used by 16 of the 20 Winter X-Games qualifiers in Snow Bikecross.
The ARO 120 SX features the race-proven and backcountry-ready Traverse track, which provides outstanding traction on the track and in the powder, along with race-valved FOX Clicker Shocks with 18-position compression and 24-position rebound adjustability to let a rider dial in the suspension to suit the day's conditions. This model features strong, durable components, including steel shock shafts, tunnel-reinforcing doubler plates, and a race-specific spindle.
The new Timbersled ST 93 Ripper features a new lightweight 93-inch track with more-aggressive lugs for improved traction, and a new dual-arm suspension that provides improved off-trail mobility. The Ripper is designed for use with all popular 110cc dirt bikes, and its adjustable low ride height provides a rider with easy, responsive handling that can change with the riders' comfort level. With its no-hyfax bogey wheel rail low-friction undercarriage, it can run in all conditions on any surface, from dirt to snow. The Timbersled Ripper is an excellent expansion to the Timbersled family and ensures every rider in the family can go snow biking.
The Timbersled ST 120 RAW delivers uncompromising, proven Timbersled performance at the best value price for entry-level snow bikers. It includes the Traverse™ Ski for improved grip and precise handling, the ARO spindle for easy bolt-on installation, the Convex track with aggressive 2.5-inch lugs, and RydeFX® shocks.
Accessories Complete the Experience
A full collection of Timbersled accessories is available to ensure the ultimate snow bike ownership experience. Accessories developed specifically for Timbersled-equipped bikes are available to enhance performance, rider comfort, cargo capacity and convenience, reliability, transport, and storage.
Available accessories include: Rekluse® high-performance auto clutch kits; Timbersled Custom Wraps by MotoFX for colorful custom style; electronics such as auxiliary lighting and additional instrumentation; convenient and secure storage such as the Elite Backcountry Tunnel Bag by OGIO®; and for transport, a wheel set, straps, ramp, and canvas covers. For the most performance-driven riders, there's the Timbersled TRIO™, a revolutionary snow bike front suspension that provides improved performance, handling, and control as well as a smoother, more comfortable ride.
Timbersled also offers elevated accessories for savvy riders who want to optimize performance, and essential accessories every rider should have, such as specially formulated Timbersled OW-40 Oil to keep your snow bike running its best in even the harshest winter conditions
Find more information on Timbersled at Timbersled.com. Also visit us and join the Timbersled conversation on Facebook, Instagram and Twitter.
Acerca de Polaris
Polaris Industries Inc. (NYSE: PII) es un líder mundial de deportes motorizados que ha estado impulsando la pasión de los conductores, trabajadores y entusiastas del aire libre durante más de 60 años. Con ventas anuales de 2017 de $5.4 billion, la línea de productos innovadores de alta calidad de Polaris incluye los vehículos todoterreno Side-by-Side RANGER®, RZR® y Polaris GENERAL®; los vehículos todoterreno Sportsman® y Polaris ACE®; motocicletas de tamaño mediano y de peso pesado Indian Motorcycle®; vehículos descapotables Slingshot®; y Polaris RMK®, motonieves INDY®, Switchback® y RUSH®. Polaris mejora la experiencia de manejo con partes, prendas y accesorios, junto con una creciente cartera de repuestos, incluyendo Transamerican Auto Parts. La presencia de Polaris en los mercados adyacentes a nivel mundial incluye vehículos militares y comerciales todoterreno, cuadriciclos y vehículos eléctricos. Orgullosamente establecida en Minnesota, Polaris atiende a más de 100 países de todo el mundo. Para obtener más información, visite www.polaris.com.