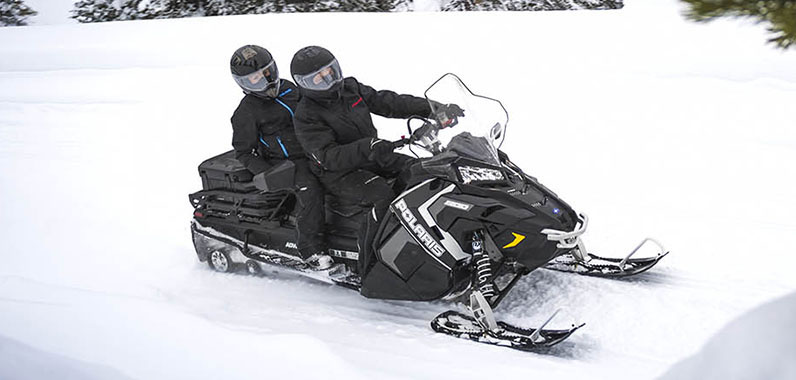 2018 Polaris® Snowmobile Lineup Features All-New Extreme Crossover Polaris® Titan™ Models, New SKS 146 in., and Race-Ready Switchback® XCR Models
>
Minneapolis, MN (March 6, 2017) – Polaris extends its decades-long dominance in snowmobile ride and handling with a 2018 model lineup featuring purpose-built models built on the innovative AXYS® platform. Polaris Snowmobiles provide riders with confident control and handling and are the quickest and most responsive sleds on the market.
Redefining extreme crossover versatility, the all-new 2018 line of Polaris Titan models are powerful and agile snowmobiles that feature industry-leading deep snow mobility, unmatched carrying and towing capabilities, solo or 2-up riding versatility, and off-trail or on-trail agility. Built on the new AXYS Titan Chassis, the three Polaris Titan models for 2018 have several innovative new features that ensure rider comfort, secure carrying, and reliable performance in all locations and conditions.
The 2018 Polaris Snowmobiles lineup also includes new models for Deep Snow and Crossover riders:
The 800 SKS 146 is engineered to deliver the ultimate deep snow performance along with confident handling on trails.
The 600 Switchback XCR and 800 Switchback XCR feature race-proven components for class-leading performance and the ultimate durability.
The full 2018 Polaris Snowmobiles lineup includes purpose-built models for every type of rider and terrain, including deep snow RMK® models, trail-dominating RUSH® models, versatile Switchback crossover models, INDY® models that epitomize the fun of snowmobiling, and recreational-utility Voyageur® models.
NEW Titan:
Extreme Crossover with Unmatched Capabilities
The new 800 Titan models completely redefine extreme crossover versatility. Built specifically for the world's most extreme conditions, these sleds not only deliver unmatched on-trail and off-trail performance for one or two riders but also inspire confidence when hauling large payloads.
Built on the new AXYS Titan Chassis and powered by the proven, reliable 800 H.O. Cleanfire® engine, the vehicles can go anywhere and do anything. Riders will experience the Rider-Balanced® Control expected of models on the AXYS chassis, which provides the agility and mobility needed to run off-trail, while maintaining confident control on-trail. The innovative Power Boosting Regulator delivers electrical power at low RPMs or idle, whenever and wherever you need it. The Polaris Titan cooling system with radiator and fan ensures optimal engine output, while the suspension package and aggressive 155-in. x 20-in. track let the sleds traverse the nastiest terrain while towing a load. And for added versatility, the integrated Lock & Ride® Versa Storage Platform makes it easy to attach or remove cargo carriers without needing tools, while the quick install 2-up seat allows for various riding options.
The three new Polaris Titan models – 800 Titan SP 155, 800 Titan XC 155 and 800 Titan Adventure 155 – feature distinctive trim and equipment packages to meet the needs of specific types of riders.
RMK:
New SKS Models Deliver Versatile Performance
Polaris Deep Snow models dominate in the mountains and heavy snow regions by delivering the ultimate combination of lift, control, and response.
The patented, raised AXYS Chassis, along with the AXYS RMK Rear Suspension and aggressive Polaris-exclusive tracks provide lift to put the sleds instantly on top of the snow. The rigid chassis and suspensions deliver rider inputs and power directly to the snow for the greatest response.
With powerful engines and the rigid, lightweight AXYS chassis, Polaris deep snow models provide riders with industry-leading power-to-weight ratios on models such as the 800 PRO-RMK® 155, the world's lightest mountain sled at 408 pounds. This provides Polaris RMKs with the instantaneous lift needed in the backcountry.
The 2018 Deep Snow lineup includes several models with either the proven 800 H.O. Cleanfire engine or 600 Cleanfire engine, and tracks lengths from 146 in. to 174 in.
The new 800 SKS 146 is designed to dominate the deep powder while maintaining confident on-trail handling. This sled features the Rider-Balanced AXYS chassis with the IGX 146 Rear Suspension for RMK-inspired off-trail agility along with a smooth on-trail ride. This sled comes standard with the 146-in. x 2.25-in. Peak Track, Gripper Skis and the Walker Evans® Piggyback Shocks. The SKS 146 also comes with features standard to the RMK lineup, including the narrow front end with the innovative forged aluminum A-arms and tall spindles.
Switchback:
XCR Models Feature Race-Ready Performance
The Crossover segment is the fastest-growing category in snowmobiling, and Polaris Switchback models offer riders the industry's most versatile performance. Switchback models deliver an unmatched combination of outstanding acceleration, tremendous traction on the trail, and smooth-handling, off-trail agility.
Built on the AXYS Chassis, Switchback models deliver Rider-Balanced Control, unrivaled acceleration riders can use on- and off-trail, and Rider Centric Comfort to suit seated or stand-up riding. Switchback models are the only Crossover sleds that corner flat on trails and carry the front end in the rough.
The new 600 and 800 Switchback XCRs feature 2.52-inch pitch 137-inch tracks and are equipped to deliver the ultimate Crossover performance, inspired by the durability and reliability of race sleds. With componentry proven in the Iron Dog and USXC cross-country racing, these sleds are engineered to meet the needs of the most aggressive riders. Polaris Race Technology equipment on these sleds includes: premium suspension and driveline components that are strong and lightweight; the PRT Brake System for outstanding braking in all riding conditions; premium, compression-adjustable Walker Evans shocks; reinforced components, and more.
Along with the new XCR models, the 2018 Switchback lineup features PRO-S, PRO-X, and Assault models with the 800 H.O. Cleanfire engine or 600 Cleanfire engine.
The full 2018 Polaris Snowmobiles lineup includes purpose-built models for every type of rider and terrain, including: trail-dominating RUSH models that are the Sharpest Handling, Quickest Accelerating; INDY models that epitomize the fun of snowmobiling; and recreational-utility Voyageur® models that accommodate Limitless Possibilities.
SnowCheck Select:
True Factory Customization
Polaris continues to lead the industry in true factory customization during the limited-time spring SnowCheck Select period. Riders can customize their sleds in three easy steps:
Choose Your Sled from among eligible RMK, RUSH, and Switchback models.
Choose Your Color, including colors of chassis, suspension, bodywork, and trim components.
Choose Your Options, such as tracks, windshields, instrumentation, shocks, and more.
With the available choices, thousands of configurations are available so riders can custom-build sleds that ideally suit their individual riding styles.
The SnowCheck Select order period runs from March 6, 2017, through April 15, 2017.
About Polaris
Polaris Industries Inc. (NYSE: PII) is a global powersports leader that has been fueling the passion of riders, workers and outdoor enthusiasts for more than 60 years. With annual 2016 sales of $4.5 billion, Polaris' innovative, high-quality product line-up includes the RANGER®, RZR® and Polaris GENERAL™ side-by-side off-road vehicles; the Sportsman® and Polaris ACE® all-terrain off-road vehicles; Indian Motorcycle® midsize and heavyweight motorcycles; Slingshot® moto-roadsters; and Polaris RMK®, INDY®, Switchback® and RUSH® snowmobiles. Polaris enhances the riding experience with parts, garments and accessories, along with a growing aftermarket portfolio, including Transamerican Auto Parts. Polaris' presence in adjacent markets globally include military and commercial off-road vehicles, quadricycles, and electric vehicles. Proudly headquartered in Minnesota, Polaris serves more than 100 countries across the globe. Visit www.polaris.com for more information.