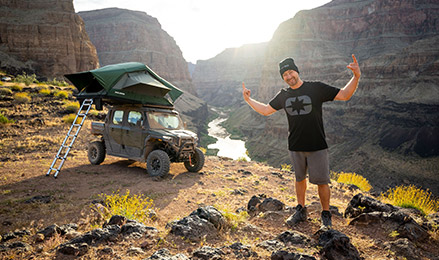 The People Behind Polaris - Spotlight on David E.
Polaris recently introduced the Polaris XPEDITION, an adventure-influenced side-by-side, to its off-road vehicle portfolio, allowing customers to reach new places, create lasting memories, and THINK OUTSIDE.
It's only fitting to highlight one of our most adventure-ready vehicles during June's National Great Outdoors Month. We decided to get an inside look at a part of the team behind the creation of the new vehicle from the perspective of David E, director of product planning, Off Road Recreation.
David, can you tell us about your role at Polaris?


David: I oversee the strategy and product planning for the recreation side of our Off Road business. My team and I create and maintain the product plan, which requires us to collaborate with many departments and inputs from across the company – think Consumer Insights, Engineering, Marketing, Finance, Industrial Design, Operations, and our Sales team – just to name a few. My day-to-day responsibilities include combining all those inputs paired with customer needs into a product plan to make sure we create the best product for our customers.
I've heard you have had quite the journey at Polaris. Can you tell me a little bit about all the different roles you've had at the company?
David: I've been with Polaris since I started as an intern in 2004, and was hired full time into the Engineering Development Program in 2006 once I graduated. I always tell people about one of the things I love about my career at Polaris is the number of opportunities I've had here. I worked in Off Road Engineering for five years as a project engineer. I loved engineering, but I wanted to try a different experience, get closer to our customers, and learn more about the business side. I completely flipped roles and went to On Road Field Sales in Arizona. I gained first-hand experience in customer service, the sales process, and building dealer relationships. After that, I had the opportunity to come back to Minnesota and work in the Industrial Design department as a program manager for a year. From there, I moved over to product planning. I love this role because it's a culmination of all my experiences at Polaris. I get to use all my knowledge from sales and engineering to develop amazing products that can change people's lives and bring people together.
What was your initial thought process in developing the Polaris XPEDITION?
David: Well, the catalyst for the project was to embody the adventuring spirit of our customers. We started this idea several years ago, with our team noticing the significant growth of outdoor activities over the last decade. During our research, we found that people who have this adventurous spirit are into many outdoor hobbies beyond off-roading – camping, mountain biking, hiking, fishing and more. We wanted to create a vehicle that would support these hobbies and enable them to explore and experience the outdoors to its fullest.
The key was to make it comfortable enough for the whole family to enjoy and adaptable to every type of adventurer with a full line of accessories and storage options to support their hobbies. I think that's where it became a unique idea - because it's a vehicle that's great on the trail but also has the capability to go off the grid with all your gear and family, and support activities beyond the ride.
What's the best feedback you have received on the new product so far?
David: Dustin B., one of the lead engineers on this program, had worked tirelessly on developing the Polaris XPEDITION. After years of not being able to share with his family what he was working on, he was finally able to bring one home to show them. His kids came out to see it and the first thing one of them said was, "Wow, Dad, that is going to make a lot of memories!" That's exactly what we were trying to do. Hearing that response and knowing that our team will be helping bring people together made all the work worthwhile. It took tons of hard work and people to pull this off, so it's truly an amazing feat, and I think having moments like that with your kids doesn't get any better.
What does THINK OUTSIDE mean to you?
David: The spirit of THINK OUTSIDE to me is thinking outside literally, but also outside of the box, which I think we did with the Polaris XPEDITION. THINK OUTSIDE embodies what we do at Polaris; we're game changers in the market. A strength and a core piece of our culture is being innovators and first-movers.
Companywide, we're passionate about finding innovative solutions for our customers. Particularly with this vehicle, we're encouraging and enabling people to get outside more and do the many outdoor activities they enjoy. The beauty of the Polaris XPEDITION is that you can spend more time outside because of its comfort and capabilities. Its versatility embraces the THINK OUSIDE mantra. Honestly, the thing I'm maybe most excited about is seeing what people do with the vehicle and where they go with it. The coolest thing about side-by-sides is seeing places and experiencing things you never would otherwise. I genuinely think this vehicle is going to be great at bringing more people together to THINK OUTSIDE.