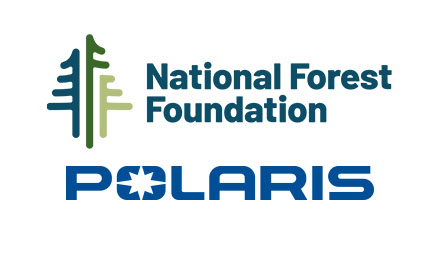 Polaris Inc. and The National Forest Foundation Announce Recipients of 2023 Polaris Fund for Outdoor Recreation Grants
Projects in Arizona, Colorado, and Vermont will receive financial support
Medina, MN. (July 11, 2023) Today, Polaris Inc.(NYSE: PII), a global leader in powersports, in partnership with the National Forest Foundation (NFF) announced the 2023 recipients of the Polaris Fund for Outdoor Recreation grants. The partnership between Polaris and NFF was established in 2021 with the Polaris Foundation pledging to donate $5 million to the NFF over five years to provide grants and project funding to support outdoor recreation and conservation work to help protect forests and surrounding lands for years to come.
"At Polaris, we are passionate about helping people discover the joy of spending time outdoors through adventure and exploration," said Lucy Clark Dougherty, president of the Polaris Foundation. "Through the Polaris Fund for Outdoor Recreation with the NFF we are able to support trail restoration, protect watersheds and improve wildlife habitat projects that will continue to facilitate a greater outdoors experience for all."
This year's funding will support partnership projects in various National Forest locations, including the Kelly Motorized Trail system in Arizona, the Alpine Tunnel in Colorado, and the Stagecoach Trail in Vermont.
"We are extremely grateful for this long-term partnership with the Polaris team," said Mary Mitsos, President and CEO of the National Forest Foundation. "The opportunity to work with a brand that is passionate about outdoor recreation and restoration is uplifting and refreshing as we continue to build up public lands."
On the Kelly Motorized Trail system, (Coconino National Forest, Ariz.) this grant will help install signage, including maps, regulations, and safety information at the trailheads and off-highway vehicle (OHV) safety signage throughout the trail system. These trails are the Forest's most popular trail system and the goal of this grant is to enable the protection of the local habitat.
On the Alpine Tunnel Road, (Grand Mesa, Uncompahgre, and Gunnison National Forests, Colo.) the grant will work to restore and reopen the historic Palisade Wall which was closed due to damage caused by an avalanche in 2016. This project will include reconstructing the damaged wall with hand-cut, dry-stacked stones in accordance with historic masonry designs.
Lastly, the Polaris Fund has allocated funds towards the Stagecoach Trail OHV project (Green Mountain National Forest, Vt.). This project will address drainage issues and reduce erosion concerns to benefit users, safeguard water resources, and protect critical habitats for species.
To learn more about the Polaris and NFF partnership, please visit https://www.polaris.com/en-us/national-forest-foundation-partnership/. To learn more about Polaris, visit www.polaris.com/en-us/, and to get involved in reforestation visit www.nationalforests.org
Please direct media inquiries to OutsidePR, NFF@outsidepr.com, or Polaris, media@polaris.com.
About the National Forest Foundation
The congressionally chartered National Forest Foundation promotes the enhancement and public enjoyment of the 193-million-acre National Forest System. By directly engaging Americans and leveraging private and public funding, the NFF improves forest health and Americans' outdoor experiences. The NFF's programs inform millions of Americans about the importance of these treasured landscapes. Each year, the NFF restores fish and wildlife habitats, plants trees in areas affected by fires, insects, and disease, improves recreational opportunities, and enables communities to steward their National Forests and Grasslands. Learn more at www.nationalforests.org.
About Polaris Inc.:
As the global leader in powersports, Polaris Inc. (NYSE: PII) pioneers product breakthroughs and enriching experiences and services that have invited people to discover the joy of being outdoors since our founding in 1954. Polaris' high-quality product line-up includes the Polaris RANGER®, RZR® and Polaris GENERAL™ side-by-side off-road vehicles; Sportsman® all-terrain off-road vehicles; military and commercial off-road vehicles; snowmobiles; Indian Motorcycle® mid-size and heavyweight motorcycles; Slingshot® moto-roadsters; Aixam quadricycles; Goupil electric vehicles; and pontoon and deck boats, including industry-leading Bennington pontoons. Polaris enhances the riding experience with a robust portfolio of parts, garments, and accessories. Proudly headquartered in Minnesota, Polaris serves more than 100 countries across the globe. www.polaris.com