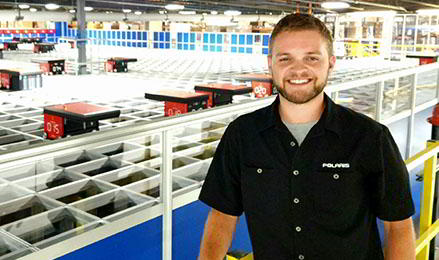 The People Behind Polaris - Spotlight on Travis W.
Meet Travis W., Senior Industrial Engineer at Polaris' Wilmington Distribution Center (DC), located in Ohio. In 2022, Polaris announced a 165,000 square-foot expansion to the Wilmington Distribution Center, which will increase Polaris' capacity for Parts, Garments, and Accessories (PG&A) distribution to better serve dealers and customers. Travis served as onsite project manager from engineering system design, through construction and several operational go-lives.
Travis, can you tell us about your role & your team at Polaris?
In my current role, I oversee all engineering and facilities for the Wilmington DC. This site is composed of three facilities that support Polaris, Klim and Kolpin brands. We serve dealers and customers located in the eastern US and Canada. I work with a great team that supports all PG&A operations here on campus. We are full-time problem solvers, collaborating daily with operations. We keep operations running and performing at a high level, while also maintaining the buildings and grounds. We are consistently looking for ways to improve the site in terms of safety, quality, delivery, and productivity.
A lot of my day-to-day consists of facilities, layout, equipment, and process evaluation to find creative solutions for optimizing the site. I enjoy that no day is ever the same in my job, and it's always filled with continuous improvement.
Talk about your career path, leading up to your current role, both inside and outside the company.
I grew up in a small midwestern town with a passion for spending time outdoors. Winters consisted of riding old Indy, XLT, XC sleds, so Polaris has been a staple in my life for as long as I can remember. Throughout my schooling and work experiences, I've always been interested in vehicle assembly – optimizing layouts, processes, and working competitively in teams.
After graduation, I started with Polaris in the Operations Development Program. My goal was to get as much plant and product experience as possible. I was fortunate enough to complete four rotations in Polaris' Roseau, Huntsville, Spirit Lake, and Monticello locations. I am incredibly grateful for those experiences – the people, the communities, the leadership team exposure. My roles in quality, material flow, warehouse supervision, and project management prepared me to solve the daily challenges of my current role. Following the program, I joined the PG&A team here in Wilmington. I just celebrated my fifth year with Polaris this summer and it's been a great ride so far.
Recently, the Wilmington facility went through an 18-month expansion, what were some of the challenges of maintaining facilities & operations while going through this massive undertaking?
This project came with some complex challenges because we had to continue to run the day-to-day operations safely and maintain timely deliveries to our customers and dealers throughout the construction period. One of the most notable feats was decommissioning the entire ship dock side of the facility. We redirected all outbound parcel and LTL shipments to the receiving side until the new ship dock was operational a year later. Additional projects outside of the construction included enrolling new Material Handling Equipment (MHE); racking storage; equipment sourcing; office and lobby renovations, newly designed maintenance shop, security, interior and exterior signage, and a rooftop solar farm.
This project was a true team effort from Polaris, both onsite and offsite resources. For several months, I worked closely with PG&A leaders, Wilmington's maintenance and operations teams, our general contractor, our MHE integrator and our outside vendors to balance the many workarounds and continue to deliver for our customers. The Wilmington team showed absolute grit throughout this project through their adaptability to all the change. I am incredibly proud of our journey and am excited for the future success of the Wilmington DC.
We heard there was new innovative technology that came with the expansion, how does it impact the production of our PG&A department?
A key element to this the expansion involved implementing new AutoStore robot technology, a Good-to-Person automated solution that leverages our existing team to operate up to 9 pick ports and 5 replenishment ports at once. This new solution offers incredible gains in capacity, quality, and productivity, which will allow us to increase our SKU base out of this DC and fulfill customer orders much faster. Our target goal is to increase on-hand parts and accessories by 200%, and we plan to achieve that by year end. The AutoStore is something we are really excited about in the DC's. I look forward to watching it evolve in Wilmington, and the potential it has down the road for Polaris.
What does THINK OUTSIDE mean to you?
To me, THINK OUTSIDE means getting outdoors and experiencing as many of our vehicles as possible. Whether riding is your hobby or you're using vehicles and accessories to boost another hobby, I love what our products can do and where they can take you. My favorite part about Polaris is the constant innovation. With our wide portfolio of product offerings, the opportunities are truly endless to reach incredible destinations.
I am proud of the way we THINK OUTSIDE in the DCs because we are the last line of defense for PG&A until the product gets in the hands of the customer. It's our job to finish strong and represent the end-product that many individuals contributed to.