People Behind Polaris - Spotlight on Korinne C.
At Polaris, safety is foundational. From how we design our vehicles to educating our riders on responsible riding practice, our focus on responsible riding extends to our team and helping our employees know how to ride the right way.
We sat down with Korinne, a Rider Safety manager for Off-Road Vehicles (ORV) and Snow, to talk about what she loves about her role in fostering safer riding experiences for Polaris employees and her advice to new riders.
Korinne, you started at Polaris in Engineering. How did you end up in your Rider Safety role?
Korinne: I've worked at Polaris for almost five years now, with most of my career being spent as a powertrain project engineer. Most recently I have transitioned into my new role as the Rider Safety manager, and it all began with starting as an ATV instructor my first year. I have been teaching new employees how to ride since I started with the company. I was also able to help establish and develop the SxS training program for employees. That experience led to me eventually leaving engineering to move into a full-time role within the Rider Safety department. As a Rider Safety manager for Off Road, I manage the employee rider safety programs for all of ORV, which includes developing rider safety courses, policies, procedures, and continue training our new employees on how to be safer, responsible riders.
How have your past roles helped you think about training?
Korinne: From a training perspective, I'm a certified trainer in almost every area you can think of, so if you want to learn how to drive or ride something, I'm your girl!
But I also believe my engineering background has helped me in my new role by allowing me to be able to understand our vehicles, not only in terms of how they handle and drive but also in terms of how they're built. Vehicle testing teams also give us insight into new and improved training. They suggest different types of drills to keep up with our evolving vehicle portfolio. This knowledge aids training development by creating specialized courses for our employees. Recently, we're focused on adding more training resources for our international employees, developing the next level of SXS training, and expanding our snowmobile training.
As a trainer, my goal is to make sure employees are safer and construct programs that give them the experience and insight necessary to be stewards of the sport. It's been exciting to watch the courses I have helped develop come to life and see how the training impacts the growth of new and experienced employees. Helping contribute to creating a strong rider safety culture at Polaris has been the highlight of my new role.
Last month, Polaris celebrated Motorsports Awareness Month and emphasized the importance of safety. Why do you think Polaris spent the month talking about rider safety and promoting the importance of safety gear?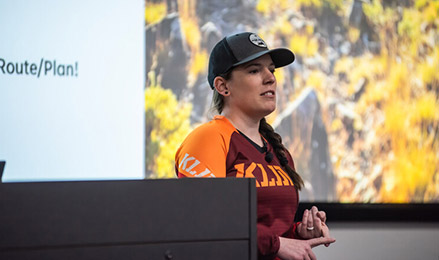 We are the global leader in powersports, and we have a responsibility to promote and encourage riding the right way. Safety is first in everything we do; we want our employees and customers to be educated and passionate about safety. Promoting safety initiatives like Helmet Hair Don't Care and creating more engaging vehicle education with Trail Talk are a few ways we try to generate awareness. We encourage everyone to check out Polaris' Owner's Manuals, reach out to our Help Center, and visit our Product Safety and Training Information site to learn more about rider safety.
Powersports training is accessible to everyone, organizations like ASI and ROHVA offer online and hands on training courses and resources for different types of vehicles. Training is the best and safest way to learn in a controlled environment. My biggest advice is to not be nervous or pressured, everyone starts somewhere, you will develop over time. Go slow, ask questions, and you will be riding like a pro in no time!
How old were you when you started riding?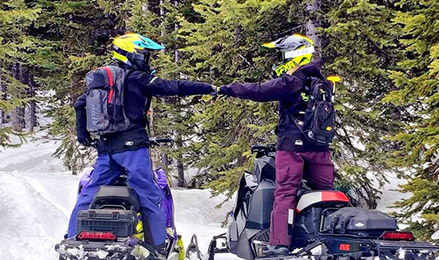 Korinne: I grew up riding Polaris products. I remember riding on my dad's snowmobile and him teaching me how to use the controls and operate our ATVs and snowmobiles once I was old enough. My learning experience with my dad inspired me to get into instructing.
I went to Michigan Technological University (MTU) in Houghton, MI, located in the Upper Peninsula. There were so many opportunities to embrace the outdoors and ride; MTU even had a snowmobile parking lot so I could ride my Polaris Edge 600 to class. That experience grew my passion for riding, and after I received my mechanical engineering degree, I knew I wanted to work in powersports.
What does THINK OUTSIDE mean to you?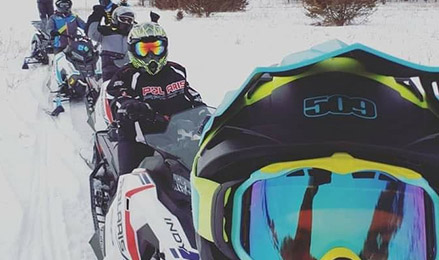 THINK OUTSIDE means getting outside, riding, and doing it SAFELY! The Polaris experience is special, there's nothing like experiencing a ride on one of our vehicles. Our products can take you to incredible places and do unbelievable things. It's our job to make sure powersports are around for the next generation, and we can help by establishing a safer and responsible riding environment. This means wearing your gear, knowing your vehicle and terrain, taking a training or refresher course, or simply making sure everyone in your group is being safe and responsible when you are out riding. I hope everyone can experience our products during Motorsports Awareness Month and get more training so they can THINK OUTSIDE safely!