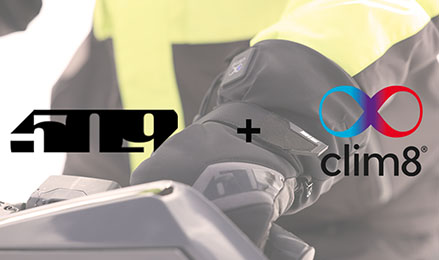 509 Introduces Heated Trail Glove Integrated with clim8® Technology
Spokane, WA (August 10, 2023) -- 509, a leading brand in innovative powersports apparel, is thrilled to announce the launch of its latest product: the Backcountry Ignite Glove featuring integrated clim8® intelligent module heat technology. Intended to revolutionize cold-weather riding by providing unparalleled comfort, smart warmth, and dexterity to trail snowmobilers worldwide.
"As powersports enthusiasts ourselves, we understand the importance of staying warm and comfortable during long cold rides," said Bill Hartlieb, Global Product Director for 509. "The Backcountry Ignite Glove with clim8® does the work for you so you can focus on the trail ahead and ride longer."
The Backcountry Ignite Glove represents the culmination of extensive research and development, blending 509's expertise in powersports gear with the intelligent clim8® heat technology. The 509 Backcountry Ignite Gloves are on the cutting edge of wearable technology and built to:
Monitor real-time temperature
Analyze the user's environment and activity
Automatically activate heat
Regulate warmth for optimal comfort
Reduce the hassle of adding or removing layers
Key features and benefits of the Backcountry Ignite Gloves:
Integrated clim8® Technology: The Backcountry Ignite Glove with clim8® technology provides responsive heating elements embedded within the glove. This intelligent algorithm-based heating system activates when the glove is put on and adjusts automatically using internal sensors. A rider can set their desired temperature on the clim8® app and the gloves will regulate warmth based on environmental conditions, activity level, and the user's settings and profile to deliver the needed warmth and comfort in any condition.
Enhanced Dexterity: Designed with the rider in mind, the heated glove offers exceptional dexterity and grip. Its ergonomic construction allows for precise control of the throttle, brake, and other controls, enabling optimal performance on the trail.
Extended Battery Life: The Backcountry Ignite Glove includes a compact and rechargeable 4-volt lithium-ion battery pack with up to five hours of run time depending on conditions, activity level, and selected temperature allowing the rider to remain comfortable all day long.
Premium Materials and Construction: Crafted with 5TECH 10K/10K laminated waterproof and windproof shell, the Backcountry Ignite Glove is built to withstand even the most challenging of conditions. Its goat leather palm, reinforced stitching, and Speed Cinch cuff enable longevity and reliability.
The Backcountry Ignite Glove featuring clim8® is now available for purchase at select retailers and online stores. To learn more about 509 and the Winter 2023-2024 collection, visit online at www.ride509.com.
Learn more about the Backcountry Ignite Glove
Find a 509 Dealer (ride509.com)
Dealer Application – 509 (ride509.com)
Learn more about clim8® technology
About 509
Founded 20 years ago, the 509 story began as a snowmobile brand deep in the backcountry of the unforgiving Rocky Mountains. Those harsh environments inspired a journey of developing innovative and purpose-built riding gear, all while telling the story of the brand, our athletes and the industry through our award-winning films and content. Today, 509 develops technical gear across the snowmobile, dirt bike and motorcycle industries.
509® is a registered trademark of Teton Outfitters, LLC
About clim8
Founded in France in 2016, clim8 provides high-end personalized thermoregulation technologies dedicated to smart clothing, partnering with premium brands, such as Carhartt, Odlo, Eddie Bauer and more. Backed by science and tested under extreme conditions, products give users the ultimate personalized thermal experience, undisturbed by the weather. More information on myclim8.com
clim8™ is a registered trademark of clim8 SAS.