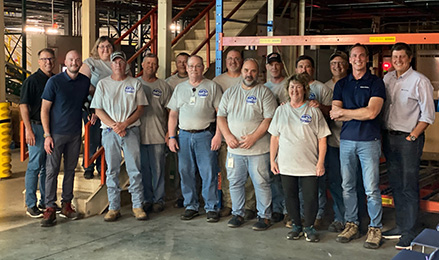 Vermillion Distribution Center Marks 25th Anniversary
>
In the summer of 1996, Polaris broke ground in Vermillion, South Dakota – and the first orders shipped out of the facility six months later, in January 1997. Now, 25 years since its opening, a celebration was held to commemorate the anniversary and highlight the Vermillion location as the largest of Polaris' Parts, Garments & Accessories distribution centers. However, it was the recognition of 14 tenured employees and those who helped open the facility, that made the celebration extra special.
"This anniversary is a milestone marker for our Vermillion team, including a couple of team members who have been with the facility since its groundbreaking in 1996," said Dustin Sockness, Vermillion Distribution Center manager.
A workplace where coworkers become family.
A quarter century of time in a small town – Vermillion's population is just under 11,695 – means building connections with coworkers. Employees at Vermillion say they have experienced the Polaris values for the last 20-plus years and have formed an incredible culture within their team, reflecting Polaris' guiding principle of Best Team, Best Culture.
"We are with these people as much as we're with our spouse, at home, or with our children," said Tim B., a Polaris tenured team member. "A lot of us didn't even have children when we started here. Twenty-five years later, we've been able to watch them grow up together which is something that is incredible. And now we are in a stage of life where some of us even have grandkids!"
Jill H., a 24-year team member of the Vermillion team and Cubiscan clerk agreed, "Those of us that have been here this long, you know, this is kind of our second family at this point."
Adam H., Vermillion DC department leader and Polaris tenured team member of 23 years, is also a U.S. Army Veteran, said how every time he came back from deployment, the team always remained the same, through the changes and growth with Polaris and at the Vermillion DC. "It was always great when I would be gone for deployment and when I returned, all of the same faces were still here. It gave me a sense of comfort knowing that would be the same when I came home."
24-year Vermillion employee and Certified Warehouse Associate Kim C. commented, "Along with the people, it has been awesome to watch how our operations have grown and evolved over the last couple of decades. From needing to adjust to accommodate all the Polaris' growth and just the sheer volume of parts and products that we now see moving through our lines."
Kim, Tim, Jill and Adam all shared that they are proud to have been part of the growth and innovation that has taken place at Vermillion. They recalled that whether it was complete system changes to keep pace with the digital boom, or the brick-and-mortar building expansions to support company growth and product offerings, Vermillion has been innovative on all fronts.
The 612,000-square-foot Distribution Center employs more than 170 people, many of those from the local community.
Polaris Vermillion Tenured Team Members
David R. *
Kevin T.
Timothy B. *
Daniel S. *
Blair C. *
Kim C. *
Jill H. *
Todd N. *
Adam H.
Duane J.
Calvin H.
Joan B.
Michael R.
Kelly S.
Employees with a * represent those who are a part of the 1997 opening team