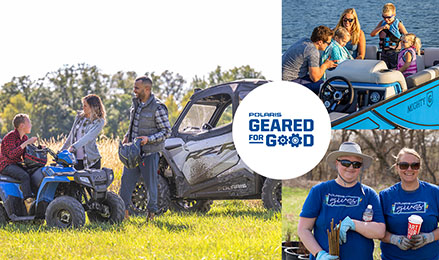 Polaris Announces New 2035 Goals in its 2022 Geared For Good Report
Polaris' drives new possibilities for all who play, work and THINK OUTSIDE
MINNEAPOLIS, MN (MAY 18, 2023) – Today, Polaris Inc. (NYSE: PII) released its 2022 Geared For Good Environmental, Social and Governance (ESG) Report, highlighting the Company's progress across the four pillars of its Geared For Good ESG framework: THINK PRODUCT, THINK PRODUCTION, THINK PLACES AND THINK PEOPLE. The report details the ways Polaris works to be a good steward for its industry, employees, riders, communities and the outdoors.
Notably, this year, Polaris is announcing new environmental goals focused on the year 2035, including:
Achieving 90% recyclable content in off-road vehicles
Reaching 75% renewable electricity in its global portfolio
Reducing absolute Scope 1 and Scope 2 emissions by 50%
Diverting 90% of waste from landfill
Implementing a water stewardship program in 100% of its manufacturing facilities
Consistent with best practices, Polaris conducted its second materiality assessment in partnership with Business for Social Responsibility so that we remain focused on salient issues for our business. A full list of Polaris' goals and aspirations can be found in its 2022 Geared for Good ESG Report.
"Polaris is passionate about helping people discover and experience the outdoors," said Lucy Clark Dougherty, senior vice president, general counsel and secretary at Polaris. "We are proud of the work we do to be Geared For Good, from our partnership with the National Forest Foundation and our efforts to promote safe and responsible riding, to reducing the environmental footprint of our operations and supporting our local communities. We are grateful to be able to ride and Think Outside and will continue to be good stewards through our ongoing actions that bring our Geared For Good efforts to life."
Among the initiatives and progress shared within the report, key 2022 report highlights include:
THINK PRODUCT: As part of its efforts to design products and technologies, Polaris set company innovation records with 70 U.S. patents granted to its engineers in 2022. The company introduced exciting innovations that continue to transform how people connect with and enjoy the outdoors, including the Mighty G from Godfrey Pontoons, one of the first pontoons developed specifically with an electric-powered engine in mind. Polaris also created the Empowersports Diverse Riding Council, which unites 16 influential riders, adventurers and leaders who bring new voices, multicultural perspectives, and insights to the powersports industry.
THINK PRODUCTION: To reduce the environmental impact of its operations, Polaris increased the amount of renewable energy in its portfolio through solar projects in Goupil, France and Shanghai, China. The company also began implementing energy management best practices at eight U.S.-based facilities, working toward 50001 Ready recognition from the U.S. Department of Energy.


THINK PLACES: Polaris takes action to positively impact land and water through stewardship and responsible riding. In partnership with the National Forest Foundation, the Polaris Fund for Outdoor Recreation granted its first award to the Kelly's Pond Project in the Sam Houston National Forest in eastern Texas, to support maintenance of 44 of the forest's 85 multi-use trail miles. Polaris also expanded its T.R.A.I.L.S. Grant Program to support trail stewardship and rider education efforts across the United States and Canada.


THINK PEOPLE: Polaris puts employees, customers, dealers and communities at the center of its business. Polaris provided more than $545,000 in tuition reimbursements for its employees and granted 120 scholarships through its Polaris Scholarship Program to help offset the costs of postsecondary education for the dependents of Polaris employees. The company also provided more than $4.3 million to organizations and local communities, including investments in 4-H and the Progressive Agriculture Foundation Partnership to help advance safe riding practices among young riders.
To learn more about Polaris' Geared For Good efforts, please visit www.polaris.com/corporate-responsibility.
About Polaris
As the global leader in powersports, Polaris Inc. (NYSE: PII) pioneers product breakthroughs and enriching experiences and services that have invited people to discover the joy of being outdoors since our founding in 1954. Polaris' high-quality product line-up includes the Polaris RANGER®, RZR® and Polaris GENERAL™ side-by-side off-road vehicles; Sportsman® all-terrain off-road vehicles; military and commercial off-road vehicles; snowmobiles; Indian Motorcycle® mid-size and heavyweight motorcycles; Slingshot® moto-roadsters; Aixam quadricycles; Goupil electric vehicles; and pontoon and deck boats, including industry-leading Bennington pontoons. Polaris enhances the riding experience with a robust portfolio of parts, garments, and accessories. Proudly headquartered in Minnesota, Polaris serves more than 100 countries across the globe. www.polaris.com
Media Contact:
Erika Burke
Phone: 763.417.8673
Erika.Burke@polaris.com