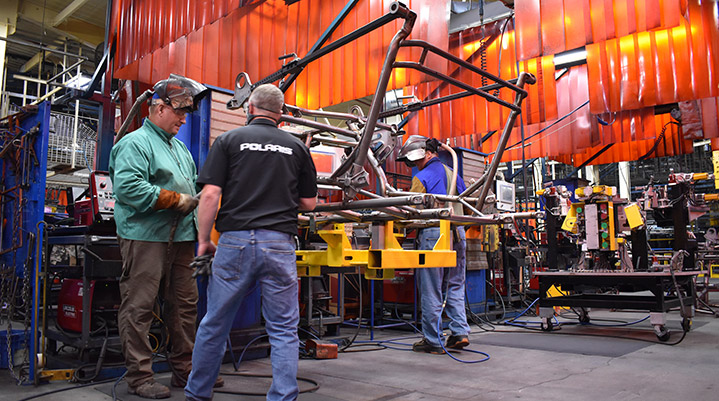 Opportunity Abounds at Polaris
Manufacturing jobs at Polaris often lead to larger career paths
October is National Manufacturing Month – a month dedicated to celebrating and showcasing the jobs and career opportunities that exist within the larger manufacturing industry and, of course, here at Polaris. Today, October 7, marks National Manufacturing Day.
Our manufacturing teams are powered by a skilled workforce dedicated to quality, safety, and innovation. Whether in assembly, weld, quality, materials or production, these jobs uphold our industry-leading quality protocols and help our customers THINK OUTSIDE.
"Manufacturing is the core of Polaris," says Tony P., Human Resources director, Central Operations. "It is where the majority of our employees work, contributing to the hundreds of thousands of vehicles that we make. I believe that our broader organization understands the core of where the products come from, who makes them and what goes into that overall. Because of the value we place on our manufacturing teams, their career runway and self-awareness at Polaris is enhanced."
With Change Brings Opportunity and Growth
As technology advances and innovation drives new ways to design and build a vehicle, the work that's completed on a manufacturing line evolves – demanding the workforce to adjust and change as well. In fact, 'change' was often the response from a group of manufacturing team members when asked what the most interesting aspect of their jobs. Change, they explained, came in the form of new ways the engineers designed an engine that would then require new parts, new patterns, new machines, and new ways of doing something. It was that type of change, they agreed, that kept working on the lines so interesting – and they were proud of the way innovation drives the company forward, to be part of that team.
That change underscores the need for a skilled workforce on the manufacturing lines. Recent job postings on Polaris.com list everything from assemblers to a robot programmer, production supervisors and plant schedulers, a material flow engineering technologist, group leads and more.
Another word that was frequently discussed among the same group of employees was 'opportunity,' as they recalled the many different roles, experiences, and advancements they'd had during their time at Polaris. In fact, they all agree, opportunity abounds at Polaris.
"There's definitely opportunity for growth within Polaris," says Rusty J., a production line supervisor in Osceola, WI, who in just two years has worked as an assembler, a materials handler, a clutch lead, and a 2nd shift supervisor. "If you want to make a career out of this, there's all kinds of opportunities here and new jobs open up everyday."
And, those same employees agreed, it's not just about the job that you're hired for – it's about the path that opens up once your first job at Polaris begins. For Amy B., a supply chain systems senior analyst who first started out in metal paint in 1994, she credits co-workers and leadership for helping her move up through manufacturing jobs and create a career. "People are very willing to help you get where you want to go," she says. "I've had so many people help me and guide me along the way."
Manufacturing career opportunities are available at multiple Polaris locations. More information on current openings can be found at polaris.com/careers