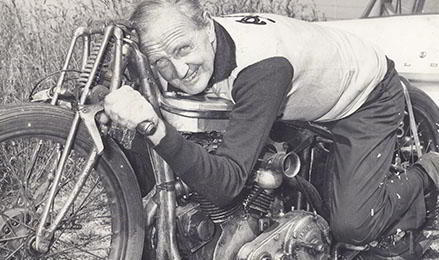 Indian Motorcycle Legend Burt Munro Inducted Into Sturgis Motorcycle Museum Hall Of Fame
Landspeed Racing Icon & Record-holder Immortalized for Lifetime Achievements
STURGIS, SD – August 9, 2023 – Indian Motorcycle, America's First Motorcycle Company, today celebrates Burt Munro's induction into the Sturgis Motorcycle Museum Hall of Fame. A motorcycle racing icon and landspeed record-holder, Munro inspired generations of riders through his relentless drive to reach the record books.
"You cannot tell the history of motorcycles without mentioning Burt Munro," said Aaron Jax, Indian Motorcycle Vice President. "Burt's stories have literally molded the Indian Motorcycle brand, as we continue to live like Burt and push the envelope to drive innovation, break boundaries and blaze new trails."
Born and raised in Invercargill, New Zealand, Munro had an unnatural need for speed, famously saying, "You live more in five minutes on a bike like this going flat out than some people live in a lifetime." Munro spent decades rebuilding and wrenching his 1920 Indian Scout from his garage, ultimately setting three world records at the iconic Bonneville Salt Flats. In 1967, at 68 years old, Munro set an under-1,000cc record of 184.087 mph. This record still stands today.
"Burt's a legend. His accomplishments, through trials and tribulations, inspire our racing efforts today," said Gary Gray, Vice President – Racing, Technology and Service for Indian Motorcycle. "While it may be overdue, it's quite an achievement for Burt to be enshrined into the Sturgis Motorcycle Museum Hall of Fame, and we're incredibly proud and grateful to celebrate Burt Munro not just today, but every day."
The Sturgis Motorcycle Museum & Hall of Fame pays homage to the remarkable individuals who have made enduring contributions to the motorcycle community. The Hall of Fame celebrates visionary pioneers, while showcasing their extraordinary accomplishments and unwavering passion. The Hall of Fame class of 2023 includes 1981 Des Nations Team USA, Burt Munro, Chris Callen, Jay Allen, Roland Sands, Russel Radke and Scott Jacobs. Learn more at SturgisMuseum.com.
To learn more about Indian Motorcycle, visit IndianMotorcycle.com, or follow along on Facebook, Twitter and Instagram.
ABOUT INDIAN MOTORCYCLE
Indian Motorcycle is America's First Motorcycle Company. Founded in 1901, Indian Motorcycle has won the hearts of motorcyclists around the world and earned distinction as one of America's most legendary and iconic brands through unrivaled racing dominance, engineering prowess and countless innovations and industry firsts. Today that heritage and passion is reignited under new brand stewardship. To learn more, please visit www.indianmotorcycle.com.
Media Contact
Alex Caswell
The Brand Amp
714-401-4079