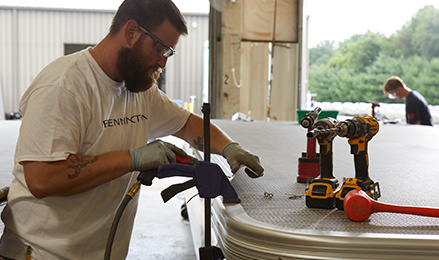 Expanding Manufacturing Operations and Growing Teams to Help Meet Demand
With more and more consumers turning to the outdoors for fun and adventure in recent months, Polaris continues to see incredible demand for our products. To support the increased interest, we have expanded our operations at several of our current manufacturing facilities to meet the demand of our customers and continue producing the high-quality vehicles they know and love. This is also growing our teams and adding job opportunities in our local communities.
Elkhart, Indiana, is home to Polaris' Boats operations. Bennington Pontoon Boats, the market leader in pontoons, recently secured a facility in Elkhart County to expand its manufacturing processes. This allows for additional growth, creating approximately 75 new jobs ranging from direct labor, to welding, to procurement, to administrative positions in accounting and marketing.
"We are back to, and exceeding pre-pandemic, and actually all-time levels for us right now. People have a newfound appreciation for being outdoors and time with their family and friends on the water and our boats are a perfect platform for that," said Jake Vogel, president of Polaris Boats. "We are investing in our hometown and its people to help increase the availability of boats for our dealers and customers."
In addition to the Elkhart expansion, Polaris has also reopened the existing Polaris Boat Group facility in Syracuse, Indiana, to increase production capacities of Hurricane deck-boats. This expansion will result in 50 to 60 new staff in direct, indirect, and supervisory roles. New manufacturing positions will include assembly, lamination, fiberglass repair, maintenance, quality assurance and materials professionals. The property now includes a 120,000 square foot production plant, as well as 20,000 square feet of shipping and warehousing space.
"We are grateful to our customers for the continued extensive growth in the boating market," said Ben Duke, general manager, Godfrey Marine. "To meet consumer demand and continue delivering the finest deck boats in the industry, we are excited to announce this expansion. We are also dedicated to our community and look forward to welcoming new staff to our ever-growing Hurricane family."
Along with adding new positions, the Polaris Boats teams are developing new training programs to offer even more growth opportunities for both new hires and current team members to gain leadership and production skills. Visit Benningtonmarine.com or GodfreyPontoonBoats.com to explore available career opportunities.
In Alabama, Polaris added space at our Huntsville facility, acquiring a lease for a 420,000 square foot building down the road from our main manufacturing facility. In August 2021, this new building became home to 100 service team members and third-party logistic partners.
"We are extremely excited about our most recent expansion," said McKinley James, plant director of Polaris Huntsville. "It shows our commitment to growth in the area and provides economic growth opportunities for our community."
Polaris Huntsville, along with several of our manufacturing facilities, is currently looking for new talent to join the Polaris team. This continued growth and need for additional talent is a result of the unprecedented surge in demand for Polaris products and a true testament to the dedication of our manufacturing employees across the globe. Polaris is committed to a continuous review of consumer needs and assessment of expansion opportunities. As demand continues to rise, we are actively pursuing ways to make our workplaces more efficient while providing opportunities to our team members.
Those interested in exploring career opportunities with Polaris should visit Polaris.com/careers.