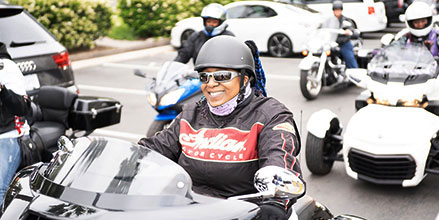 Celebrating International Female Ride Day
>
Minneapolis, MN (May 10, 2019) – In celebration of International Female Ride Day (IFRD) on May 4, 2019, Indian Motorcycles and Slingshot recently teamed up with Porsche Taylor, founder of Black Girls Ride(BGR) and editor of the magazine with the same name, to get her take on what the day means to women who love the sport.
Taylor and several other riders recognized the day by riding from San Diego to Baja. Special thanks to Indian Motorcycle of San Diego for hosting a welcome event for the riders to kick-off the celebration.
Tell us about Black Girls Ride and its role in International Female Ride Day.
Black Girls Ride Magazine (BGR) was founded in 2011 to highlight all women in motorsports. BGR gives exclusive access into the lives of all women and the bikes they ride. We profile female MC clubs, professional racers and stunters, each with their own unique stories to tell. BGR is more than a magazine… it's a movement! We create educational and riding events for women all over the country, including the Beautiful Bikers Conference. We've been hosting our International Female Ride Day event since 2012, when we discovered Vicki Gray's global movement.
What does a ride like the one from San Diego to Baja on International Female Ride Day symbolize to you?
This year, our mission is to Go Beyond Borders. With that in mind, we're excited to go International for International Female Ride Day! IFRD is a global movement, so it seems only natural that we would visit our Mexican windsisters in Mexico! Through this ride, motorcycling can bring cultures together all over the world.
What do you enjoy most about seeing women come together to ride?
We're happy to be the motivation to cause women to take their first group ride or their first cross country ride. We've also learned that Bonds are Built On Ground. It's always amazing to see women who come to our rides and develop lifelong friendships.
What message do you try to get out most about women riders?
There's an indescribable feeling of accomplishment and freedom that women get when they conquer their fears on a motorcycle. We share a passion for riding that can be passed on to our sisters and to the younger generation of up and coming riders. When brands make an effort to connect with women riders, they gain lifelong brand ambassadors.
What would you tell women looking to join the sport?
Don't overthink it, just do it! The freedom found in motorcycling is unlike anything in the world!
As a female rider, what makes you most proud to be involved in the sport?
Women riders will continue to be the biggest source of growth in Motorcycling. We're proud to contribute to the growing number of female riders in the US and all over the world. Through rider features, educational workshops and female riding events, we're proud to be a source of inspiration for women all over the world.
Ride Stats: IFRD 2019: BGR TO MEXICO
Number of riders: 50 brave souls
Number of miles: 55 miles from San Diego, CA to Puerto Nuevo, Baja Mexico
Other fun facts you'd like to note: Riders traveled from far and wide to join us! We had riders from Florida, Ohio, Texas, Georgia, Pennsylvania, Maryland, Arizona and California! We were joined by 60 riders in Mexico from various clubs. We were escorted by the Hurricane Biker Girls of San Diego and Tijuana and the oldest MC in Tijuana, Solo Angels MC. Riding along the coast in Mexico was beautiful! We enjoyed an amazing lobster lunch at La Casa De Langosta. Great food, Great Views, Good Times!
About Porsche Taylor
Years Cycling: 17 years
Current bike: Indian Chieftain Limited, Polaris Slingshot
Favorite destination to ride: Pacific Coast HWY, Malibu Mountains in Southern California.
Most memorable riding moment: My first coast to coast ride, from Los Angeles, CA to Brooklyn, NY! I learned a lot about myself on that ride! There is no freedom like the freedom of the open road. There is no better way to travel the US than on a motorcycle.
Other fun facts you'd like to note: I'd always rather be riding. When I'm not riding, I'm spinning records. Life is good.
About Polaris
Polaris Industries Inc. (NYSE: PII) is a global powersports leader that has been fueling the passion of riders, workers and outdoor enthusiasts for more than 60 years. With annual 2018 sales of $6.1 billion, Polaris' innovative, high-quality product line-up includes the RANGER®, RZR®, and Polaris GENERAL™ side-by-side off-road vehicles; Sportsman® all-terrain off-road vehicles; Indian Motorcycle® mid-size and heavyweight motorcycles; Slingshot® moto-roadsters; snowmobiles; and pontoon, deck and cruiser boats. Polaris enhances the riding experience with parts, garments, and accessories, along with a growing aftermarket portfolio, including Transamerican Auto Parts. Polaris' presence in adjacent markets globally includes military and commercial off-road vehicles, quadricycles, and electric vehicles. Proudly headquartered in Minnesota, Polaris serves more than 100 countries across the globe. Visit www.polaris.com for more information.