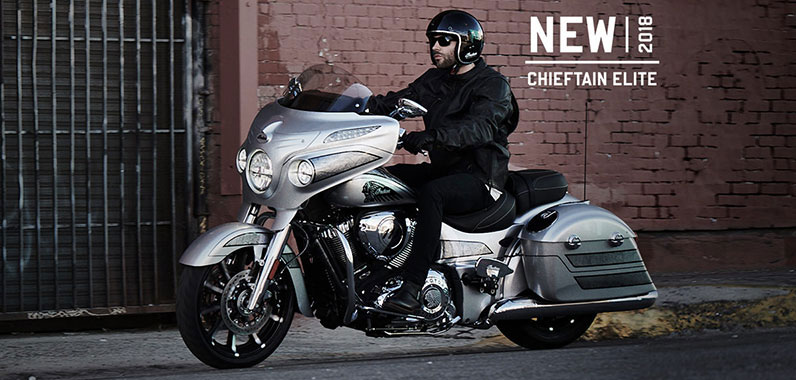 Indian Motorcycle Introduces 2018 Limited-Edition Chieftain Elite with One-Of-A-Kind Black Hills Silver Paint
>
Minneapolis, MN (March 1, 2018) — Indian Motorcycle®, America's first motorcycle company founded in 1901, today announced its new ultra-premium bagger, the 2018 Chieftain Elite. This limited-edition bagger pairs custom-inspired paint that's completed by hand with top-of-the-line amenities for the rider who demands the best of the best.
Indian Motorcycle meticulously thought through the design to ensure every line, texture and material complemented the contours of this aggressive platform. The focal point of this bagger is the stunning, specialty paint featuring high-flake Black Hills Silver. As the name suggests, this paint was inspired by the silver mines in the Black Hills of South Dakota, which is near Indian Motorcycle's custom paint facility in Spearfish, SD. A team of Indian Motorcycle experts mask the bodywork, lay the graphics, and hand-spray each Chieftain Elite. Each bike takes nearly 25 hours due to the time-intensive, painstaking processes that are completed by hand. Incredibly, no two bikes will look the same due to the level of human touch involved. There's no question that this bold, one-of-a-kind bike will stand out in any crowd.
"Whether cruising around the city or touring the country backroads, the 2018 Chieftain Elite delivers on its promise of being the best bagger that money can buy," said Reid Wilson, Senior Director – Marketing and Product Planning for Indian Motorcycle. "This bike was born to turn heads and provide an unmatched riding experience with all of the premium amenities included."
The 2018 Chieftain Elite has a commanding stance that's punctuated by its 19-inch, 10-spoke, contrast-cut front wheel and marbled graphics package. It's equipped with premium features, including a 200-Watt premium audio system, Pathfinder LED headlight and driving lights, a push-button power flare windshield, billet aluminum Select Driver and Passenger Floorboards, and genuine leather seats. New for this year's Chieftain Elite are pinnacle mirrors and updated, smaller hand controls for improved ergonomics.
A host of other features come standard, including Ride Command® – the largest, fastest, most customizable infotainment system on two wheels. The seven-inch, glove-compatible touchscreen features turn-by-turn navigation, customizable rider information screens and Bluetooth® compatibility. The Chieftain Elite also features ABS, cruise control, tire pressure monitoring, remote-locking saddlebags and keyless ignition.
At the soul of this bike is the Thunderstroke 111 engine, an award-winning American V-Twin that delivers a monstrous 119 ft-lbs of torque and power to spare in every gear.
MORE
A large number of accessories are also available for riders looking to add power or further customize the Chieftain Elite. The Thunder Stroke® 116 ci Stage 3 Big Bore Kit adds 20 percent more horsepower and 15 percent more torque for those looking to take performance to the next level. Color-matched accessories are also available for riders who want extra protection, style and storage, including a Quick Release Trunk, Hard Lower Fairings and a Valanced Front Fender.
The Chieftain Elite is a strong addition to Indian Motorcycle's iconic lineup. Only a limited number of these motorcycles will be built. Pricing starts at $31,499 in the U.S. and $37,999 in Canada. Available at Indian Motorcycle dealers starting March 1.
Learn more about Indian Motorcycle and the 2018 Chieftain Elite by visiting IndianMotorcycle.com and following along on Facebook, Twitter and Instagram.
About Indian Motorcycle®
Indian Motorcycle is America's first motorcycle company. Founded in 1901, Indian Motorcycle has won the hearts of motorcyclists around the world and earned distinction as one of America's most legendary and iconic brands through unrivaled racing dominance, engineering prowess and countless innovations and industry firsts. Today that heritage and passion are reignited under new brand stewardship. To learn more, please visit www.indianmotorcycle.com.