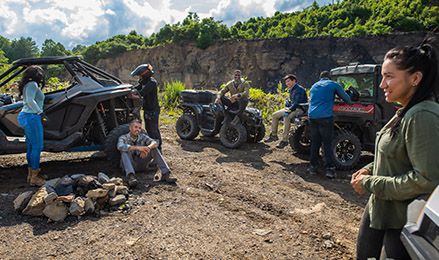 Best Practices for a Safe Ride
Part IV: Off Road
Polaris is passionate about helping people experience the outdoors. Whether using a RANGER to complete a task or taking a sunset cruise on a Bennington Pontoon, the highest priority should always be safety. As a part of Motorsports Awareness Month, we want to take the opportunity to review a few of the fundamentals of safe and responsible riding across every terrain.
For our final installment of safer and responsible riding across terrains we head off road, taking a closer look at the fundamentals of riding off-road vehicles.


Before the Ride
Learn from the Experts: Industry organizations serve as great resources for information and we encourage all riders to familiarize themselves with such organizations and review the resources available. A few of note include:


Complete a Training Course: The best starting point for learning how to drive an off-road vehicle is to complete a reputable training course. Several options, like those from ATV Safety Institute or Recreational Off-Highway Vehicle Association (ROHVA), offer a combination of online and/or classroom instruction and supervised riding.

Already completed those courses? Polaris also has additional rider resources available including:


Consult the Vehicle Owner's Manual: It is important to always review the vehicle owner's manual before starting your ride.

Most ATVs, Side-by-Sides (SXS), and UTVs are adult vehicles, meaning the minimum age for operation is 16, with operators having a valid driver's license. For SXS and UTVs all riders should be tall enough to keep their backs flat against the seat back, their feet flat on the floor and their hands on the steering wheel/handlebars/hand holds. For youth ATVs, youth SXS or youth UTVs, all riders should adhere to the age and height requirements found in the owner's manual of each vehicle.

As a reminder, every vehicle across our off-road line up is different, as such it is important to familiarize yourself before your ride. Study the owner's manual and take the time to practice in a safe, level area so you're comfortable with your machine before you hit the trail.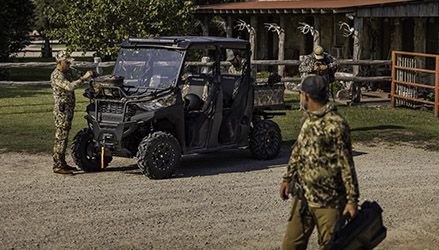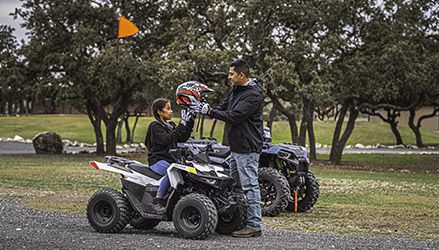 Inspect your Off-Road Vehicle: No matter how seasoned of a rider you are, always thoroughly assess your vehicle before starting the ignition. Pre-ride inspections can reveal malfunctioning or damaged vehicle components, low fluids, and other issues that could get in the way of your day on the trails. Refer to the owner's manual for a full pre-ride checklist to conduct before every ride.

For detailed instructions on pre-ride inspections for your specific model we encourage you to visit the appropriate Help Center and search your model name:
Gather the Proper Protective Gear: There are some essential pieces of safety equipment riders should always wear, including:

Certified Helmet. Check out our buying guide to find the correct style and fit for you.
Eye Protection. Always wear eye protection to keep dust and flying debris out of your eyes.
Long Sleeve Shirt, Long Pants and Gloves. Offer protection from the elements.
Over-the-ankle Boots. Provide stable support and protection. Never ride with bare feet or sandals.


Click here for additional tips on what to wear for comfortable riding.
Plan Your Ride: It is best practice to take time to plan your route before you start your ride. Be sure to check that trails are open and locate rest and fuel stops.
With more than 1,000,000 miles of mapped trails, Polaris RIDE COMMAND is an industry-exclusive technology that allows users to plan ride routes, track rides, and rate and share routes with other users. RIDE COMMAND is available online, as a mobile app, and accessible in the console of many Polaris vehicles, making it a great solution to discover new rides or coordinate group rides with friends or family.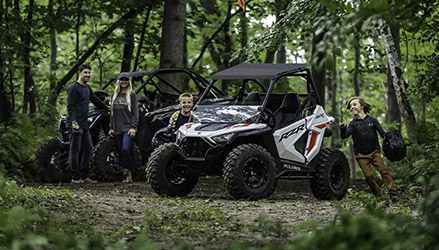 During the Ride
Wear Protective Gear: Just a reminder to always gear up – from helmet and gloves to water and a first aid kit, it is important to be prepared.


Obey Local Laws & Regulations: Always review and follow the off-road vehicle rules and regulations of your given location. The local laws are in place to protect you, other users and the environment.


Understand the Terrain: By its very nature, off-roading involves understanding different kinds of terrain. Keep in mind that using the wrong setup for the riding a specific terrain can hinder your vehicle's performance.

As for technique, different landscapes call for different kinds of riding. You'll want to achieve base-level off-roading competence before tackling difficult-rated off-road trails or specialized terrain such as mud pits or dunes. Riders should always ride within their ability.


Mind your Posture: Understanding how to sit, when to stand or how and when to shift your body weight to help negotiate turns and challenging terrains is all part of being a safer rider. Couple items to keep in mind:

Avoid locking your elbows while on an ATV to prevent painful, potentially damaging stress to your joints and your hands.
While sitting comfortably make sure you're able to reach all controls without straining.
Passengers should also be able to comfortable hold onto the hand hold in a relaxed driving position without locking their elbows.



Practice Caution: Ride to your level. Avoid excessive speeds or driving beyond your skillset; drive at comfortable speeds to allow you and your group to enjoy the experience.

Additionally, it is good practice to pack essentials along with basic emergency supplies such as extra food and water, blankets, fire-starting materials, backup communication tools, and a first-aid kit.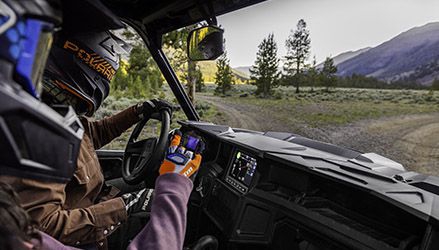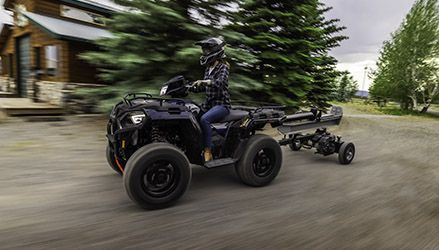 Beyond the Ride
Transporting your Vehicle: A favorite part of off-roading is the ability to take your ATV or SXS to different locations be it the backwoods trails or the sand dunes. Check out our tips for transporting your vehicle.


Maintaining your Vehicle: Properly storing and maintaining your off-road vehicle when not riding or during the off season will help keep it in good condition and lead to a more enjoyable, safer riding experience in the future.

Helpful Resources: