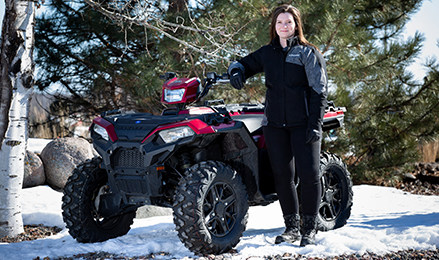 Celebrating Female Innovation & Ingenuity at Polaris
This Women's History Month we're sharing the stories of female employees that have helped shape Polaris's culture, products, and customer experiences.
As a company dedicated to helping people enjoy the outdoors, engineers are key to cultivating ideas that create unique experiences. Polaris engineers stay on the cutting edge of new technology and help our customers "Think Outside." Heather VanSlyke understood that patents are central to staying on that edge, and even as an intern she knew she had the freedom to explore, innovate and design, which led to securing a patent for her work.
Heather's first internship was in Roseau, Minn., the home of Polaris, where she worked as an ATV design engineering intern. In this role, Heather was tasked with working on the rear storage rack of the Polaris SPORTSMAN. During her time, she redesigned and reinforced the rear rack to better serve the needs of the customer.
Throughout her internship, Heather was hands-on and fully immersed in every step of the project; and though she worked independently, she had support when she needed it, provided by coaches and mentors.
"Even though you're paired with mentors, you're asked how you plan to accomplish a task, rather than told how to do it," Heather said. "They make sure you're the one responsible for the project from start to finish, but they also make it known that they're there to help." Ultimately, it was the space to create that helped Heather bring improvements to the SPORTSMAN lineup.
Heather's second internship was with the intellectual property team, which provided insights into how important patents are for both Polaris and the innovation process.
The experience Heather gained from both internships provided her with a better understanding and ability to give input when the SPORTSMAN rear rack design was chosen to have a patent application filed on it.
The impact of her work was acknowledged outside of Polaris, as well as within when Heather was listed as an inventor on the patent in 2018.
The opportunity to be recognized as an inventor on a patent wasn't available only because of her tremendous ingenuity but also because there was an environment that encourages employees to challenges themselves and think differently. The magic formula of people, passion, and a positive workplace create an atmosphere where innovators, like Heather, are able to develop and implement unique ideas that have the power to make products and experiences even better for Polaris riders.
Polaris' trust and confidence in people, and their abilities, fuels ingenuity and the pursuit of 'what's next', which leads to ground-breaking ideas. This is why Polaris stands behind and strongly supports, developers and self-starters like Heather. We believe that each and every person has a role to play in the innovation process, regardless if you are a first-time intern or a forty-year expert.
Heather's story proves that if you take advantage of an opportunity to push the status quo and challenge yourself, you have the power to change what's possible. We proudly celebrate Heather and all the women at Polaris, whose ingenuity improves the riding experience for our customers around the world.