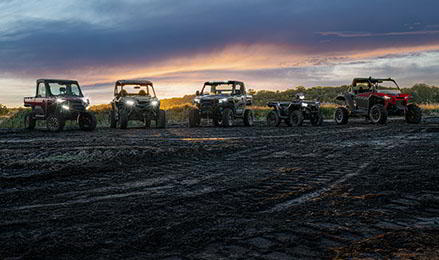 Polaris Off Road Stays On The Gas With 2024 Lineup, Featuring Rider-inspired Updates & Refreshed Styles For Its Industry-leading Range Of Side-by-sides And Atvs
Highlights Include the Return of Polaris Sportsman 570 and XP 1000 Hunt Editions, Along with a Host of Aesthetic and Performance Upgrades Across the Lineup
MINNEAPOLIS, MN (July 30, 2023) – On the heels of debuting its innovative Polaris XPEDITION and the all new Extreme Duty RANGER XD 1500, Polaris Off Road today unveiled updates for 2024 to the off-road industry's most expansive lineup. The 2024 lineup features a host of rider-inspired updates and refreshed styling and new colors. Additionally, the customer-favorite Polaris Sportsman 570 and XP 1000 Hunt editions make a return, and a Premium trim offering is now available on the 2024 GENERAL 1000 to provide customers with an upgrade in style and performance. RIDE COMMAND+ also received enhanced features for 2024, delivering unmatched connectivity and peace of mind to riders through all-new Location Bump Alerts and Check-In Messages.
"From the completely redesigned 2024 RZR XP and the industry's first "adventure side-by-side" Polaris XPEDITION, to our introduction of the all-new RANGER XD 1500, this year has been a powerful showcase of our ongoing commitment to lead the industry and innovate for our riders," said Steve Menneto, President of Polaris Off Road. "While those revolutionary product debuts are pivotal, our unwavering focus on refining and enhancing our current offerings based on customer needs and feedback remains essential, and that's what the 2024 updates represent."
From fresh new styles and colorways, to improved trim levels that appeal to a wide variety of riders, the Polaris Off Road 2024 model year lineup and RIDE COMMAND+ technology enhancements include the following:
RIDE COMMAND+:
Making its debut last fall, RIDE COMMAND+, the industry's first connected-vehicle technology, continues to roll out new enhancements to its service for 2024. With new features like Location Alerts, that will notify the owner if its vehicle has been bumped or moved from its last location, owners can now protect their vehicle more than ever before. RIDE COMMAND+ is now available as a factory option for 2024 RZR Pro R Ultimate, RANGER XD 1500 NorthStar, RANGER XP 1000 NorthStar, Polaris XPEDITION NorthStar and Sportsman XP 1000 RIDE COMMAND Edition. This service is also available on most 2024 RZR, RANGER, Sportsman and Polaris XPEDITION models as an accessory install.
Sportsman
Polaris Sportsman, the long-standing No. 1 selling automatic 4x4 ATV, is reintroducing the Sportsman 570 and XP 1000 Hunt Editions, while also implementing key improvements across the core 2024 lineup. A customer favorite, specifically designed to meet the unique needs of hunters, the Sportsman 570 and XP 1000 Hunt editions include accessories such as the 3,500 lb Polaris Winch, Kolpin Gun Scabbard & Mount, Kolpin Ratchet Claws and more.
Additionally, the 2024 Sportsman 450 and 570 lineup boasts several quality refinements for a better riding experience including a new rear brake pedal for reduced pedal effort and feel, improved sealing around the shifter, and enhanced seat fitment delivering a more comfortable ride. The 570 EPS trim and above will also include enhanced PVT clutch sealing with a higher intake location for better performance in wet conditions.
For added utility, the model year 2024 Sportsman 570 lineup will be equipped with new LED lights for the Premium and Utility HD for added visibility from dawn to dusk.
New color options also are available for the 570 Premium and Trail, 570 Ride Command Edition, Sportsman 850 Premium and Ultimate Trail, Sportsman XP 1000 Ultimate Trail, Sportsman XP 1000 High Lifter Edition, Scrambler XP 1000 S and Sportsman XP 1000 S.
The 2024 Sportsman lineup starts at $6,999 US MSRP and will begin shipping to dealers this early fall. For additional pricing on the entire model lineup, visit https://www.polaris.com/en-us/off-road/sportsman/
GENERAL
Polaris GENERAL is the industry's most versatile crossover side-by-side, capable of tackling tough trails, while also knocking out tasks around the property. For 2024, the GENERAL 1000 receives a new Premium trim offering that provides both style and performance enhancements. Featuring 14" wheels with 27" Coronado tires, and FOX® Podium QS3® shocks that riders can adjust between soft, medium and firm based on terrain changes, the new Premium trim will deliver a smooth ride over rugged terrain, while LED headlights provide greater visibility at morning and night. These upgrades will help riders knock out more tasks and hit the trails confidently in the GENERAL 1000.
Additionally, new colorways on the GENERAL 1000 model include Ghost Gray and Volcanic Orange. The Premium and Ultimate trim levels for the GENERAL XP will feature new colors and graphics in Matte Silver Quartz and Polaris Blue.
The 2024 GENERAL lineup starts at $17,499 US MSRP and will begin shipping to dealers this summer. For additional pricing on the entire model lineup, visit https://www.polaris.com/en-us/off-road/general/
RZR
Polaris RZR, the No. 1 sport side-by-side brand, receives fresh new colors and graphics across its lineup, helping riders make a bold statement when hitting the trails. The 2024 RZR Trail and RZR Trail S are now available in Storm Blue on the Sport trim and two-tone Storm Blue with White Lightning on the Ultimate. Both Sport and Ultimate trim levels now receive the same upgraded steering wheel offered in the fully-redesigned 2024 RZR XP that provides a sportier feel while driving on trails. New for 2024, the RZR Trail and Trail S Sport level feature electric power steering and LED headlights standard, providing riders easier steering input on tight trail corners and enhanced visibility. Additionally for 2024, the RZR Trail S Ultimate trim now features Walker Evans Racing® shocks, while the Sport trim moved to ZF Sachs shocks, both offering riders plush suspension performance against the rugged terrain.
For 2024, the RZR Pro XP Sport and Premium models feature Walker Evans Racing® shocks, while the Ultimate will continue to be equipped with FOX® Live Valve shocks with DYNAMIX active suspension. Both the Premium and Ultimate trim received a refresh with new graphics on the Super Graphite colorway.
Lastly and by consumer demand, the Wide Open lineup of RZR Pro R and RZR Turbo R receives refreshed color options for 2024. For the first time since launching, the RZR Pro R Ultimate is available in an all-new Matte Onyx Black with Lifted Lime accents or Matte Heavy Metal, while the Premium trim level is offered in Matte Heavy Metal. The 2024 RZR Turbo R also welcomes vibrant new colors like Velocity Blue with Green Burst accents and Military Tan with Orange Burst accents.
The 2024 RZR lineup starts at $15,999 US MSRP and will begin shipping to dealers this fall. For additional pricing on the entire model lineup, visit https://www.polaris.com/en-us/off-road/rzr/
RANGER
In addition to the newly launched Extreme Duty RANGER XD 1500, the Polaris RANGER lineup receives a variety of rider-inspired upgrades and quality refinements for 2024. RANGER SP 570 gets new color options, while the NorthStar Edition gets exclusive tailgate badging and new 25" 8-ply Pro Armor X-Terrain tires for added durability and enhanced puncture resistance.
Additionally, Polaris expands the color options for the RANGER 1000 Premium which will now be offered in the sleek Granite Grey color and graphics, while the XP 1000 will be featured in two new options: Desert Sand and Super Graphite with orange burst accents. Furthermore, the RANGER XP 1000 NorthStar Ultimate model boasts connectivity features such as vehicle health, issue diagnostics, and maintenance reminders enabled by RIDE COMMAND+.
The 2024 RANGER lineup starts at $11,699 US MSRP and will begin shipping to dealers this fall. For additional pricing on the entire model lineup, visit https://www.polaris.com/en-us/off-road/ranger/
Youth
Dedicated to inspiring the next generation of riders, Polaris Off Road delivers the industry's largest and most varied lineup of youth offerings. For 2024, the Polaris ORV Youth lineup receives a refresh with eye-catching new colors and graphics. This lineup continues to provide industry-leading safety features that give parents peace of mind and help instill confidence in growing riders, including pin code start, adjustable speed limiter, geofencing, helmet aware technology and industry-exclusive safety gear kit.
Specifically, the 2024 RZR 200 EFI is now offered in Storm Gray and a new graphic pattern with bright red accents. The Outlaw 70 EFI ATV is offered in Velocity Blue with either Lifted Lime or Fierce Fuchsia accents, while the Outlaw 110 EFI is now offered in both Bright White with Polaris Blue and Bright White with Radiant Green details.
The 2024 Polaris Youth lineup starts at $2,999 US MSRP and will begin shipping to dealers this winter. For additional pricing on the entire model lineup, visit https://www.polaris.com/en-us/off-road/shop-by-use/youth/
Polaris XPEDITION
The Polaris XPEDITION, which recently launched in May 2023, is the first-of-its-kind adventure side-by-side, combining the all-terrain capabilities of traditional side-by-sides with comfort and cargo capabilities typically associated with overlanding at the highest level. With a host of standard features and optional configurations to accommodate the greatest range of outdoor pursuits and enable consumers to keep chasing the wild, the 2024 Polaris XPEDITION XP and ADV are the most adaptable, comfortable and capable adventure machine on the market.
The 2024 Polaris XPEDITION lineup starts at $28,999 US MSRP and is currently shipping to dealers. For additional pricing on the entire model lineup, visit https://www.polaris.com/en-us/off-road/polaris-xpedition/
To learn more about the Polaris ORV 2024 lineup and to stay up to date on testing and demo opportunities, please visit https://polaris.com/en-us/off-road/ or join the conversation and follow on FacebookSM, InstagramSM, YouTubeSM and TwitterSM. Walker Evans Racing® is a registered trademark of Walker Evans Enterprises Incorporated; FOX® is a registered trademark of Fox Factory Inc.
About Polaris
As the global leader in powersports, Polaris Inc. (NYSE: PII) pioneers product breakthroughs and enriching experiences and services that have invited people to discover the joy of being outdoors since our founding in 1954. Polaris' high-quality product line-up includes the Polaris RANGER®, RZR® and Polaris GENERAL™ side-by-side off-road vehicles; Sportsman® all-terrain off-road vehicles; military and commercial off-road vehicles; snowmobiles; Indian Motorcycle® mid-size and heavyweight motorcycles; Slingshot® moto-roadsters; Aixam quadricycles; Goupil electric vehicles; and pontoon and deck boats, including industry-leading Bennington pontoons. Polaris enhances the riding experience with a robust portfolio of parts, garments, and accessories. Proudly headquartered in Minnesota, Polaris serves more than 100 countries across the globe. www.polaris.com