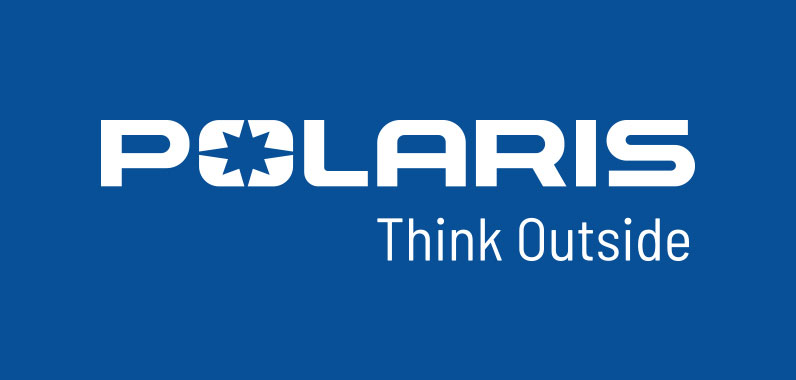 Polaris Industries Honors New Hall of Fame Inductees as Company Celebrates Its 60th Anniversary Year
Retired Employees, Leading Dealers & Key Supplier-Partner Are Inducted
Medina, MN (July 29, 2014) – Polaris Industries Inc. today inducted three retired employees, including two executives, three premier dealerships, and a key supplier into the Polaris Hall of Fame. They were honored for their significant contributions to the company's success – along with the community of Roseau, Minnesota, and the company's Roseau workforce – during a ceremony at the Polaris National Sales Meeting held in Minneapolis.
The Polaris Hall of Fame was established during the company's 50th anniversary in 2004. Retired employees, Polaris dealers, and key material and technology suppliers have been recognized annually for their roles in the company's growth and success.
"As Polaris celebrates its 60th anniversary this year, it's an honor to recognize these special individuals, dealers, and key supplier-partner for their tremendous contributions," said Polaris CEO Scott Wine. "It's also fitting that we pay tribute to Roseau, where Polaris was founded, along with the outstanding workforce at our Roseau production facility."
The 2014 Polaris Hall of Fame inductees are:
John Corness, who served as Vice President Human Resources from 1999 to 2011, a period of tremendous growth for Polaris. John and his HR team contributed greatly to that growth and to the company's ongoing success by hiring outstanding personnel to expand and elevate programs and processes, by implementing effective employee evaluation practices, and by establishing programs such as the Engineering Development Program.
Mark Blackwell, who joined Polaris in 2000 as General Manager of the Victory Motorcycles division, and later served as VP of the Victory division and Polaris VP of International Operations. Mark joined Polaris after a hall of fame motocross racing career and two decades of successfully directing powersports businesses, and he guided Victory through a decade of tremendous improvement in product innovation, quality, performance, and sales. He helped to energize the company's commitment to product quality and helped create the product development process Polaris still uses today.
Les Olson, who started as a Polaris snowmobile dealer in 1975, became a District Sales Manager for Polaris in several Rocky Mountain states and closed his Polaris career as an extremely valuable member of the Polaris Way Out Training Team. The WOTT group Les was part of toured the country and provided sales personnel from Polaris dealerships with effective product and sales training. Now retired and living in northern Minnesota, Les contributed greatly to the success of dealerships coast to coast.
Lube-Tech (aka Lubrication Technologies, Inc.) in the early 1990s created for Polaris its first brand-exclusive, specially blended motor oil for Polaris 2-stroke snowmobile engines. Lube-Tech has since provided the company with specially formulated oils for engines in all Polaris vehicles, with each oil specially engineered for optimal performance and engine longevity. Lube-Tech has provided Polaris with exceptional customer service and breakthrough technology, including the first synthetic oil for a 4-stroke ATV engine, the first synthetic for 2-stroke engines, and the first smokeless 2-stroke oil.
Arlen Ness Motorcycles, a leading Victory Motorcycles and Indian Motorcycle dealership in Dublin, California. Its principals, legendary custom bike builder Arlen Ness and his son, fellow custom builder Cory Ness, have long served as styling consultants and accessories suppliers for Victory. They have also created a series of limited-edition Ness Signature Series Victory models. The Nesses became Victory dealers in 1999, providing the new brand with invaluable credibility because of Arlen's legendary stature in the motorcycle world. Today, three generations of Ness custom builders lead the business, as Cory's son Zach is also a high-profile team member.
M & M Lawn & Leisure operates Polaris snowmobile and off-road vehicle (ORV) dealerships in Rushford and Pine Island, Minnesota. The dealerships owned by Mike Burns and his wife Christie have enjoyed long-term success through a company-wide commitment to unsurpassed customer service, support of community activities and rider groups, and by utilizing the dealer resources Polaris provides to maximum effect. When torrential rains flooded the city of Rushford in 2007, M & M, with Polaris support, provided vehicles and dealership resources, including full use of the building itself, to emergency operations teams.
Reno Cycles & Gear, a Polaris dealership owned and operated by Bill Hermant, his wife Donna, and their daughter Kimberly in Reno, Nevada. When Bill became a Victory Motorcycles dealer in 2000, the business was located in a rundown building in a rough part of town. Passionate about powersports and committed to providing premium customer service, he successfully grew the business. Reno Cycles & Gear features a factory trained service staff that delivers superior vehicle service and maintenance. In 2007, the dealership moved into a large, modern, high-profile facility, and it continues to grow as it sells and services all Polaris product lines.
Roseau Community & Roseau Polaris Employees are receiving special recognition in this, the company's 60th anniversary year. Polaris was incorporated in Roseau in 1954, and six decades of Roseau employees – with the support of the city and entire community – have maintained the company's commitment to product innovation and quality. The Polaris engineering and production facility in Roseau has grown rapidly over the years, as has the outstanding, dedicated workforce that creates world-class products in the company's hometown.
About Polaris
Polaris is a recognized leader in the powersports industry with annual 2013 sales of $3.8 billion. Polaris designs, engineers, manufactures and markets innovative, high-quality off-road vehicles, including all-terrain vehicles (ATVs) and the Polaris RANGER® and RZR® side-by-side vehicles, snowmobiles, motorcycles and on-road electric/hybrid powered vehicles.
Polaris is among the global sales leaders for both snowmobiles and off-road vehicles and has established a presence in the heavyweight cruiser and touring motorcycle market with the Victory and Indian Motorcycle brands. Additionally, Polaris continues to invest in the global on-road small electric/hybrid powered vehicle industry with Global Electric Motorcars (GEM), Goupil Industrie SA, Aixam Mega S.A.S., and internally developed vehicles. Polaris enhances the riding experience with a complete line of Polaris Engineered parts, accessories, and apparel, Klim branded apparel and ORV accessories under the Kolpin and Cycle Country brands.
Polaris Industries Inc. trades on the New York Stock Exchange under the symbol "PII", and the Company is included in the S&P Mid-Cap 400 stock price index.
Information about the complete line of Polaris products, apparel and vehicle accessories are available from authorized Polaris dealers or anytime at www.polaris.com.