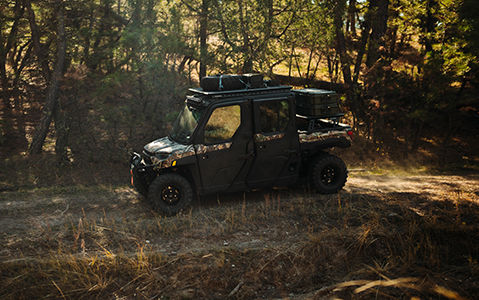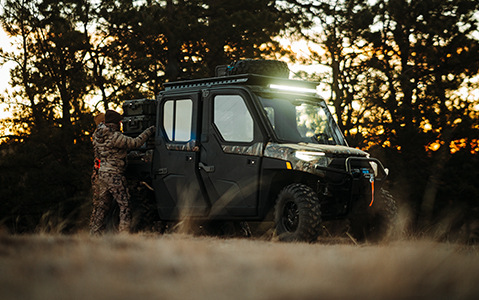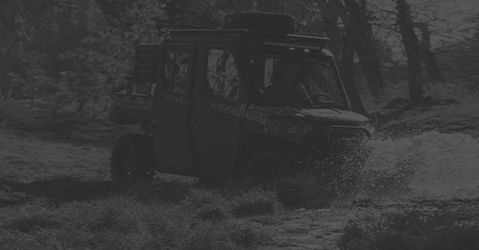 CARACTERÍSTICAS DEL RANGER CREW XP 1000 NORTHSTAR BIG GAME EDITION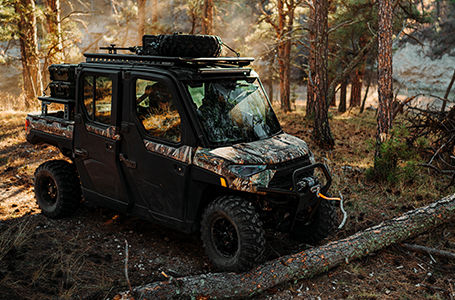 CAPACIDAD PARA LA CAZA MAYOR
Fabricado para maximizar la altura libre desde el suelo, se monta sobre rocas y surcos con brazos en A arqueados con una gran altura libre y las nuevas llantas Pro Armor X-Terrain de 29 in que ofrecen 14 in de altura libre desde el suelo. La suspensión trasera autonivelante mantiene automáticamente la altura de manejo cuando se encuentra con una carga pesada, lo que le da la confianza para transportar el equipo y la caza con facilidad.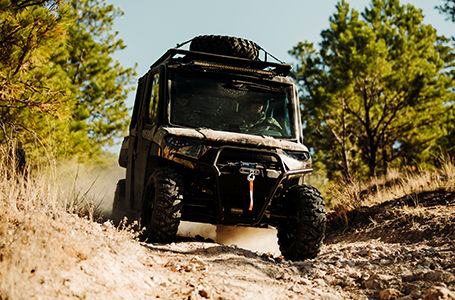 Tackle tough mountain terrain with confidence knowing your vehicle is protected with a larger, heavy duty bumper and full-body skid plate. Clear roadblocks and recover large game with a Polaris HD 4,500 lb Winch with Synthetic Rope that is high mounted for better accessibility in brush.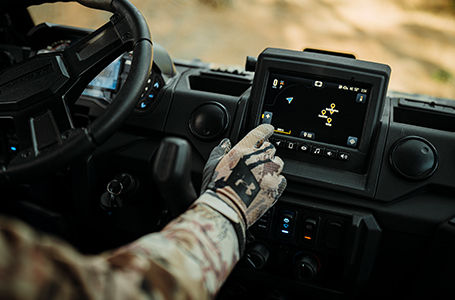 Protéjase de las inclemencias del tiempo con el sistema de cabina completamente cerrada Pro Shield, permanezca cómodo en condiciones climáticas impredecibles con calefacción y aire acondicionado instalados de fábrica y disfrute de los asientos acolchados mejorados en los viajes más difíciles. Disfrute de la pantalla de 7 in con tecnología RIDE COMMAND para acceder a sitios de caza remotos sin servicio de telefonía celular.
Haga que su deporte sea más radical y diseñe la mejor máquina para la caza con la línea más completa de opciones de accesorios inspirados en la cacería.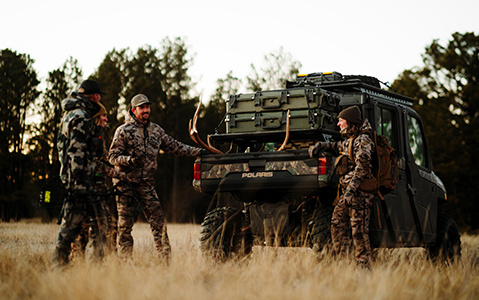 COLECCIÓN PARA LA CAZA MAYOR
Take your Big Game Edition to the next level with the RANGER Big Game Accessory Collection, curated by Lee & Tiffany Lakosky, Renowned Big Game Hunters.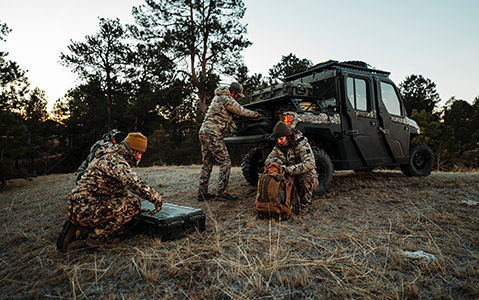 LÍNEA DE ACCESORIOS PARA LA CAZA
Vea la línea completa de productos Polaris Engineered para la caza y diseñe la mejor máquina de caza, incluyendo el techo y las plataformas portaequipajes Rhino-Rack®, espacio de almacenamiento de armas, iluminación añadida y mucho más.