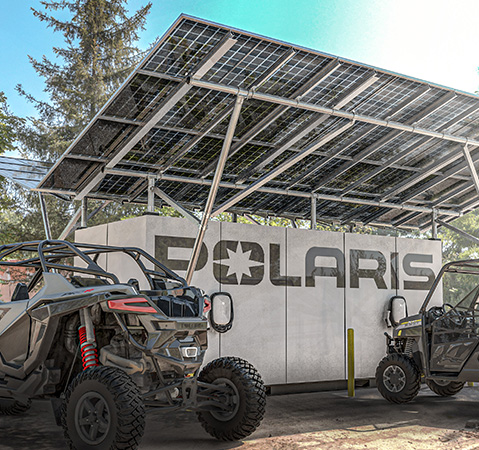 Polaris Creates First-of-its-Kind Electric Off-Road Vehicle Charging Network Partners in Michigan
Polaris to receive $700,000 grant from the State of Michigan to build off-road trail charging network in the Upper Peninsula; Polaris Adventures Outfitter to Operate First Rental Fleet of Polaris' all-new electric off-road vehicle starting in 2024
Minneapolis - (June 29, 2023) Polaris Inc. (NYSE: PII) is receiving a $700,000 grant to help build an EV charging network for off-road vehicles within a public off-road trail system in Michigan's Upper Peninsula. The grant is through the Michigan Office of Future Mobility & Electrification's (OFME) new program, the Mobility Public-Private Partnership & Programming (MP4) Grant. The program supports the modernization of the state's mobility offerings and its massive outdoor recreation industry as it transitions to more electric and technology-enabled vehicles. Polaris will also equip its first Polaris Adventures Outfitter with a rental fleet of its all-new RANGER XP Kinetic.
"Electrification is an emerging space in powersports, and we are preparing for a future industry that includes more electric options," said Andrew Chasse, vice president of Strategy and Partnership, Polaris. "Electrifying powersports is exciting, but offers unique challenges for the recreation segment, especially for those riders who are looking to take their off-road vehicle on an all-day trail ride or travel longer distances while they enjoy the scenic beauty around them. This groundbreaking project will add a network of charging stations to nearly 120 miles of trails in Michigan's Upper Peninsula."
Polaris will use OFME's MP4 grant to build a reliable, convenient, and interconnected network of multi-modal EV charging infrastructure. These charging stations will enable the use of various electric off-road vehicles, electric snowmobiles or other trails-approved electric options on the public trail system. Hamilton's North Coast Adventures, a Polaris Adventures Outfitter in Ontonagon, Mich., will also be equipped with a fleet of all-electric Polaris RANGER XP Kinetic off-road vehicles as a part of its rental offerings.
"Supporting innovative companies such as Polaris that modernize and enhance outdoor recreation vehicles and experiences is an important investment in our states economic growth and the preservation and enjoyment of our natural landscapes," said Charlie Tyson, technology activation manager of the Michigan Economic Development Corporation (MEDC). "This program will help to ensure a sustainable future for our state's outdoor recreation industry while creating new economic opportunities for local communities and attracting investment and talent from around the country."
"In addition to increasing access to EV charging as more electric off-road options enter the market, we will also create the first off-road vehicle rental experience in the country with access to our RANGER XP Kinetic," said Gray Rentz, vice president of Polaris Adventures. "From the option for a quieter ride when renting these vehicles to less maintenance required by the Outfitter, electric off-road vehicles offer a number of benefits and will create a unique way for both tourists and locals to take in the natural beauty of the Upper Peninsula."
Construction of the charging network is scheduled to start later this year with electric off-road vehicle rentals anticipated to start at the Polaris Adventures Outfitter in 2024. Polaris will partner with Yotta Energy, a Texas-based renewable energy storage company, to provide the charging hardware. Yotta's REV charging stations are an integrated, scalable charging solution designed with solar production capability that can be grid-connected or operate completely off-grid.
"We couldn't be more excited about this remarkable partnership and we believe the REV is a perfect solution for this network of off-road trails. Together, we are poised to unleash a new wave of innovation and help advance the industry landscape. We can't wait to electrify the off-road adventure," expressed Omeed Badkoobeh, CEO of Yotta.
Chasse continued, "We know that a more electric future requires us to consider the entirety of the riding experience and needs of the riders using electric powersports vehicles. We will continue to learn and develop plans on how we best deliver for the riders of today and tomorrow."
Polaris is leveraging electric technology to build electric powersports offerings that deliver leading performance capabilities and an unparalleled experience for riders. From acceleration and control, to quieter operations and zero emissions, there are many benefits to electric powertrain technology. Polaris is focused on testing electric prototypes broadly across its product platforms and will commercialize purposefully where electrification improves the customer experience. Most recently, Polaris began shipping its all-electric Polaris RANGER XP Kinetic utility side-by-side off-road vehicle to its dealers and customers in April and announced a second order window for dealers and customers will take place later this summer.
About Polaris
As the global leader in powersports, Polaris Inc. (NYSE: PII) pioneers product breakthroughs and enriching experiences and services that have invited people to discover the joy of being outdoors since our founding in 1954. Polaris' high-quality product line-up includes the Polaris RANGER®, RZR® and Polaris GENERAL™ side-by-side off-road vehicles; Sportsman® all-terrain off-road vehicles; military and commercial off-road vehicles; snowmobiles; Indian Motorcycle® mid-size and heavyweight motorcycles; Slingshot® moto-roadsters; Aixam quadricycles; Goupil electric vehicles; and pontoon and deck boats, including industry-leading Bennington pontoons. Polaris enhances the riding experience with a robust portfolio of parts, garments, and accessories. Proudly headquartered in Minnesota, Polaris serves more than 100 countries across the globe. www.polaris.com
About Yotta Energy
Headquartered in Austin, Texas, Yotta Energy is delivering a green future with 'Energy Made Simple' solutions that incorporate solar, energy storage and electric vehicle charging technologies into commercial buildings. Yotta has developed a unique PV-Coupled™ architecture, a smart energy storage solution designed to scale with rooftop solar PV projects effortlessly, in addition to a number of electric vehicle charging products to create a holistic ecosystem of renewable energy technologies. Yotta's technology features advanced thermal management to maintain an optimal working temperature even under extreme outdoor conditions. As an integrated software plus hardware solution, Yotta also helps address grid outages by enhancing grid resilience and reliability. Yotta's technology allows for a much lower total installation cost for rooftop solar-plus-storage and EV charging infrastructure than that available by any other current providers today. Learn more at www.yottaenergy.com.