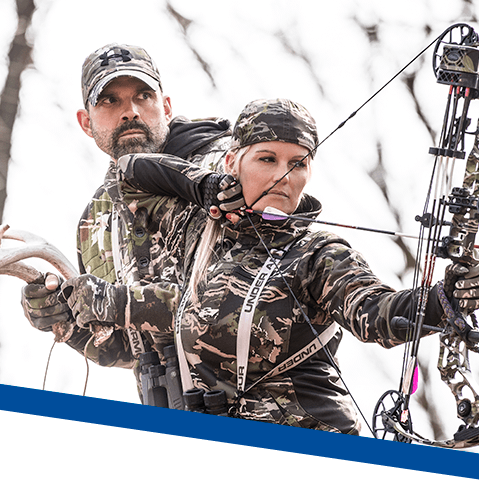 State: Iowa


Follow your passion and good things will happen. Nowhere does this phrase ring more true than when describing the successful journey of the husband and wife hunting team of Lee and Tiffany Lakosky. Fans often refer to them as Lee and Tiffany Crush, swapping their last name with that of their hit Outdoor Channel hunting show, "CRUSH with Lee & Tiffany." It was their passion for hunting and the outdoors that gave them both the "push" they needed.
Working as an airline attendant based out of Minneapolis, Tiffany turned to Lee when she wanted to give archery a try. At the time, Lee, who was also living in the Minneapolis area, was working part time and following his passion at an archery shop while pursuing a career as a chemical engineer. It turned out Tiffany was a natural, and their mutual passion for the outdoors proved to be the inseparable bond that transformed their lives.
They left the Twin Cities and established a beautiful farm in southeastern Iowa where a successful whitetail management program, a love for hunting and a television production company came together to form what is now the most successful hunting show on television. Lee, Tiffany and their children, Cameron and Raygen, along with their labrador retrievers, Tanker and Mattie May, are living proof dreams do come true when you combine passion with hard work and perseverance.
Being from Minnesota and always wanting the best, both Lee & Tiffany decided on Polaris RANGER as their UTV of choice. They use the machines out on hunts all over the country, from whitetail at home all the way to mule deer in the mountains, RANGER is their vehicle of choice. They also use it to get chores done around home, like prepping food plots, hauling wood and just going for a cruise.
Lee & Tiffany most recently went on the Ultimate Hunt Experience with a RANGER owner, in celebration of the 20th anniversary of RANGER. The group had the time of their life pheasant hunting in South Dakota.
In celebration of the 20th anniversary of RANGER, Polaris and Lee & Tiffany Lakosky have teamed up to give the Ultimate Hunt Experience.