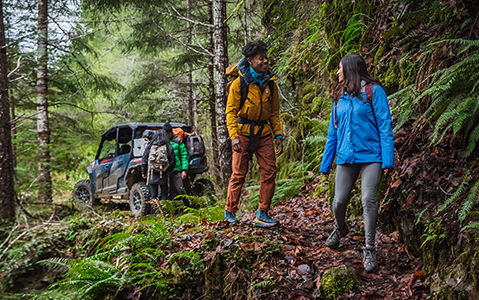 There's lots to get excited about when you're running trails with your friends and family. XP 4 is designed to add even more excitement to the mix.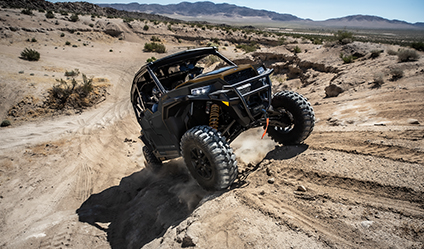 XP 4 comes equipped with 15" aluminum racing wheels and 30" 8-ply off-road tires to give you sure-footed traction and max strength so you can confidently take-on even the roughest terrain.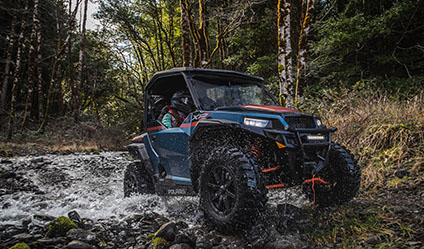 TACKLE THE TOUGHEST TERRAIN
Climbing up rocky crawls and powering through rutted trails can be a blast. But bottoming-out can end a good time quick. XP 4 has 13.5" of ground clearance so you can float over obstacles that would make others stop in your tracks.
Epic adventure starts with strong foundations. XP 4 is purpose-built with the widest stance in the adventure side-by-side market to keep you stable around the twists and turns of your favorite trails.
Save some energy for after the ride with a machine engineered for all-day comfort. Rocks and ruts will seem smaller thanks to 16 positions of adjustment,
while wide bolstered seats keep you upright and relaxed for long days on the trail.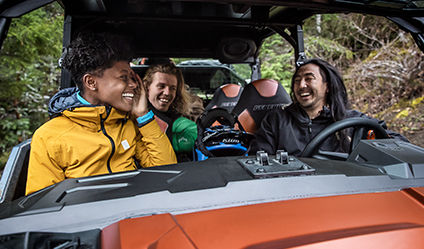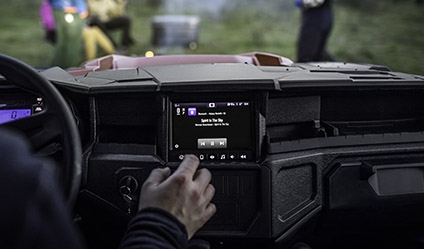 ROCK YOUR FAVORITE PLAYLIST
Bring all your favorite music along for the ride with off-road optimized and tuned Rockford Fosgate Stage 1 audio including PMX-2 head unit and two dash-mounted speakers.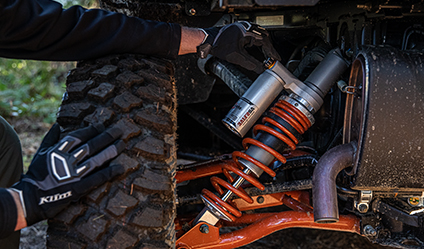 Enjoy comfort and improved control in rough terrain with Walker Evans Velocity Series shocks. High-performance coilover and internal bypass design offers a higher resistance to bottoming-out and a smooth all-day ride.
STAY CONNECTED TO THE TRAIL — AND YOUR GROUP
Track the trail, share favorite routes and stay with your group with Ride Command Edityion trim, featuring a 7" touchscreen display with configurable vehicle diagnostics, Bluetooth, cameras, GPS and Rockford Fosgate Stage 3 audio tuned and optimized for off-road adventures. Also features integrated plow mode and winch auto-stop.
PREPARED TO GO ANYWHERE — AND DO ANYTHING
No matter what the trail throws in your way, you'll have everything you need to find a path through, out, and home with the most versatile adventure side-by-side in the world. After all, the right gear always matters.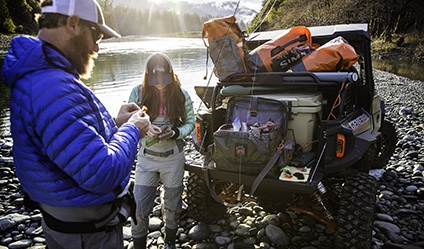 Whether you need to haul firewood to camp, carry gear for a long stay in the wild, drag logs off the trail or pull a trailer full of toys, you can do it all with XP's 1,500 lb tow capacity.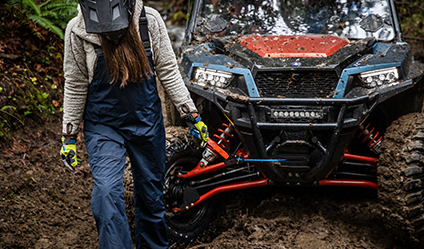 RECOVERY-READY PULLING POWER
The all-new Polaris HD Plus 4,500-lb winch with new fairlead and upgraded synthetic rope will help you confidently clear downed logs, get out of tough situations or set your line up a steep climb.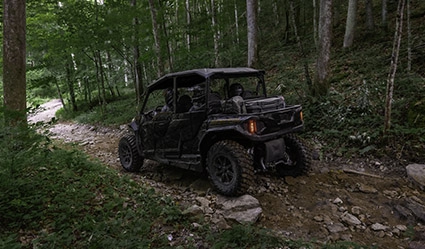 HAUL MORE OF WHAT MATTERS
Be prepared with all the essentials for a long day of adventuring. A 600 lb dumping cargo box gives you the versatility to haul all the gear you need for any adventure.