How to Develop Land for Deer Hunting
Created in partnership with Pat Reeve—host of Driven TV and one of the top hunting authorities on whitetail deer.
Where Is The Best Place To Start?
It really depends on the land, your budget and the time you want to invest. If you own acreage or are looking to purchase property to hunt, managing that land can make a big difference in how successful your season might be. Creating food plots, incorporating ponds, tending to trails and clearing sight lines are all things you can do to improve your chances of harvesting a deer. It can be a lot of work but a ton of fun turning hunting prep into a year-round activity.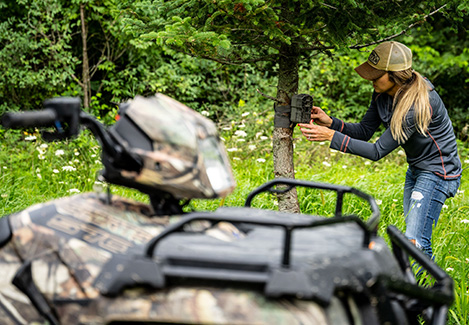 What to Look for in Hunting Property
Whether you own property or are looking to buy some, the land itself will determine how you approach developing it to get the best hunting results. The ideal hunting grounds will have access to food, water, ground cover, areas of protective timber, natural clearings and multiple access points—especially if your property is large. If your land doesn't have some of these features, you may look to create what you can.
Keep in mind, land development takes time and influences deer behavior. So, the results may not be immediate. Make a plan, carry it out over a few seasons and have patience—you'll have a better shot at keeping the deer all year round.
The Number of Acres That Are Best for Deer Hunting
One of the first things people will ask is how many acres do I need? The honest truth is even small lots that have food, coverage and clearings can draw deer in. Five acres won't hold a lot of deer, but they'll pass through if there's something to eat. There are some hunters who own hundreds of acres that can hold larger residential herds, but that takes money and time to manage. Somewhere around 40 to 80 acres is a manageable size that will likely offer the diversity of habitat the deer are looking for.
Attract Deer Using Trees, Ground Cover and Access to Food
The number one ingredient to drawing animals to your property is food. Planting food plots that deer visit throughout the year is the most effective way to create a habit. Land with plenty of timber can also help a herd feel more secure as they approach the food, while plenty of ground cover will give them natural places to bed—meaning they're less likely to leave your property for another area. Having water on your property is another plus when you're trying to hold deer on your land.
Be Sure to Consider Your Neighbors
Know what's going on around you when it comes to hunting on your own land. If you're next to public hunting grounds or heavily hunted properties, you can have the issue of losing deer to hunting pressure. If you have the option of searching for that prime parcel to buy, look for land that butts up to sanctuary systems. These are places like government parks, heavy cover or private property where the deer aren't being routinely hunted. You can also minimize the effects of disruptive neighbors with the use of natural screens, food plots, bedding cover and water sources—creating your own sanctuary system.
Where to Start in Developing Your Land for Deer Hunting
To evaluate your existing property or a property you'd like to purchase, the best approach is to get boots on the ground and scout it out. Nothing beats the time spent walking your land to get a feel for it. You can also use topography maps and aerial maps to better understand the environment and aid with planning your food plots. Identify what features your land already has, where it could use improvement, any trails deer are using to travel and where they are bedding.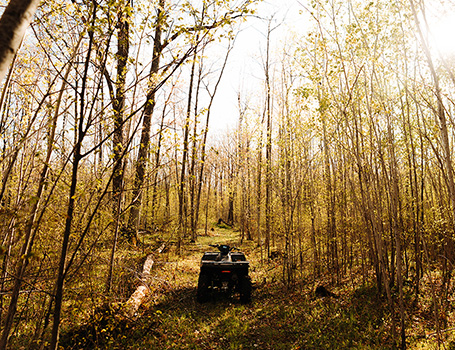 Tips to Identify Deer Travel Routes and Beds
When it comes to figuring out where the deer are spending time on your property, look for their trails. Deer like to travel along ridgelines about three-quarters of the way down to avoid being skylit. Look for disturbed brush, worn down greenery, or tree rubs and prints in the dirt or snow. You should also look for bedding areas, usually along ridges or side hills with high visibility but thick cover. If there is snow on the ground, that will help. Round spots that have melted down and tufts of hair are sure signs of a bed. If you see several beds in an area, you'll know it's a doe family. Solo, independent beds are generally buck bedding spots.
When deer are on food patterns, let them come to you. Leave the timber for the deer and don't go in. It puts pressure on the herd and can bump them from the area. Unless they're in the peak of the rut, deer will naturally come out during daylight hours, which is conducive to hunting with a blind or a tree stand.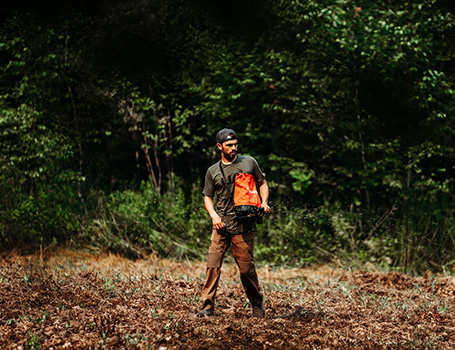 Determine Where to Plant the Food Plot for Deer
Once you have a lay of the land, you can start to think about how to attract deer and even hold them on your property. A food plot will be one of the most important elements of your plan. If possible, choose a natural clearing near a wooded area that is located on the interior part of your property. A natural clearing will require less work to transform. In addition, the central location will bring the deer into an area where activity from your neighbors can't spook them. Use any existing deer trails you've discovered to help make smart decisions about your final location.
If you must create a food plot on the edge of your property, you'll want to build natural screens to minimize outside influences and help the deer feel more secure. Giant miscanthus grass—a bamboo type of plant—builds a great private screen to adjacent land.
Tools & Equipment Needed to Maintain Your Hunting Land
To manage your hunting ground there are some important tools you'll want to have on hand. A side-by-side with a bed is a big plus to help you haul tools and materials, but an ATV is also great for navigating tight spaces on your property. Deer will often get used to the sound of your off-road vehicle, especially if you use it all year. For extra stealth, there are newer electric vehicles like the Polaris RANGER XP Kinetic, offering quiet operation.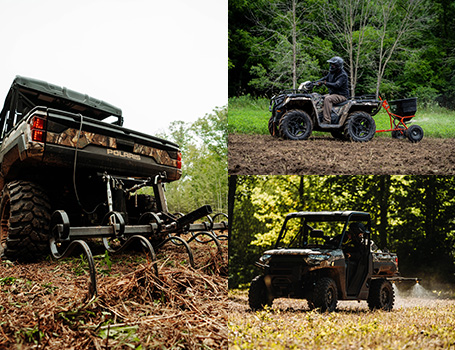 Here are a few other nice-to-haves:
Chainsaw — to cut back trees along trails or in your food plot
UTV Winch — helps with the hauling heavy logs or other debris
Brush Mower — groom back trails and cut foliage down
UTV Sprayer — to knock down weeds and spread fertilizer
Some items, like a sprayer, chainsaw and brush mower are things you'll always want on hand. Other items, such as a skid steer, can be rented. For a really big job, you can also hire an excavation expert to come in with a tractor or dozer and clear out an area for you.
Setting Goals for the First Year
Transforming and maintaining land for hunting is not an overnight project. It can take time and energy. If you don't live on the land, you'll have even less time to tend to it. Create a plan and set realistic milestones that fit your timetable and your budget. For example, in the first year you might explore your property, identify deer trails, and pick out a good place or two for a food plot—and then start clearing it for the next spring.
Setting Goals for Future Years
Once you've established your food plot, you can start thinking about what's next. You might try rotating crops or adding new crops to see what works best. In general, leafy vegetation like alfalfa and clover work best in spring, while grains like corn and soybeans are great for fall. You can also clean up trails, add a water source and plant natural screens and ground cover. You might even add a second food plot if your property is large enough. Remember, deer won't change their routines overnight, so if you make an improvement, give it time to take effect.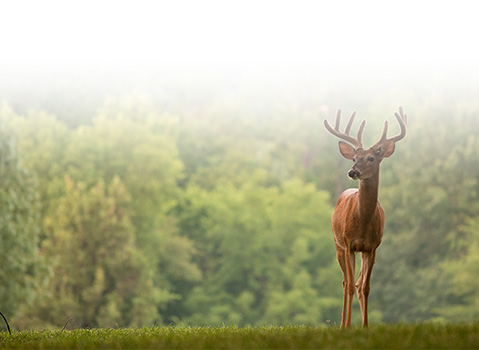 So, What's Next?
We've gone through several considerations for evaluating your land and creating productive deer hunting grounds on your property. Once you have a plan, have established your budget and set your priorities, it's time to get down to work.