Riding Tips
November 01, 2021
Polaris Ride Command: A GPS Trail-Navigation Technology for ATVs & SxS
Elevate your off-road experience with Ride Command from Polaris - a powerful GPS trail - navigation technology with group riding and community sharing features.
Find your way out there with this industry-exclusive technology as your guide to every adventure you can imagine. Whether you're heading out to your hunting grounds, mapping your favorite fishing holes, exploring new off-road trails, or tackling desert dunes with your friends—RIDE COMMAND ensures you always know where you are, who you're with and where you're going.
RIDE COMMAND® features for the off-road
As outdoor enthusiasts ourselves, we understand what makes the best moments on the trails, so we loaded RIDE COMMAND with all the features you want and need to chase after your favorite outdoor experiences with complete confidence.
RIDE COMMAND is the only off-road navigation system with over 1 million miles of locally verified downloadable maps, so you know exactly where you are and don't chance trespassing on someone's private land. Plus, integrated waypoints that overlay on the map surface let you easily navigate your way to nearby gas stations, restaurants, campsites, hotels and more.
You can even drop a pin on a favorite fishing hole to find it again or plan a meet up with riders in your group at a virtual pin dot out in the desert. You'll be happy to know, all the local maps and data are supported by local trail clubs or government agencies so you can have confidence in their accuracy.
Keep an eye on other riders, even when they're out of sight. RIDE COMMAND makes it easy to keep track of everyone in your crew, thanks to its innovative Group Ride functionality that works even when you're outside of cell range. Simply set up your group before you head out and then track each rider's location on the map.
For trail riders, this means you can space yourselves out along the trail, so nobody is riding in another vehicle's dust. For dune riders, it means you can keep track of other vehicles, even if they're up and over the rise. So, sync up and head out with others—because everyone knows the best rides are shared with friends.
Whether you're about to go riding, or just finishing up, RIDE COMMAND puts great features at your fingertips to keep track of it all. You can plan your ride on your computer or other device and download it to your vehicle with pre-loaded maps. Plan the trail you'd like to take including any waypoint stops along the way.
Then after the ride, you can review the route, time and distance you traveled and save that ride's details so you can hit the same trails and terrain all over again—or share your mapped ride with other riders. You can even watch a 3D flyover of your route.


Learn how to set up Group Ride on a vehicle equipped with the glove-touch capable 7" display with RIDE COMMAND technology. Watch the video >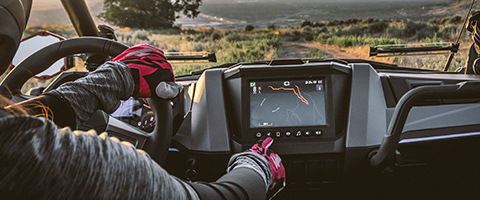 How to access RIDE COMMAND
Available in-dash, as an app or via the website
RIDE COMMAND gives you confidence to plan your best rides, track your unforgettable journeys and share your epic adventures, and since you never know where it will take you, it can be accessed in a variety of ways.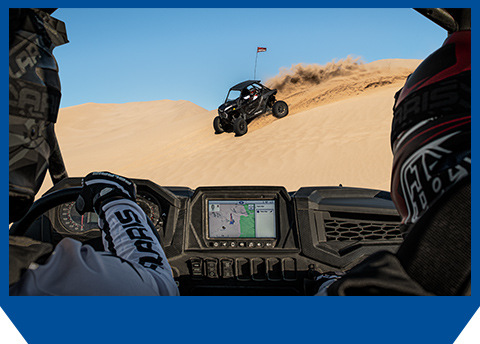 On board vehicles equipped with our 7" glove-touch display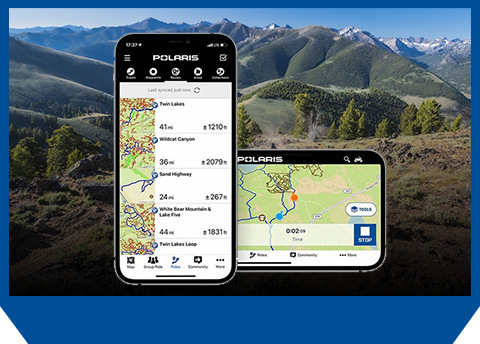 On your phone using the app, available in the App Store and Google Play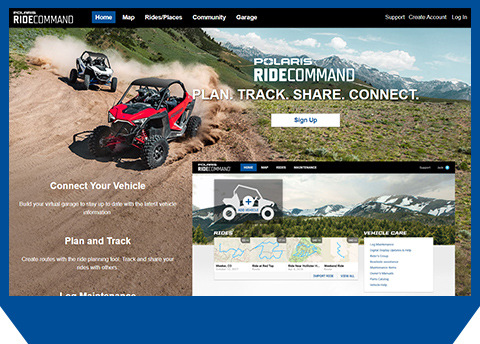 On your computer or any other web-connected device
Additional features* on vehicles with an in-dash display
In addition to all the benefits of RIDE COMMAND, when you have the 7" display onboard your off-road ride, you get a couple of extra features to make your riding experience even better.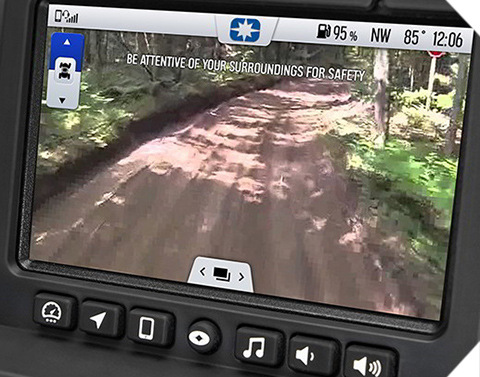 This rear camera not only helps you navigate tough terrain in reverse, it also lets you see others behind you while you're driving.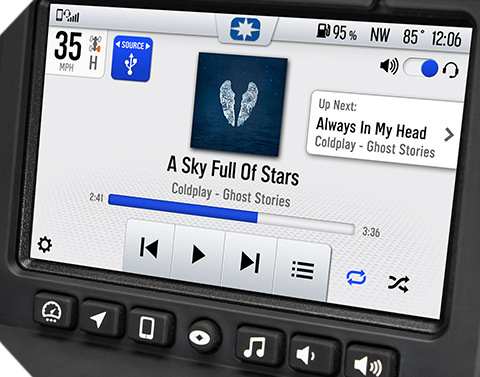 Personalized audio experience
Sync up your off-road soundtrack with Bluetooth connectivity. Plus, enjoy wireless call and text alerts with hands-free convenience.
*Features not available on Sportsman ATVs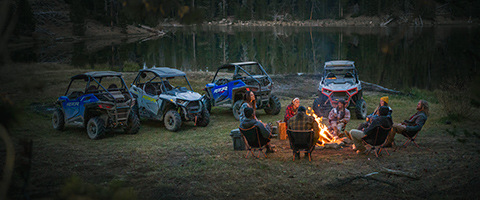 We're constantly innovating for you
As you can see, RIDE COMMAND is more than an off-road navigational tool. It's the latest technology, connecting you to the best experiences to be had on the off-road. If you haven't experienced it yet, you really have to try it. Download the app today, or better yet, have it installed on your next vehicle.