Riding Tips
January 05, 2022
Tips for Riding ATVs, UTVs & Side-by-Sides in the Snow
When the snow flies, does your off-roading stop? It doesn't have to. Today there are a wide range of things you can do to outfit your ATV, UTV or side-by-side (SxS) to plow through the winter months and right into spring. So, whether you use your vehicle for hard work, all play or a little bit of both, we've got the cold-weather tips, gear and accessories you'll need to turn your ride into a winter riding machine.
Can You Ride a UTV, SxS or ATV in Snow?
The answer of course is yes. The most common uses for an ATV or UTV in cold weather would be for work—plowing a driveway or hauling wood for your fire. And when well-equipped with proper tires or tracks, that same ride can get you across your property's acreage even when the way isn't plowed. There are also plenty of winter rec uses too including trails that remain open all winter long and ice-fishing holes that need accessing. All you have to do is know what to expect and prepare yourself and your ride for it.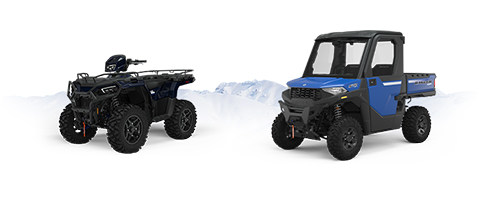 What is the Best ATV for Snow?

When it comes to winter riding, it's about traction, traction and more traction. Nothing will spoil a day faster than spinning your wheels in a driveway drift or getting bogged down on a remote trail. If you're looking for a good 4-wheeler in the snow, the Polaris Sportsman 570 Ride Command Edition offers the industry's fastest-engaging all-wheel drive to instantly stop the spin and get you going. Plus, with Ride Command® onboard you can add a plow system and gain intelligent touch-screen control over your plow blade and navigate winter trails with ease.
What is the Best UTV for Snow?
The same goes for using your UTV in snow. You'll want the industry's fastest-engaging all-wheel drive ready to throw its torque into the frozen turf. It's a standard feature on every RANGER, as well as most other Polaris vehicles, so you can charge confidently through the white stuff.
This workhorse accepts a plow blade as well, offers RIDE COMMAND options and can be outfitted with Pro Shield Cab components. These tight-sealing windshields, doors and panels can be added to block out the elements and the cold. Add a cab heater for extra warmth. Or go all enclosed with the RANGER NorthStar Edition—ready-made for the coldest conditions.
Best Practices for Snow Riding with an ATV, UTV or SxS
Being prepared for anything is always important when off-roading, but it's especially important when the weather dips below freezing, and the snow begins to fly. Make sure your ride is properly equipped to handle the snow and the terrain you plan to tackle.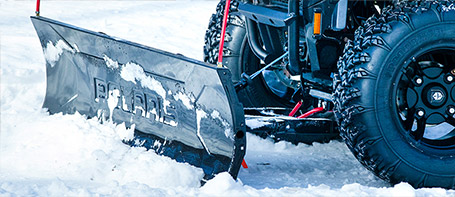 Add a Plow System
One of the most common additions for winter riding is a plow. And while it can make quick work of a long driveway (See: 4-Tips for Plowing Snow), it also comes in handy for clearing a trail. Adding a plow system to your ATV, UTV or SxS is easier than you think with our Plow System Builder. Give it a try.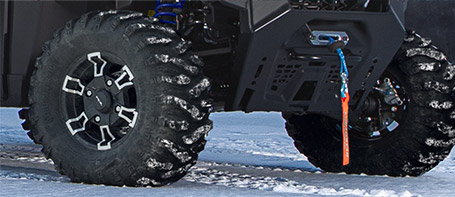 Get Snow Tires for Your Ride
As we mentioned earlier, traction is essential to making sure your ride is snow worthy. If you own a Polaris ATV or SxS, our all-wheel drive system is a great start. You can also swap out your tires for extra traction. ATV Snow Tires or UTV Snow Tires are made to grab hold in wintery conditions and keep you rolling. ATV tire chains are also an option.
Consider Adding Tracks
There are few things more impressive looking than an off-road vehicle equipped with tracks. If you want to own the snow in some of the most challenging conditions, this is the way to go. Their triangular design optimizes weight distribution over a larger area for superior flotation, outstanding traction and sure handling over snow. They're available on Sportsman, RANGER and RZR off-road vehicles.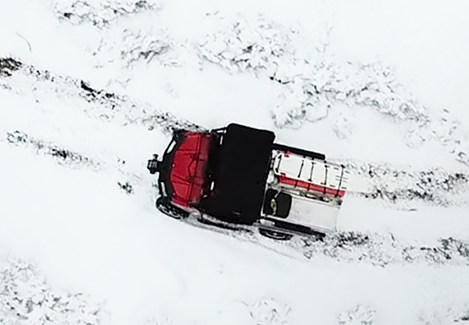 Tips for Snow Riding with an ATV, UTV or Side-by-Side
With your ride prepared to handle the snowy conditions, it's important that you are too. Follow these tips to enhance your comfort, promote personal safety and help you prepare for the conditions you'll be facing whether you're working on property or out on the trails.


Look for trails that are open all year round. If riding on snowmobile trails that allow off-road vehicles—often called "shared trails" or "shared use trails"—it is important to remember snowmobiles are faster and quicker. Be alert and yield to snowmobiles, letting them pass.


Always ride together in the winter, taking two or more vehicles, to avoid the risk of being stranded in cold-weather conditions.


Bring extra water, snacks, blankets and hand warmers in case you get stuck or break down.


Carry extra gear including gloves and boots to help if your gear gets wet, and carry plastic bags to keep things dry or to stow wet gear.


Be sure to have a flashlight, charging cord, portable charger, matches and first-aid kit on board.


Make sure your ride has a winch installed to help pull yourself out if you do get stuck. You can find a wide range of ATV winches and UTV winches to fit your ride.


Add winter accessories to your ATV to keep you warm, including thumb, hand and throttle warmers.


Add cold-weather cab components including hard roof, windshield, doors and a heater kit to your SxS or UTV.
Layer Up with Winter ATV & UTV Apparel
Dress appropriately by layering and using moisture-absorbing material for your base layer. Increase the thickness for your second layer for warmth, and find outer layers which are both breathable and waterproof. Also invest in a good pair of boots, socks, gloves, and goggles with lenses that won't fog.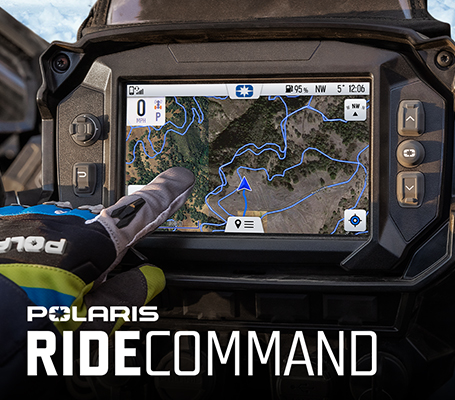 Stay on Trail with RIDE COMMAND Technology
Use RIDE COMMAND trail-mapping technology to plan out your ride ride and help you follow the trail even when it's snow covered. You can even download a trail map to follow when you don't have cellphone service, and share your route so others know where you're going.


Integrated waypoints on the map surface can display dealers, restaurants, portable restrooms and gas stations along trail routes so you can plan stops along the way. Available on select Polaris vehicles and as a free app you can download.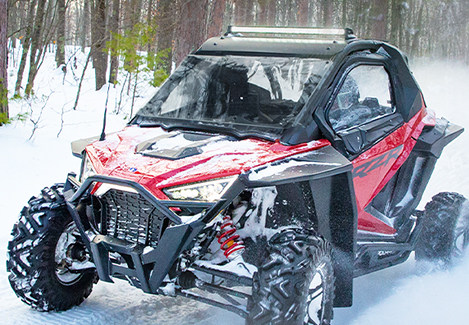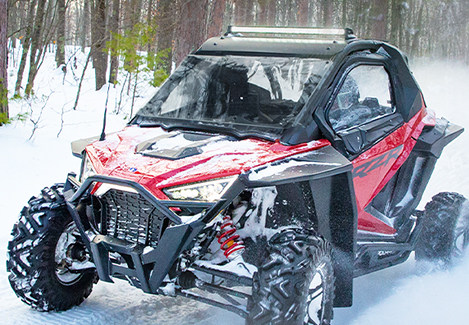 Take the Off-Road Less Traveled
It's really not that hard to extend your riding season into the snowy season. The key to riding in the winter is really about preparation. Making sure your vehicle is well equipped, that you're properly dressed, and that you're prepared for anything unexpected. This will go a long way toward making the day a success—whether you're riding on-property or navigating fun trails that are open all year round. Stay warm, and we'll see you out there.