Recreation
January 14, 2022
Top Winter Vacations and Outdoor Activities
Whether you live in the sunny South or the snowy Midwest, one of the best ways to sail right into spring is to embrace the winter and all the adventures it can bring. From white woodsy wonderlands to ice-covered lakes to beautiful mountain vistas, winter can be both serene and invigorating. So, no matter where you live, plan some time to play in the snow with these winter vacation ideas. You won't regret it.
Plan Your Winter Getaway in the Snow
One of the best ways to get in touch with winter is to vacation in it. Whether it's been 8 years or 8 days since you've last seen fresh powder, booking a winter family vacation in snow country is a great way to escape from the everyday routine and get in touch with another side of nature. Check out these snow vacation destination ideas to help inspire your trip.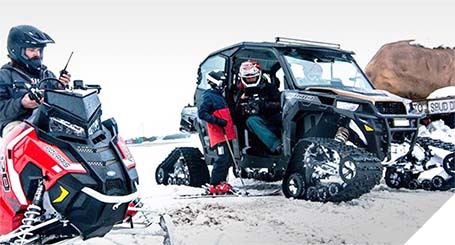 Book a Winter Adventure on an ATV, UTV, Side-By-Side or Snowmobile
There are few things as exhilarating as taking on winter trails in an off-road vehicle or charging through the powder on a snowmobile with all your friends around you. You don't even have to own your own machine to go ATVing or snowmobiling. Check out Polaris Adventures to explore snow vacation destinations and set up your group ride with an authorized off-road or snowmobile outfitter.
Hit the Slopes on a Ski or Snowboarding Trip
From Lutsen Mountain in Minnesota, providing great views of Lake Superior, to Vail, Colorado, nestled in the heart of the Rockies, there's no shortage of options, near or far for a ski trip or snowboarding adventure. Spend the day on the hill with evenings gathered around a cozy fire. And there's nothing quite like a dip in an outdoor hot tub relaxing in the warm water, protected from the cold, while snow falls down around you.
Travel to See the Northern Lights
If you've never witnessed Mother Nature's light show, then a trip north ought to be in your near future. Some of the best places in the world to catch the display are in Iceland, Norway, or neighboring Canada. Fairbanks, Alaska, is also a great option if you'd prefer not to travel outside of the U.S. Plus, stunning displays of the Aurora Borealis can often be seen in Michigan's Upper Peninsula, Minnesota's Boundary Waters Canoe Area, as well as remote parts of Maine, Pennsylvania, Idaho and more.
Explore the Outdoors on a Dog Sled Tour
One of the more unique outdoor experiences you can get is cutting across the snowy wilderness pulled by a pack of eager sled dogs. While harder to track down than the nearest ski hill, it's worth the effort for this once-in-a-lifetime experience. Here are a few places to get you started: The Resort at Paws Up in Greenough, Montana; Snow Mountain Ranch in Granby, Colorado; or Spring Creek Ranch in Jackson Hole, Wyoming. You can read more about these locations and others here.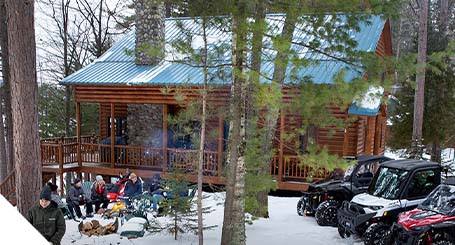 Hole Up in the Woods—Rent a Cabin for a Winter Getaway
This great winter vacation idea is one of the simplest and most relaxing. Finding a cozy cabin to rent and heading there with family or friends is a fantastic way to get away from it all. You can hunker down by a fire for a whole week, or use the cabin as basecamp for every outdoor activity you can imagine—from ice fishing to snowshoeing to snowmobiling to seeing the northern lights. From remote resorts to by-owner rentals, your options are as deep as the December snow.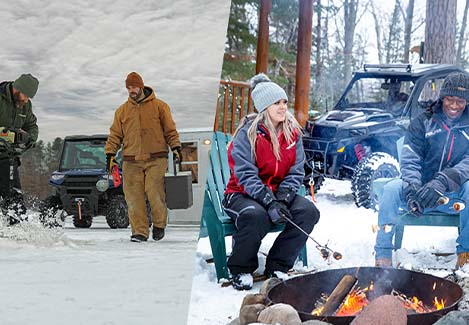 Winter Activities to Do While on Vacation (or Close to Home)
Winter only comes but once a year, and snow comes even less often if your home is in the heart of the sunbelt. So, around the white stuff, be sure to make time for these cold-weather snow activities that will serve up warm memories for years to come. Add them to any winter vacation you're planning, or make it a day trip if you live in the snowbelt.
Spend the Weekend Ice Fishing


When the earth heads into her winter deep freeze, those hardy souls from up north head back out on the lakes to extend the fishing season. From a simple hole in the ice and a bucket to sit on, to a fully heated icehouse, the hunt is on for the big catch. For visitors, there are local ice fishing outfitters who can get you set up. For locals, consider an ATV or SxS to get you and your portable ice shelter on top of the fish—but only when ice conditions permit.
Take the Whole Family Ice Skating Outdoors
Looking for kids' winter activities? There's nothing quite like lacing up a pair of ice skates and hitting the ice for an afternoon or evening of skating (with or without a puck). Outdoor rinks are your safest bet, but just like ice fishing, a well-frozen lake or pond that's been groomed for skating can create a great opportunity to breathe in the great outdoors. Always consult with locals if you're not familiar with the ice.
Snowshoeing Trails or a Cross-Country Trek Through Nature
If you want to add a bit of exercise to your outdoor adventures, plan a trek through the snow on a pair of snowshoes or cross-country skis. If you can, pick a day when the snow has just fallen and is clinging to the trees. There's a peaceful, quiet solitude that surrounds you, with just the crunch of the snow under foot to keep you company. If you don't own your own pair, a quick internet search can help you find rentals in your area.
Hit the Local Trails on Your ATV, Side-by-Side or Snowmobile
As mentioned before, winter off-roading or snowmobiling can make a great vacation in itself—or it can simply be an activity for the day. If you own your own off-road vehicle, have a trailer to tow it, and you want to experience some thrilling snow riding, there are trails open year-round. Of course, if you own a snowmobile, you're already well aware of the adventure that surrounds you as soon as the snow flies. And remember, there's always the rental route.
Layer Up with Winter Apparel
Remember, the key to having fun in the winter is making sure you're dressed appropriately. Dress in layers and use moisture-wicking material as your base layer. Then, increase the thickness for your second layer for extra warmth and find outer layers that are both breathable and waterproof. Also, invest in a good pair of boots, socks and gloves to keep the cold and moisture out.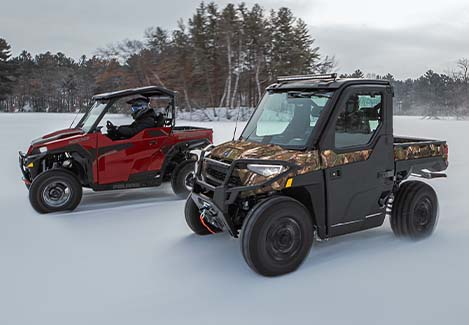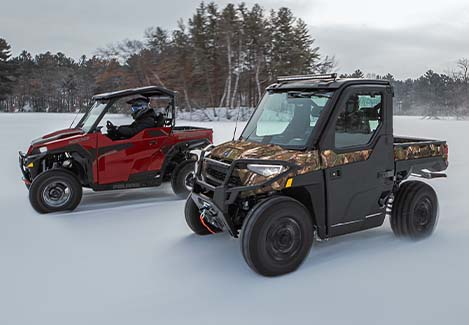 There's No Limit to the Things to Do in Winter
In the rush of our daily lives, it's easy to forget the magic and wonder that winter possesses. Taking time to stop and enjoy it can bring some of the best experiences of our lifetime. Just like a kid on the first snow of the season, we can capture that joy simply by embracing winter, either as a vacation or through outdoor activities that bring meaning to the season. We hope to see you out there.
Otter® is a registered trademark of Otter Outdoors, LLC
Facebook® is a registered trademark of Facebook, Inc.
Twitter® is a registered trademark of Twitter, Inc.
Unless noted, trademarks are the property of Polaris Industries Inc.
© 2021 Polaris Industries Inc