Recreation
January 05, 2022
The Best Winter Snow Trails for ATVs, Side-by-Sides and UTVs
Hitting snow trails during the winter on your ATV, UTV or side-by-side (SxS) can be one of the most fun and exhilarating rides you take. There's something about the machine churning through the powder past snow-covered pines as snow falls lightly around you. But there are a few things you'll want to consider before you hit the snow-laden trails, including where to find ATV snow trails and UTV snow trails that will accept you and your machine.
Can I Ride My ATV or SxS in the Winter Months?
Thankfully, the answer to that is yes. But you'll likely have fewer options than you did midsummer. All states have trails for ATVs and SxSs that are open for year-round riding, but typically when talking about snow trails, not all groomed snowmobile trails are open to ATV and SxS traffic in the winter. Keep in mind, states vary in how they classify off-road vehicles, but the most common terms you'll see are OHV, ORV and ROV. These classifications help to designate trail restrictions based on the class of your vehicle. These restrictions are based on vehicle width and/or seasonality.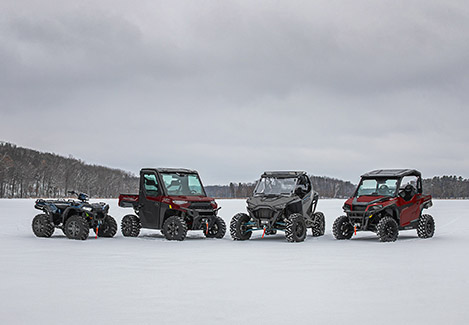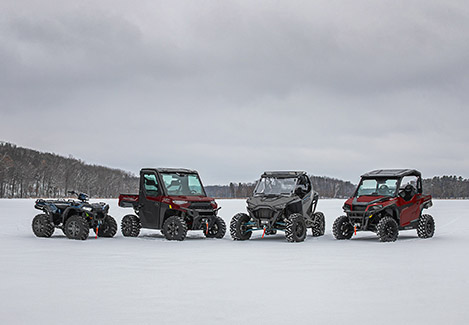 What Is an OHV, ORV and ROV?

An OHV is an off-highway vehicle. This is the broadest off-road category and includes all-terrain vehicles (ATVs), off-highway motorcycles (OHMs), and off-road vehicles (ORVs). ATVs include the Polaris Sportsman while ORVs include the Polaris RANGER, GENERAL and RZR side-by-sides. You may also hear the term ROVs, or recreational off-road vehicles. It is a similar classification to ORVs meaning an off-road vehicle with 4 wheels and a steering wheel.
Finding Winter Trails for ATVs & SxSs
Remember, not all snowmobile trails allow off-road vehicles. So be sure to check with your state DNR, state park, county or city websites for ORV, OHV or ATV winter trail information. Some states or parks have their own trail apps that you can download to your phone. Once you find a trail, it's important to know winter trails openings and closures are updated regularly based on weather and riding conditions. Be sure to check for updated trail information and closures before you head out for your winter ride. Also search for riding clubs in your local area or state to network with, plus other off-road enthusiasts who may be aware of winter trails for ORV riders.
Snow Trails in the Midwest
The Upper Midwest is a great place to get outdoors in the winter on your ATV, UTV or SxS. Keep in mind, most groomed, signed snowmobile trails are closed to OHVs for the winter. For example, in Minnesota, the signed snowmobile trails are closed to OHVs starting December 1st. But with that said, there are OHV trails open year-round.

St. Croix State Forest Trails (Minnesota/Wisconsin Border)
This scenic 26-mile trail system, cut through heavily wooded forest, is tailor made for a picturesque winter ride. This forest OHV is open to Class 2 ATVs (up to 65" wide), including groomed snowmobile trails, as long as temps are below 30 degrees.

Cheese Country Trail (Wisconsin)
Meanders through the scenic driftless region, untouched by ice during the last ice age. This 47-mile trail connects towns and villages, making for convenient rest stops along the way. Suitable for ATVs, SxSs and snowmobiles with 4+ inches of snow.

Forest County Trails (Wisconsin)
A wide-ranging trail system with three winter-worthy ATV and SxS routes through a forested landscape. Take your pick of the 33-mile Wolf River State Trail, the 32.8-mile Nicolet State Trail and the shorter 6.9-mile Valley Trail. Or try them all.

Badlands Off-Road Park (Indiana)
This off-road park is open year-round, only closing on Thanksgiving and Christmas. It offers over 1,400+ acres of diverse terrain for all skill levels, including wooded trails, streams, rocks and more. Open to ATVs, UTVs and side-by-sides. No width restrictions.

Haspin Acres (Indiana)
Their motto is, "Where the pavement ends and the fun begins!" This off-road haven may require a trailer to get to but offers 750 acres of wooded hills and trails in the heart of rustic Indiana. Open all year, including holidays, to every type of off-road vehicle.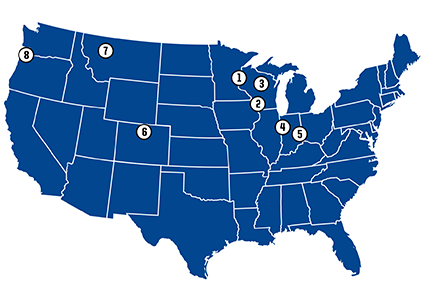 Mountain States Snow Trails

Mountain states like Colorado, Montana, Wyoming, Washington and Oregon are home to some of the best winter sports around—including off-roading in the snow. If you're willing to trailer up your ATV, UTV or SxS, you'll find an abundance of state parks and OHV trails open throughout the year.

Pike National Forest Trails
Home to 1,106,604 acres of pines, reservoirs, hiking, and more—this park system offers plenty of year-round trail-riding opportunities, including a few of our favorites listed below.

North Divide Trail System offers hundreds of miles of twisty wooded trails and spectacular mountain views. Open throughout the year (weather permitting) to off-road vehicles 50" wide or less. Has three staging areas.

Rainbow Falls is a popular 20-mile stretch of mostly hard-packed trails with varying elevations and a few challenging climbs. It's open to all vehicles, with a few trails open to motor vehicles 50" wide or less.

A favorite among locals with over 200 miles of trails, Rampart Range retraces parts of old stagecoach routes. The trails system offers multiple staging areas and is open to off-road vehicles 50" wide or less.

Black Tail Wild Bill Trail System (Montana)
Great mountain views and scenic lake vistas await ATV, UTV, and SxS riders of all skill levels during every season of the year. There are no vehicle width restrictions and three trail legs for avid off-roaders to explore.

Nicolai Mountain OHV Area (Oregon)
Featuring 17 miles of trails, open to all off-road vehicles less than 60" wide. The trails form several long loops with terrain that ranges from smooth to rocky. Visitors will also find a couple of gravel pits to ride in.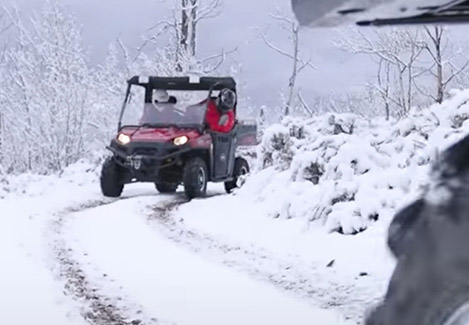 Tips for Snow Riding with an ATV, UTV or Side-by-Side?


Winter riding presents fun and unique experiences, as long as you're prepared. Follow these tips to enhance your comfort, promote personal safety and help you get ready for the conditions you'll be facing when you're out on the trails.


Look for trails that are open all year round. If riding on snowmobile trails that allow off-road vehicles—often called "shared trails" or "shared use trails"—it is important to remember snowmobiles are faster and quicker. Be alert and yield to snowmobiles, letting them pass.


Always ride together in the winter, taking two or more vehicles, to avoid the risk of being stranded in cold-weather conditions.


Bring extra water, snacks, blankets and hand warmers in case you get stuck or break down.


Carry extra gear including gloves and boots to help if your gear gets wet, and carry plastic bags to keep things dry or to stow wet gear.


Be sure to have a flashlight, charging cord, portable charger, matches and first-aid kit on board.


Make sure your ride has a winch installed to help pull yourself out if you do get stuck. You can find a wide range of ATV winches and UTV winches to fit your ride.


Add winter accessories to your ATV to keep you warm, including thumb, hand and throttle warmers.


Add cold-weather cab components, including hard roof, windshield, doors and a heater kit to your SxS or UTV.
Layer Up with Winter ATV & UTV Apparel
Dress appropriately by layering and using moisture-absorbing material for your base layer. Increase the thickness for your second layer for warmth, and find outer layers that are both breathable and waterproof. Also invest in a good pair of boots, socks, gloves, and goggles with lenses that won't fog.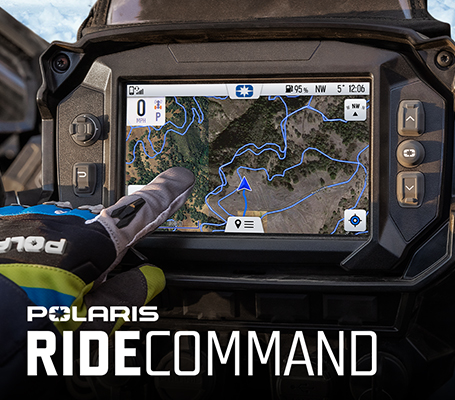 Stay on Trail with RIDE COMMAND Technology
Use RIDE COMMAND trail-mapping technology to plan out your ride ride and help you follow the trail even when it's snow covered. You can even download a trail map to follow when you don't have cellphone service, and share your route so others know where you're going.


Integrated waypoints on the map surface can display dealers, restaurants, portable restrooms and gas stations along trail routes so you can plan stops along the way. Available on select Polaris vehicles and as a free app you can download.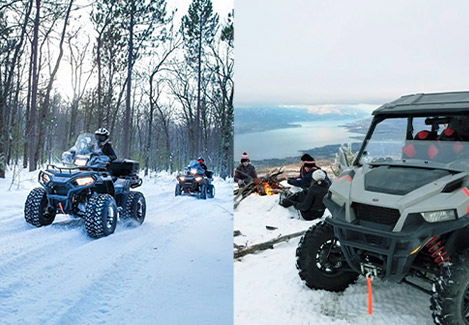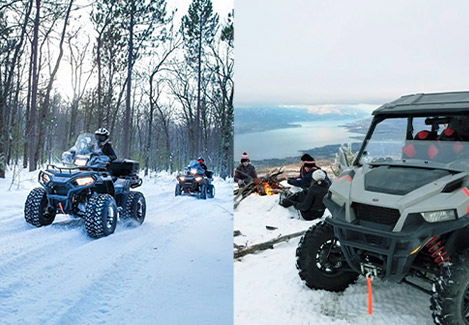 Hit the Snow Trails and Ride All Year Round
Finding a trail that's open to your ATV, UTV or SxS in the winter might take a little extra legwork, but once you find that perfect snow trail, you'll be thrilled you did. Winter riding can be one of the most beautiful and exhilarating experiences on four wheels, as long as you and your vehicle are prepared for the extremes. So, find a trail, put in a little winter prep and we'll see you out there.