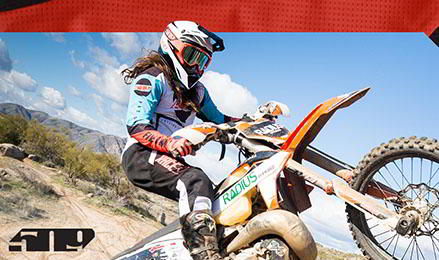 Continuing to Fuel Your Passion, 509® Launches New 2023 Moto Product
Spokane Valley, WA (March 13, 2023) – Expanding its purpose-built outdoor gear offering, 509® announces the launch of the 2023 Moto product line. The collection was developed with 509 riders' feedback for full throttle adventures and for the rider who expects the most from their dirt gear.
"Committed to providing quality products, the new line will set a new standard for 509 in performance, durability, and style," says Dino Rosa, Product Designer at 509®. "Our team has worked hard to design products that we believe will exceed rider expectations."
With a focus on safety, performance, and durability, the 2023 Moto collection is designed with innovative technology, bold color, and reinforcements offering riders protection and comfort to suit their individual style and riding needs. Highlights include:
Race 5 Jersey – Competitive jersey, inspired by the 2022 transition jersey, a sure fan favorite featuring three new colors and designs ready for race day or play.
Race 5 Pant – Premium hybrid pant featuring breathable, lightweight materials, new waist adjustments, and a reinforced leather padding built into the knee panel.
Sinister MX6 Fuzion Flow Goggle – Combining Fuzion and Flow technologies provide offroad optical clarity with the industry-first Fuzion lens technology and HCS (High Contrast Spectrum) lens tints offering alternatives to fit varying lighting conditions.
Kingpin Flow Goggle – Classic dirt bike goggle updated with FrogzSkin Flow venting technology, essential for preventing dust and silt from entering the inner goggle while maintaining airflow on the trail or track.
Altitude 2.0 Carbon Fiber Pro Helmet – Featuring a hand-laid Carbon fiber shell structure paired with Fidlock® chinstrap strap closure, and the latest MIPS (Multi-directional Impact Protection System) technology making the helmet 509's most lightweight and safeguarding helmet model for off-road enthusiasts.
High 5 Glove – Our newest cool weather, similar to the Low 5 glove, this technical riding glove features insulation and knuckle protection perfect for early spring or late fall rides.
The 2023 Moto product line up is now available for purchase at 509 participating dealers and online at www.ride509.com.
About 509®
Founded 20 years ago, the 509 story began as a snowmobile brand deep in the backcountry of the unforgiving mountains. Those harsh environments inspired a journey of developing the world's most innovative riding gear, all while telling the inspiring story of the brand. Today, 509 develops technical riding gear across the snowmobile, dirt bike and motorcycle industries.
509® is a registered trademark of Teton Outfitters, LLC
Fidlock® is a registered trademark of Fidlock GmbH