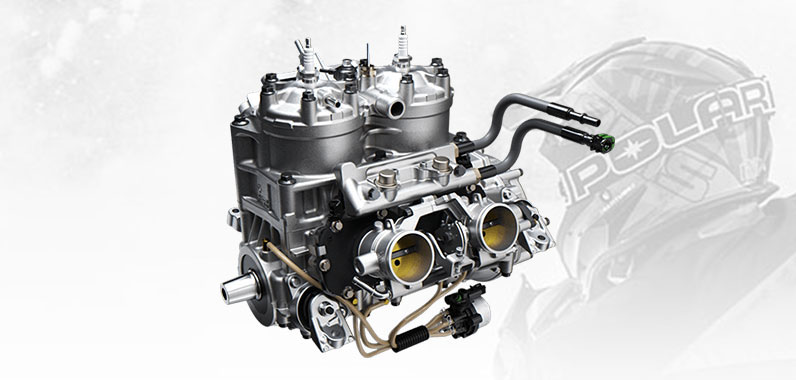 2019 Polaris Snowmobile Lineup Features New Technology, New Models, and the All-New Polaris 850 Patriot Engine
>
Minneapolis, MN (March 6, 2018) – The 2019 Polaris® snowmobile lineup is loaded with innovative technology, including the all-new Polaris 850 Patriot™ Engine, exciting new INDY® 129 models, new technologies on the industry-leading PRO-RMK® deep snow models, and the new INDY EVO™ model, designed specifically for new riders.
All-New, SnowCheck-Exclusive Polaris 850 Patriot Engine
The Polaris Liberty® engine lineup is expanding with the introduction of the all-new Polaris 850 Patriot Engine, a powerful new member of the Liberty family that includes the 600 Cleanfire® and 800 H.O. Cleanfire® Engines.
With the knowledge gained from 25 years of legendary Liberty engine manufacturing, the Polaris Powertrain Team started with a clean sheet and a focus on durability as they developed the all-new Polaris 850 Patriot Engine – the most powerful Polaris snowmobile engine ever. Proven through extensive and demanding testing, this engine is incredibly durable and reliable – and it is backed by a standard four-year warranty. The new liquid-cooled 850 twin delivers class-leading Durability, Acceleration, Response, and Power.
Durability
All-new, "clean-sheet" design builds on 25 years of Polaris Liberty engine heritage
Unmatched durability proven through advanced design and analysis techniques, extensive lab and dyno testing, and on-snow testing
Guaranteed quality: standard four-year warranty
Acceleration
In trail sleds: unrivaled acceleration
In deep snow sleds: instantaneous lift
Response
Low inertia and quickest revving
Light and flickable feel in all riding conditions
Polaris 850 Patriot has 13 percent less rotating inertia than the nearest class competitor
Class-Leading Power
Nine percent gain in horsepower vs. the powerful and already proven Polaris 800 H.O. engine
Industry-leading power-to-weight ratio with a nine percent advantage over the closest competitive trail sled
Unmatched throttle response
Note: Data based on internal Polaris testing
The Polaris 850 Patriot engine is all-new: The only parts used on any other Polaris engine are the spark plugs, two sensors, and some common fasteners.
This includes the new Patriot strategic engine mounting system that was designed to integrate with the AXYS® architecture. Minimum vibration is delivered to the rider and belt life is maximized.
The Polaris 850 Patriot engine includes an all-new, high-performance, high-durability piston featuring a higher compression height and thicker dome. The all-new, low-inertia crankshaft is designed to be both strong and stiff while maintaining low weight and inertia for ultimate response. The crankshaft features advanced, high-capacity bearings and a larger clutch taper design. The new lightweight throttle bodies feature a simple, durable design, while a contactless throttle position sensor (TPS) ensures reliable, consistent performance, with no adjustment required.
Developed using Computational Fluid Dynamics (CFD), the cylinder and cylinder head designs are optimized for strategic cooling and feature patent-pending designs for the combustion chambers and exhaust ports. A patent-pending water bottle-integrated thermostat maximizes durability and cooling efficiency. The innovative thermostat design is simpler and more durable.
The new electrical system delivers peak efficiency with its power-boosting regulator that ensures quicker starting and helps deliver maximum electrical power at idle and low RPMs. The new engine-control unit (ECU) features a faster processor, exhaust valve control integration, and provides more input and output capabilities.
This all-new engine features many other all-new technical components including a new 3-stage E-VES-II exhaust valve system that features a simplified coplanar valve with fewer parts and lighter weight. A new exhaust system – pipe and resonator – provides improved flow and sound quality. And the VForce® reeds were designed specifically for this engine and have new carbon fiber petals for improved performance.
This new engine is available in select models across the RMK®, Switchback®, RUSH®, and INDY® line-ups exclusively through SnowCheck. Polaris will also continue to offer a line-up of proven, high-performance Liberty engines, including the 600 Cleanfire and the 800 H.O. Cleanfire Engines.
Polaris INDY Family Expands with Exciting New Models and Technology: INDY EVO, INDY SP 129 and INDY XC 129
The Polaris INDY family expands for 2019 with the introduction of the all-new INDY EVO and the INDY 129 models.
The new INDY EVO is a trail-ready snowmobile built specifically for new riders. The INDY EVO delivers a comfortable, sporty, and confidence-inspiring ride experience that will fuel a new rider's passion for snowmobiling. The sled is engineered so it can evolve in stages with riders as they gain experience. An accessory is available that lets the sled grow with the rider through increased power and suspension capability.
The all-new INDY 129 models – the XC and SP – deliver Rider Balanced® Control, precise handling, and the highest fun factor. These versatile new models are built on the proven, lightweight AXYS Chassis and introduce the all-new PRO-CC 129 Rear Suspension that provides trail riders with outstanding ride, unrivaled acceleration, and the versatility they need.
The SP and XC models are truly purpose-built:
INDY SP 129: Trail Performance. Available with the 600 Cleanfire engine.
INDY XC 129: Premium, High-Performance Trail. Available with the 600 Cleanfire engine, the 800 Cleanfire H.O., or with the SnowCheck-exclusive new 850 Patriot engine.
The all-new PRO-CC Rear Suspension is the next-generation suspension from Polaris. It produces class-leading acceleration, a smooth ride, and flat cornering. The rear suspension's coupled design controls pitch through geometry without reducing the fun factor Polaris riders have come to expect. Race-proven Walker Evans® Velocity and Needle technology shocks are featured on INDY 129 XC models and have improved clicker accessibility for the easiest adjustability.
These new models feature new PowderTrac™ TR extruded aluminum running boards, new lightweight XT Hyfax, a choice of aggressive tracks, and the expanded versatility of accessory seating and storage options. The new INDY 129 models can be converted quickly and easily from solo seating to two-up seating with the accessory passenger seat with handgrips. INDY 129 models come with a standard underseat storage bag, and several other accessory storage solutions are available that can be used with or without the passenger seat.
New PRO-RMK React™ Front Suspension
Polaris RMK models are the world's greatest mountain sleds. They are the lightest, strongest, and most flickable deep snow snowmobiles available, and for model year 2019, these sleds have been elevated to the next level of performance with the all-new AXYS PRO-RMK React Front Suspension, new PowderTrac XT Running Boards, new lightweight components, and are available with the most powerful Polaris snowmobile engine ever, the all-new, SnowCheck-exclusive, Polaris 850 Patriot Engine.
The all-new AXYS PRO-RMK React Front Suspension provides riders with the most precise and effortless deep snow handling. A rider can effortlessly initiate and hold sidehills and experience less fatigue with the most predictable mountain sleds available. The new front suspension features all-new geometry and an adjustable 36-inch to 38-inch ski stance. All-new forged spindles and forged control arms that are optimized for strength and durability. Available only on 850 PRO-RMK models are all-new, lighter-than-titanium SLS shock springs that feature a patent-protected, proprietary technology that makes the steel springs durable yet very light.
The all-new PowderTrac XT Running Boards feature new geometry at the back of the running boards for improved sidehilling clearance and deep snow capabilities. The new design lets a rider lean farther in deep snow or on a sidehill while maintaining traction. These new running boards are exclusively available on the MY19 850 PRO-RMK 155 and 163 models.
Polaris Models for Every Type of Rider
There's a 2019 Polaris snowmobile to suit every rider's style and the unique conditions where they ride:
Crossover
Switchback: Smoothest riding, most versatile
TITAN™: World's most capable crossover
Trail Performance
Polaris INDY: Legendary performance, simply fun
RUSH: Sharpest handling, quickest accelerating
Deep Snow
RMK: Lightest, strongest, most flickable
Extreme Crossover
Polaris TITAN: World's most capable crossover
Recreation-Utility
Voyageur®: Limitless possibilities
WideTrak: A professional-grade worker
SnowCheck: Exclusive Models & Customization
Polaris continues to lead the industry in true factory customization during the limited-time spring SnowCheck period. And for 2019, the all-new Polaris 850 Patriot engine is available exclusively during SnowCheck and comes standard with a four-year warranty.
Riders can customize their sleds in three easy steps:
Choose Your Sled from among eligible RMK, RUSH, Switchback, INDY, and TITAN models.
Choose Your Color, including colors of chassis, suspension, bodywork, and trim components.
Choose Your Options, such as tracks, windshields, instrumentation, shocks, and more.
With the available choices, thousands of configurations are available so riders can custom build sleds that ideally suit their individual riding styles. The SnowCheck order period runs through April 17, 2018.
Also visit us and join the snowmobile conversation on Facebook, Instagram and Twitter.
About Polaris
Polaris Industries Inc. (NYSE: PII) is a global powersports leader that has been fueling the passion of riders, workers and outdoor enthusiasts for more than 60 years. With annual 2017 sales of $5.4 billion, Polaris' innovative, high-quality product line-up includes the RANGER®, RZR® and Polaris GENERAL® side-by-side off-road vehicles; the Sportsman® and Polaris ACE® all-terrain off-road vehicles; Indian Motorcycle® midsize and heavyweight motorcycles; Slingshot® moto-roadsters; and Polaris RMK®, INDY®, Switchback® and RUSH® snowmobiles. Polaris enhances the riding experience with parts, garments and accessories, along with a growing aftermarket portfolio, including Transamerican Auto Parts. Polaris' presence in adjacent markets globally include military and commercial off-road vehicles, quadricycles, and electric vehicles. Proudly headquartered in Minnesota, Polaris serves more than 100 countries across the globe. Visit www.polaris.com for more information.