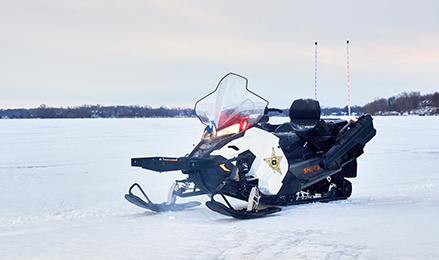 Canada Awards Standing Offers to Polaris for Off-Road Vehicles
ATVs, RANGER UTVs and Snowmobiles Available Direct and at a Discount
Minneapolis – December 14, 2020 – Polaris has been awarded three national master standing offers (NMSOs) from Public Services and Procurement Canada (PSPC) to sell snowmobiles, all-terrain vehicles (ATVs) and utility side-by-side vehicles. Canadian federal government departments, agencies or Crown corporations as well as identified Municipal, Academic Institutions, Schools and Hospital Sectors (MASH) all have access to repeatedly purchase these Polaris off-road vehicles at pre-negotiated prices, terms and conditions as needed. Winnipeg-based Polaris Industries LTD, a subsidiary of global powersports leader Polaris Inc. (NYSE: PII), won the competitive tenders and will support the vehicles with warranty and service work leveraging identified, in-country dealers.
Polaris off-road vehicles available on the one-year NMSO contracts – RANGER utility vehicles, Sportsman ATVs and snowmobiles – augment current vehicle fleets and maximize productivity. These vehicles can access off-road locations where cars, trucks or vans cannot operate. They also are a budget-friendly alternative to full-size vehicles, as are the maintenance, parts, and repair costs. In addition to vehicles Polaris will provide vehicle accessories, such as cabs, heaters, special lighting, snow tracks and snow blades, horns and winches. With factory-certified dealers strategically located in Canada, Polaris offers convenient service options throughout the country.
RANGER Utility Side-by-Side Vehicles
NMSO #E60HS-20UTVS. Polaris RANGER utility side-by-side vehicles are capable, comfortable and durable to meet the job demands of Canadian government departments and agencies. A full cab with heat to help conquer the elements and extremes throughout Canada.
Sportsman All-Terrain Vehicles
NMSO #E60HS-20ATVS. Best-in-class four-wheelers, the Polaris Sportsman ATVs provide control and comfort in off-road environments. Independent rear suspension, stability and control, class-leading clearance and tire size, on-demand all-wheel drive, in-line shifting and single-lever braking deliver handling, performance and reliability.
Polaris Snowmobiles
NMSO #E60HS-20SNOW. Polaris snowmobiles are purpose-built for performance on and off the trail. They expand a team's reach with unprecedented mobility, performance and versatility in a variety of harsh winter conditions.
Several agencies in Canada already procure vehicles direct from Polaris; and the Canadian Army and Canadian Special Operations Forces have Polaris MRZR light tactical vehicles and DAGOR combat vehicles.
Polaris is a unique vehicle supplier that harnesses its more than 65-year legacy of mobility leadership, rich heritage of innovation, and vast commercial enterprise resources, along with a team of dedicated government and technology experts and operators to deliver the products that customers need to get their jobs done. This winning combination of Polaris performance, procurement simplicity, premium service, training, support, and sustainment results in a best value for government customers.
Editor Note: For high-resolution images, please contact Katie Paulson, katie@kp-publicrelations.com.
About Polaris Government and Defense
Polaris Government and Defense vehicles are forged from more than 65 years of off-road innovation and leadership. The commercial prowess and innovative culture of Polaris are leveraged to deliver unique value to government entities and military forces worldwide. This dedicated division provides highly capable, simple to use, and affordable mobility platforms and vehicles that are readily available through easy procurement channels and supported through lifecycle training, service and maintenance from Polaris – the original equipment manufacturer.
Polaris Government and Defense | Mobility Made Easy
About Polaris
As the global leader in powersports, Polaris Inc. (NYSE: PII) pioneers product breakthroughs and enriching experiences and services that have invited people to discover the joy of being outdoors since our founding in 1954. With annual 2019 sales of $6.8 billion, Polaris' high-quality product line-up includes the Polaris RANGER, RZR and GENERAL side-by-side off-road vehicles; Sportsman all-terrain off-road vehicles; Indian Motorcycle mid-size and heavyweight motorcycles; Slingshot moto-roadsters; snowmobiles; and deck, cruiser and pontoon boats, including industry-leading Bennington pontoons. Polaris enhances the riding experience with parts, garments and accessories, along with a growing aftermarket portfolio, including Transamerican Auto Parts. Polaris' presence in adjacent markets includes military and commercial off-road vehicles, quadricycles, and electric vehicles. Proudly headquartered in Minnesota, Polaris serves more than 100 countries across the globe.
©2020 Polaris Inc.