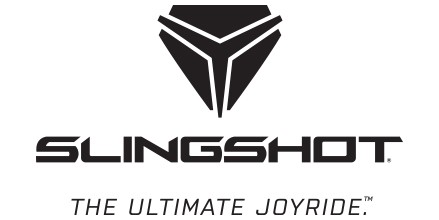 Polaris Slingshot is Offering 350,000 Reasons to "Treat Yourself" this Holiday Season

From October Through December, Slingshot is Serving Up Holiday Bonus Cash "Treats" Ranging From $250 to $2,000 by Playing the Treat Yourself Game
MINNEAPOLIS, MN (Oct. 17, 2019) – This holiday season, take the time to "Treat Yourself" with the ultimate gift of self-expression – a Polaris Slingshot three-wheeled roadster. Today, Polaris Slingshot announced a holiday sales event with more than $350,000 in bonus cash offers – allowing consumers to treat themselves with all the fun, excitement, and head-turning originality only the three-wheeled Slingshot delivers.
Running until December 31, 2019, consumers can visit PolarisSlingshot.com, enter their information, and randomly receive one of 9,000 bonus cash codes ranging from $250 to $2,000. The discount code will instantly be gifted via email and redeemable at a Polaris Slingshot dealership. Consumers can also treat themselves with all-new Slingshot apparel in October and receive discounts on Slingshot factory accessories in the months of November and December.
"The holidays are a special time to not only shower gifts on family and friends, but also reward yourself with a gift that keeps on giving and makes a bold statement every time you hit the road," said Chris Sergeant, Vice President of Polaris Slingshot. "And while you're treating yourself behind the wheel, you can also treat family and friends riding shotgun with the unique driving experience that can only be found in a Slingshot."
With pricing ranging from $20,999 to $30,999, each Slingshot model allows drivers to turn heads, showcase their personality, and have unlimited on-road fun behind the steering wheel of the three-wheeled roadster. Each Slingshot model, including the S, SL, SLR and Grand Touring, is powered by a 2.4L GM Ecotec engine that creates 173 horsepower and 166 ft-lbs of torque. With a vehicle weight of just over 1,700 pounds, the Slingshot delivers an unheard-of weight-to-power ratio – resulting in quick acceleration and unmatched fun. The open-air driving experience of a Slingshot combines the thrill of riding a motorcycle with the comfort of side-by-side sport bucket seats.
Owners can further enhance their ride and showcase their individuality through Slingshot Engineered Accessories or from a number of aftermarket suppliers. Slingshot factory accessories add style, functionality and ride-enhancing technology, such as the color-matched Slingshade® top, a 100-watt Rockford Fosgate® audio system, seven-inch, touch-screen Ride Command® infotainment system, wind deflectors, accent graphics, colored belt guards, color-matched rear fenders and additional side storage bags.
For more information about Slingshot, the Treat Yourself program, or to find a dealer, visit PolarisSlingshot.com.
Follow Slingshot on social media: Facebook.com/PolarisSlingshot, @Slingshot on Twitter and @PolarisSlingshot on Instagram. For information on Polaris Adventures and Slingshot rental locations, visit Adventures.Polaris.com.
About Polaris Slingshot
Polaris Slingshot®, a product of Polaris Industries Inc. (NYSE: PII), is a three-wheeled motorcycle that delivers a ride like nothing else you've ever experienced. The Slingshot is powered by a 2.4-liter engine with a five-speed manual transmission and comes in a variety of models that will leave you grinning from ear-to-ear. To learn more, visit www.PolarisSlingshot.com.
Slingshot® is a three-wheeled motorcycle. It is not an automobile and does not meet automotive safety standards. Drivers should always wear helmets and seat belts. Three wheeled vehicles may handle differently than other vehicles, especially in wet conditions. Always wear a DOT approved full face helmet and fasten seat belts. Driver may need a valid motorcycle endorsement. Rider licensing requirements vary by state. Check your state's requirements before driving. Don't drink and drive. Unless noted, trademarks are the property of Polaris Industries Inc. © Polaris Industries Inc.
ECOTEC® is a registered trademark of General Motors LLC
ROCKFORD FOSGATE® is a registered trademark of Rockford Corporation.